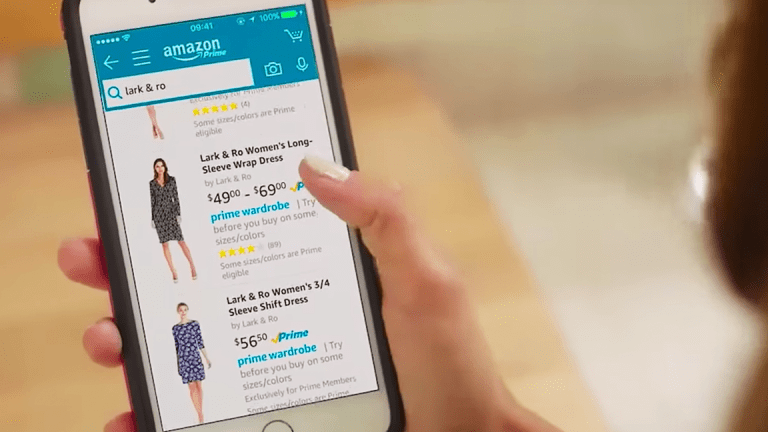 Amazon Soars After-Hours on Earnings Beat
Net sales grew 38% year-over-year.
Amazon.com Inc. (AMZN) - Get Free Report killed it once again in its fourth-quarter earnings, reporting $3.75 in EPS, or nearly double the Wall Street forecast of $1.88. The e-commerce giant posted $60.5 billion in net sales, compared to the expected $59.75 billion, according to FactSet. That's a 38% increase since the same period last year. 
Amazon Web Services totaled $5.1 billion in sales, pretty much on par with the projected $5 billion earmark. AWS grew 45% year-over-year, compared with a 29% growth rate for North American sales and 45% for international. However, AWS growth doesn't compare to Microsoft's (MSFT) - Get Free Report new cloud platform, Azure, which saw revenue rise 98% in the quarter. 
Jeff Bezos, founder and CEO, highlighted Alexa, the virtual assistant built into Amazon's Echo devices, as a driver of the strong earnings. The Echo Dot and Amazon's Fire TV Stick were its best-selling items in 2017. Echo alone was sold in the tens of millions, the company said.
"Our 2017 projections for Alexa were very optimistic, and we far exceeded them. We don't see positive surprises of this magnitude very often - expect us to double down," he said in a statement. "We've reached an important point where other companies and developers are accelerating adoption of Alexa."
Amazon Prime gained a record number of members in 2017, with more than five billion items shipped with Prime internationally.
Meanwhile, AWS gained a handful of giant clients in the quarter, as Walt Disney Company and Turner named it their preferred public cloud provider. In 2017, it had 1,430 launches, including the Amazon SageMaker, a training platform for web developers, and Alexa for Business, which helps companies roll out Alexa into their workplaces.
In the fourth quarter, Amazon reached $1.9 billion in net income and saw $789 million in tax benefits following the newly enacted tax act.
For the full year. net sales rose 31% to $177.9 billion, while operating income decreased 2% to $4.1 billion. Net income totaled $3 billion, or $6.15 per diluted share -- higher than the anticipated $4.29, according to Factset.
Amazon shares are up 6% after the bell Thursday, Feb. 1.
More of What's Trending on TheStreet: