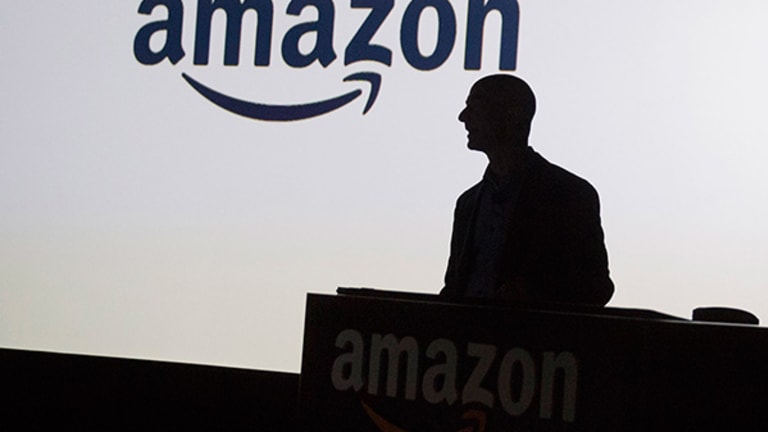 Amazon Shakes Things up in World's Largest E-Commerce Market
The e-commerce giant has introduced a Prime shipping program in China to grab share in the competitive market there, but faces an uphill battle against local competitors Alibaba and JD.com.
Amazon.com (AMZN) - Get Amazon.com, Inc. Report  is still ambitious about expanding its footprint in China, but it remains to be seen if the e-commerce giant can gain significant ground against local behemoths Alibaba (BABA) - Get Alibaba Group Holding Ltd. Report  and JD.com (JD) - Get JD.com Inc. Report .
Amazon announced Friday that it's introducing a Prime membership in China. The program, which does not include digital content, will offer free domestic shipping without a minimum order, as well as unlimited free cross-border shipping to 82 Chinese citieson orders over $29.50 (200 yuan). Amazon China customers don't have one- or two-day free shipping as part of their program yet. The service will cost $28 for the first year, and then $57 after (Amazon Prime costs $99 a year in the U.S., or $9.99 a month). 
"Amazon's been in China for a while and has had modest success at best," said Needham & Co. analyst Kerry Rice by phone. Amazon entered China in 2004 through its acquisition of e-commerce site Joyo for about $75 million. 
China remains a huge e-commerce market and represents a great opportunity for Amazon, Rice said, adding that the Seattle-based company is looking at ways to approach the market differently to gain share. The Chinese e-commerce market is currently dominated by the likes of Alibaba and JD.com, but they're not offering free-shipping membership programs like Prime.
Alibaba is estimated to hold a 57% share of the e-commerce market in China, while JD has close to a 21% share. Meanwhile, Amazon currently has less than a 2% market share. 
"[Prime] is another way for them to penetrate that market and try to see if they can get some traction," he added.
Still, Amazon's battle in China will be tough given Alibaba's strength. 
"Alibaba is so pervasive. It's very much like Amazon in the United States," Rice said. "I continue to believe that it's going to be a tough road for Amazon. I would be cautiously optimistic." 
While a key factor for Amazon's success in China will likely be localization, competing on this front will prove to be challenging given that Alibaba is a China-based, China-focused business. 
"Although people don't use Amazon like a verb, like Google, it's very much ingrained in e-commerce," Rice said, adding that like Amazon in the U.S., Alibaba is also very much ingrained in the Chinese culture and community.
At the same time, China's interest in Western goods could give Jeff Bezos' empire an edge, according to Rice.
While Alibaba and its Chinese e-commerce peers offer Western items on their sites, Amazon simply has a greater pool of these products. 
"It's encouraging that Amazon isn't giving up on the country" that represents the largest e-commerce market , said Maxim Group analyst Tom Forte by phone. China's e-commerce spending is estimated to reach $1.1 trillion market by 2020, according to Forrester.  
It remains to be seen how serious Amazon is about its ambitions in China given that the current offerings don't include content -- an area the e-commerce giant has been aggressively investing in. 
Meanwhile, Amazon continues to eye India. The e-commerce company has been aggressively pouring capital to India where it's currently the number-three player in terms of market share trailing behind local competitors Flipkart and Snapdeal. 
In fact, Amazon announced this summer that it will invest an additional $3 billion in India throughout 2016, bringing Amazon's total investment in India to $5 billion. Since entering India in 2013, Amazon has expanded its cloud computing Amazon Web Services to India, and has also introduced new offerings such as its Global Selling Program, which allows India-based companies to sell to customers around the world.
International growth hasn't been as strong as overall revenue growth for Amazon, noted Tigress Financial Partners analyst Ivan Feinseth, adding that the company is investing heavily internationally. In the third quarter, Amazon clocked in a 29% year-over-year growth of revenue to $32.7 billion, while international revenue saw a 28% annual growth. 
India and China are both in investment phases, but Amazon's fast, aggressive strategy with India is how it should have approached China, Feinseth added. Amazon has reached a 15% market share in India in less than three years, while the company's market share in China has continued to hover at below 5%, more than a decade after it entered the country. 
Shares of Amazon were up about 1.6% late afternoon Monday to $788.74. Shares are up about 17% year-to-date.