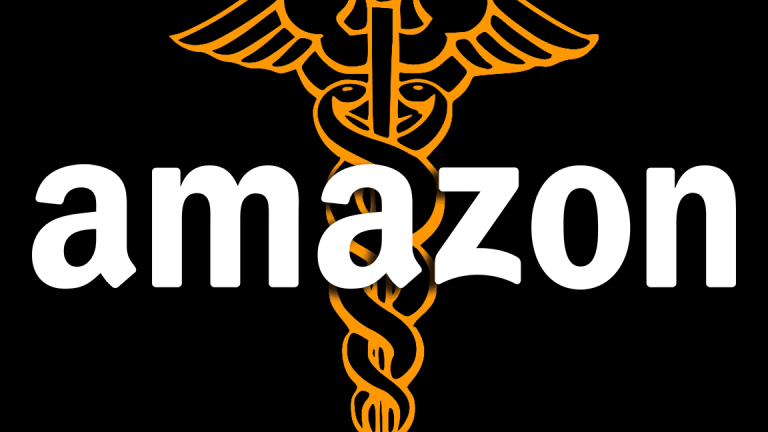 Amazon's Secret Weapon to Slay Healthcare Costs Could Be Doubled-Edged Sword
Will Jeff Bezos add health-care-as-a-service to Amazon's ubiquitous e-commerce, cloud and video streaming offerings? If he does, data privacy could be a big concern.
As Amazon.com (AMZN) - Get Report , Berkshire Hathaway (BRK.A) - Get Report and JPMorgan (JPM) - Get Report  form a partnership to slay what Warren Buffett termed the "hungry tapeworm" of healthcare costs, data will be the primary weapon.
Amazon's predictive algorithms and cloud computing architecture will be a huge advantage, alongside the actuarial acumen of Warren Buffett's insurance holdings and JPMorgan's financial information. The companies will use healthcare technology to improve service for their U.S. customers and lower expenses. However, the group may face challenges to how they collect and use data --particularly if they eventually want to develop commercial software-as-a-service applications for other companies. 
Alexa could help reduce costs in the call centers that field inquiries from members. "A lot of the costs in networks today is their big call center function," said Brad Ptasienski of consultant group West Monroe Partners's Advanced Analytics practice. "It would be interesting to see how much better Alexa can get, and if Alexa can answer questions immediately and reduce call volumes."
Amazon Web Services already has commercial applications in healthcare. Insurer Cambia Health Solutions Inc.'s HealthSparq SaaS business uses AWS to develop apps that let health plans compare prices. And software developer Orion Health Inc. used AWS to develop a healthcare information exchange that handles millions of patient records.
Amazon's technology that tracks purchases and suggests products could provide incentives to promote healthier lifestyles for employees. "If you're ordering groceries through Amazon Fresh, are you ordering healthy groceries?" Ptasienski asked. "Could you get a discount from Amazon Fresh if you're ordering healthy foods rather than unhealthy foods?"
The partnership could also send alerts to members or to physicians if a patient did not fill a prescription or go to a rehab session, which could reduce long-term costs. 
"Amazon has got a pretty fascinating collection of data on people who purchase items," he said. "You combine that with JPMorgan Chase and all of the credit card transactions they have; it's pretty amazing to think about how comprehensively those companies could know you based on your purchasing habits."
If the three companies succeed with their own employees, expanding the healthcare venture into a software-as-a-service business for the larger healthcare industry could be appealing. 
The concentration of private data would draw scrutiny, however. Even without adding a trove of healthcare data, Amazon's vast e-commerce, cloud computing and streaming video operations already cause concerns. President Trump regularly bashes the company as an under-taxedmonopoly that short changes the U.S. Post Office and uses Jeff Bezos' Washington Post for political ends.
A pervasive, Orwellian data mining operation would face pushback from public interest groups, politicians and regulators. "One hundred percent, I would think it definitely would," Ptasienski said.
Corporations are allowed, however, to use data for fraud protection to benefit consumers, Ptasienski suggested, and the companies could argue that they are using data to improve wellness. "Where they would have to draw a line is what is technically considered medical data," Ptasienski said. "If they are going to track your purchasing history and using that for medical decisions, does that become medical data and does that become regulated?"
The health care partnership would also have to draw some lines to make clear who owns the data --especially if it develops from a non-profit cost-saving venture into a commercial business.  
"To have true frictionless data movement and a true cohesive system, that data is going to have to merge together somehow," Ptasienski said. "For them to really productize this and to switch into for-profit mode, they are going to have to figure out where the data resides, who owns it and who should have access to what data assets."
JPMorgan is a holding in Jim Cramer's Action Alerts PLUS Charitable Trust Portfolio. Want to be alerted before Cramer buys or sells JPM? Learn more now.
More of What's Trending on TheStreet: