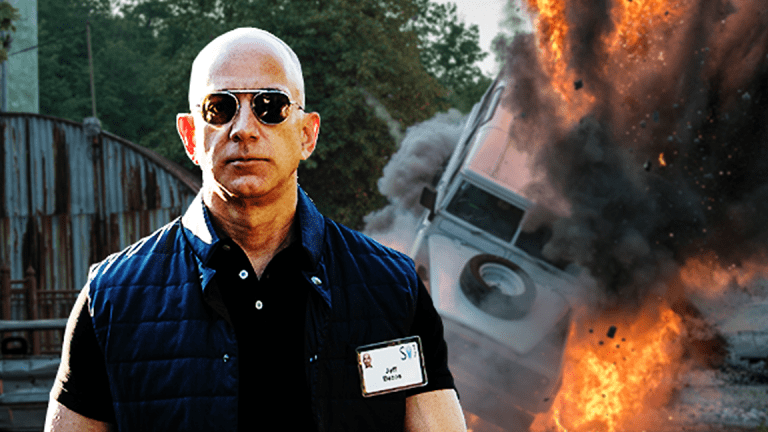 Amazon HQ2: Why Some Cities May Not Want to Land Its New Headquarters
Gentrification, higher tax rates and a 'prosperity bomb' are just some of the risks to Amazon setting up shop in your neighborhood.
Ever since Amazon (AMZN) - Get Free Report said it was searching for a second headquarters, cities nationwide have been practically bending over backwards, sweepstakes-style, to be chosen as the winner. 
About 150 cities in nearly every state submitted lengthy proposals by Thursday's deadline. The competition brought out weird and somewhat desperate attempts by cities hoping to get noticed, but not every city was interested in jumping into the fray. 
Little Rock, Arkansas had been preparing to submit a proposal, but decided a little more than a week before Thursday's deadline to abandon the bid, finding that the city couldn't measure up to Amazon's requirements. In its request for proposals, Amazon said it was looking for cities that are located in an urban or suburban area within 30 minutes of a population center, at least 45 minutes away from an international airport and that has more than 1 million people.
Little Rock didn't meet Amazon's population, transportation or site requirements, so officials decided to take the opposite approach in a "smart, southern and humorous" way, said Jay Chesshir, CEO of the Little Rock Regional Chamber of Commerce. This week, the city launched a "Love, Little Rock" advertising campaign that laid out why it wouldn't be a good fit for Amazon, but could be an attractive home for other companies. Little Rock ran a full-page ad in the Washington Post (which is owned by Jeff Bezos) and is flying a banner over Amazon's Seattle headquarters that says "Hey Amazon, it's not you, it's us."
Another factor swaying Little Rock's decision was concern that Amazon's massive footprint might pose some potential problems for the city, Chesshir said. 
"When you look at how there would be 50,000 employees on one specific campus and in one specific area of the community, obviously as Seattle has seen, that creates problems unto itself," Chesshir explained. "So what we're trying to say is that while we don't have what Amazon is looking for, we do have what others are looking for today in their projects." 
Amazon has yet to respond to Little Rock's breakup letter, Chesshir added.
For cities who weren't enticed by the Amazon name alone, the company threw out a few dazzling stats to demonstrate the added benefits of having a global tech giant located in their municipality. Amazon has promised to invest more than $5 billion in its next headquarters and build a campus that could create as many as 50,000 jobs over the next two decades. The company estimated that the average salary for jobs at HQ2 would be about $100,000. 
Economists have agreed that Amazon's second headquarters could bring an economic boom to whichever city is the winner. Amazon's headquarters could bring more people with advanced degrees, or attract other companies that are partnered with Amazon. Companies like Amazon tend to create "innovation clusters" in the cities their located, whereby one Amazon job has the potential to create five other jobs, according to Enrico Moretti, an economist at the University of California, Berkeley and author of "The New Geography of Jobs." In turn, that can also help increase home values. 
Others argue that Amazon's HQ2 could be an economic bust, at least in some respects. To start, cities have been promising big tax breaks to Amazon that could come at the expense of local taxpayers in the near term. New Jersey offered $7 billion in potential tax credits, while California proposed $300 million in incentives over several years and Philadelphia said it may contribute as much as $2 billion in tax breaks over 10 years. In exchange for the limelight, residents might face higher tax rates to foot the bill of shiny subsidies. 
And still others question exactly what affect Amazon would have on the local demographics, community and quality of life. Those concerns were shared in a letter penned by community organizations across 21 states.
"We love jobs, we love technology and we love convenience -- but what you're looking for will impact every part of our cities," the letter states. "We built these cities, and we want to make sure they remain ours."
Seattle Times columnist Danny Westneat cautioned that Amazon might bring "too much of a good thing." 
"If there's one thing we know in Seattle, it's boom and bust," Westneat explained. "Both the rush, and the relapse, of the fast buck are in our civic DNA. So heads up, Other North American City: Amazon is about to detonate a prosperity bomb in your town." 
Even New York City's own mayor, Bill de Blasio, had some foreboding words about becoming the site of Amazon's HQ2. Ironically, de Blasio (who famously said he's never bought anything from Amazon) was quoted on the same day that the city said it would light up the Empire State Building and Times Square billboards in "Amazon orange" to celebrate its bid for HQ2. 
"Something different is happening now that is very disruptive to communities," de Blasio said on Wednesday. "A lot of this is economic and consumer-choice-based. So a lot of people are turning to Amazon and other online options, that's one of the underlying factors."
Either way, Bezos is a badass. 
More of What's Trending on TheStreet: