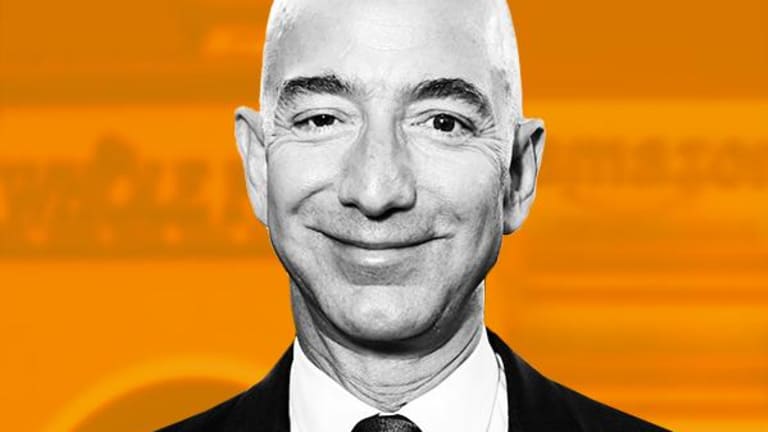 Amazon's Whole Foods Deal Is a Bold Play for an Industry That Has Never Been Perfect For E-Commerce
The acquisition lets Amazon take aim at a bricks-and-mortar grocery industry that will remain huge for the foreseeable future. There are also synergies with Amazon's e-commerce operations.
Thursday's reports indicating that Amazon.com Inc. (AMZN) - Get Amazon.com, Inc. Report is mulling a high-ten-figure bid for cloud collaboration software firm Slack now feel like foreshadowing. Amazon, whose largest acquisition to date had been its $1.2 billion 2009 purchase of online shoe/apparel retailer Zappos, has announced a deal over 11 times as large. One that puts the company into uncharted territory in several ways.
The deal brings with it some notable risks -- both on account of the company-specific problems that the acquisition target has, and the new skills that Amazon will need to learn to make the deal fully pay off. Still, there are good reasons why markets have responded to the news by adding about $16 billion to Amazon's market cap, and selling off shares of those retailers the deal takes aim at.
On Friday morning, Amazon issued a short press release announcing it's buying top natural/organic grocery chain Whole Foods Market Inc. (WFM) for $13.7 billion in cash after factoring net debt, or $42 per share. The price represents a 27% premium to Whole Foods' Thursday close and is equal to 32 times the company's fiscal 2017 (ends in September) EPS consensus of $1.31, but is also well below Whole Foods' 2013 high of $62.37.
The deal, which Amazon was previously reported to have explored last fall, is expected to close in the second half of 2017. Whole Foods co-founder John Mackey will remain the company's CEO, reporting to Jeff Bezos, and his grocery chain will remain headquartered in Austin, Texas.
Amazon's shares are up 3.2% to $995.20 in response. Major bricks-and-mortar grocery sellers aren't so fortunate. Wal-Mart Stores Inc. (WMT) - Get Walmart Inc. Report is down 5.2% to $74.80, Target Corp. (TGT) - Get Target Corporation Report  is down 6.9% to $51.65, Costco Wholesale Corp. (COST) - Get Costco Wholesale Corporation Report is down 6.9% to $167.69, Kroger Co. (KR) - Get Kroger Co. (KR) Report (hammered earlier this weak due to disappointing guidance) is down 9.7% to $27.19 and Sprouts Farmers Market Inc. (SFM) - Get Sprouts Farmers Markets, Inc. Report is down 5.5% to $21.18. In addition, the PowerShares Dynamic Retail ETF (PMR) - Get Invesco Dynamic Retail ETF Report is down 2.4% to $33.86.
These selloffs are arguably excessive, but markets hate uncertainty, and Amazon just added a large dose of it to the grocery industry, and to a lesser extent physical retail in general. Whole Foods, meanwhile, is trading at $0.96 above its buyout price, as speculators bet that a higher bid will arrive.
As it stands today, Whole Foods provides Amazon with 464 grocery stores in the U.S., Canada and the U.K., along with 87,000 employees and close to $16 billion in annual sales. It also provides a customer base that from all indications has strong overlap with Amazon's Prime subscriber base. Like Prime, Whole Foods' base contains an outsized share of U.S. consumers earning over $100,000 per year, and also skews towards well-to-do urban and suburban neighborhoods.
This demographic overlap should provide Amazon -- perhaps aided by new Whole Foods-related perks and promotions for Prime members, and also Whole Foods' nascent Rewards loyalty program -- with plenty of opportunities to drive Prime members to Whole Foods stores, as well as use Whole Foods to drive Prime sign-ups. And in doing so, take on an industry that has been a tough nut for Amazon to crack.
The high weight of many grocery items relative to their price has limited Amazon's online grocery sales, as it has led to shipping costs that -- even with Amazon lowering delivery distances through its warehouse expansion, and offering discounts for large orders via its Prime Pantry service -- often make grocery purchases notably more expensive on Amazon than at a local Wal-Mart or supermarket. The perishability of items such as dairy products and meats has also been an issue. So has the fact that many consumers prefer to see produce and meats in person before buying them, and that shoppers often want to consume items immediately rather than in a day or two.
Thus, for all the advances Amazon has made to make online deliveries faster and more cost-efficient, physical retail will likely continue accounting for a giant portion of U.S. grocery sales for the foreseeable future. Amazon, reported for months to be exploring various grocery store concepts, is now set to be a big player in this industry as well, while potentially using its new grocery store footprint to strengthen various existing businesses.
These include the AmazonFresh service, which for an extra $15 per month gives Prime members in select metro areas free same-day and next-day grocery deliveries on $40-plus orders. Whole Foods, which to date has been partnering with AmazonFresh rival Instacart, should help expand AmazonFresh's selection and lower its infrastructure costs, and could also speed delivery times for consumers living close to a Whole Foods.
And as Walmart, whose e-commerce operations have been growing rapidly in recent months, starts leveraging its giant retail footprint to provide discounts for picking up online orders at a store, Amazon could start using Whole Foods to do something similar. For non-grocery orders, this will still typically require items to be transported from an Amazon warehouse, but it could still lower Amazon's shipping costs, and hence make a discount viable. And just as Amazon has been using the small physical bookstores it has been setting up as showrooms for its Kindle, Fire and Echo hardware, it could start using Whole Foods stores for the same purpose.
One could also see Whole Foods' infrastructure and grocery selection being used to support Amazon's innovative Go store concept, which involves convenient stores that use sensors, cameras and algorithms to let shoppers buy items and leave without ever standing in a checkout line. Over the long run, Go's technology could also be deployed in Whole Foods stores. That said, the size of Whole Foods stores will make deployment a bigger challenge than it is for convenience stores, and chances are that many shoppers buying a large number of items will still prefer to have their groceries bagged by a store worker.
Meanwhile, Amazon likely has an opportunity to make Whole Foods' operations more efficient, as it integrates them with its huge and constantly-growing warehouse and logistics infrastructure. Whole Foods should also be able to leverage the big software investments Amazon has made in fields such as customer analytics, merchandise management and product recommendations to optimize what items it sells, what prices they're sold at and who they're promoted to. Such synergies could be particularly helpful if Amazon is able to cross-match what individual shoppers buy online with what they buy at Whole Foods.
Assuming Amazon is able to make Whole Foods more efficient and use it to strengthen existing businesses, it's hard not to see Amazon, run as it is by a guy who once quipped "Your margin is my opportunity," start slashing prices at a grocery chain that has been mockingly called "Whole Paycheck." And that, in turn, would help address what's arguably the biggest risk related to the acquisition: Whole Foods has been losing share as Walmart, Target, Trader Joe's and big supermarket chains all undercut its natural/organic food pricing.
Whole Foods has tried to address this problem by selling cheaper items next to costlier fare, and recently by launching its lower-cost 365 store concept. But more clearly needs to be done: The company's sales rose just 1% annually during the quarter ending April 9th, with comparable store sales dropping 2.8% and gross margin falling 82 basis points to 34.1%.
Moreover, even the company's turnaround plan -- launched amid intensifying pressure from activist Jana Partners to make changes -- only aimed for same-store sales growth to be "greater than 2.0%" in fiscal 2020. And Whole Foods' fiscal 2017 EPS consensus of $1.31 is respectively 15% and 19% below reported fiscal 2016 and 2015 EPS.
Even with all the other synergies, Amazon likely needs to end Whole Foods' share losses to make the acquisition a success, given the valuation it's paying. And doing so will require a company that has been almost exclusively focused on online retail to date to successfully handle the difficult challenge of integrating a mammoth physical retail operation.
Amazon could also face a tough challenge in trying to integrate Whole Foods' business culture, rooted as it is in Mackey's "conscious capitalist" philosophy and a focus on team-based decision-making, with Amazon's more aggressive win-at-all-costs mindset. In areas such as wages, employee hours, decision-making processes and hiring and firing policies, it's not hard to imagine some friction emerging between Seattle and Austin, and employee morale and retention being hurt if it isn't successfully addressed.
But considering all of the long-term benefits Whole Foods can provide, and all of the resources that Amazon can deploy to help realize those benefits, such risks don't feel excessive. For a price equal to about 3% of Amazon's market cap, the company is significantly growing its addressable market and going a long ways towards neutralizing a strategic weakness relative to Walmart.
That's a risk/reward ratio that someone like Bezos can definitely live with.