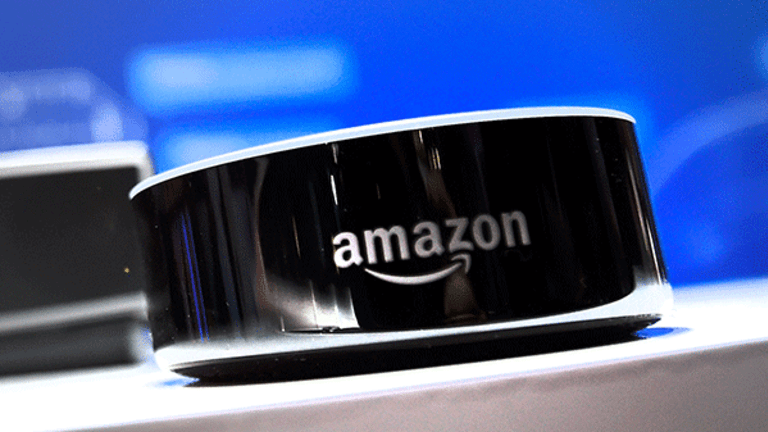 That Amazon.com (AMZN) - Get Amazon.com, Inc. Report is bent on growing the consumer reach and hardware/software ecosystem for its Alexa voice assistant was already pretty well-known prior to this week. But a pair of new moves point to a surprising willingness by Amazon to let Alexa impose itself on other parts of the company's empire. And one has to wonder what future moves such a strategy will lead to.
On Thursday, Amazon announced iPhone users will be able to access Alexa through Amazon's widely-used iOS shopping app. Tapping on the app's microphone button, which is located near the search bar, now allows users to direct commands and questions to Alexa in addition to making product searches.
One has to assume a similar feature will roll out for Amazon's Android shopping app in time. Since the app has to be opened for Alexa to be accessed, the solution isn't as convenient as pulling up the voice assistants Apple (AAPL) - Get Apple Inc. (AAPL) Reportand Alphabet/Google  (GOOGL) - Get Alphabet Inc. Class A Report have respectively baked into iOS and Android. Apple's Siri can be accessed on iPhones and iPads by either pressing and holding the home button, or (on newer devices) by saying "Hey, Siri." Likewise, Google Assistant or the older Google Now service is accessible on many Android phones by holding down the home button or saying "OK, Google."
Jim Cramer and the AAP team hold positions in Apple and Alphabet for their Action Alerts PLUS Charitable Trust Portfolio. Want to be alerted before Cramer buys or sells AAPL or GOOGL? Learn more now.
But as Google has shown by integrating its voice assistant within its iOS search app, there's still value in a solution such as Amazon, particularly for those already using the assistant on another device that provides easier access. And with Amazon's shopping app currently ranked #20 on App Annie's top U.S. free iPhone download chart -- it cracked top-10 on some days during the holiday season -- the move certainly does a lot to increase Alexa's smartphone reach.
Perhaps just as important, it gives owners of Amazon's Alexa-powered Echo speakers an easy way to control smart home devices or access other Alexa "Skills" one has come to rely on while away from home. Or perhaps simply when in a part of one's home where an Echo speaker can't hear you. Alexa's smart home ecosystem has grown rapidly over the last 12 months, and -- thanks partly to the more stringent requirements Apple places on hardware partners -- now appears to be larger than the ecosystem for Apple's HomeKit platform, which is integrated with Siri.
Amazon's move comes shortly after Lenovo's Motorola Mobility unit announced it would bake Alexa into most of its phones going forward, and Huawei announced its Mate 9 phablet would come with Alexa. More Android integration deals are likely in the coming months.
Separately, Amazon Web Services (AWS) has announced that developers relying on AWS to host Alexa Skills will now get a $100 promotional credit, along with $100 per month in credits for AWS usage charges. As it is, Amazon has already been giving Alexa developers some free monthly computing capacity, via its AWS Free Tier.
Though developers can also host Alexa Skills on other platforms, AWS has been a popular option. The AWS Lambda service, which lets the code for Alexa Skills (among other things) be run without having to manage individual server virtual machines, has much to do with it. Over 12,000 Skills can now be found on Amazon's site, up from just 1,000 eight months earlier.
Over 1,000 people were working on Alexa and the Echo line as of last May, and (judging by job listings) the number might be much higher now. In recent months, Amazon has been reported to be worked on an Echo-like device with a 7-inch touchscreen (useful for interactions for which voice isn't ideal), as well as an Alexa-powered home camera and an Alexa device (possibly the touchscreen product) that acts as a phone and an intercom.
All of these moves come as consumers get more and more comfortable using voice as an alternative input method to keyboards, mice and touchscreen taps/swipes. In a survey of 2,000 phone users done by ad services firm HigherVisibility, 21.6% of respondents said they use mobile voice search at least once a day, and another 26.7% at least once a week. 58.3% said they used it because it's either easier or faster than alternatives, and 26.2% because it can be used in situations where one can't type or look at a phone (for example, when driving).
Notably, 37.1% of Alexa users said they used the assistant at least once a day, a much higher percentage than the ones granted to Google Now (23.5%), Siri (21%) or Microsoft's (MSFT) - Get Microsoft Corporation (MSFT) ReportCortana (15.8%). 92.3% of Alexa users thought the assistant was accurate; Cortana and Google Now received scores of 93% and 90.8%, while Siri trailed the pack at 82%.
For all of its success over the last two years, there are still some things that Alexa clearly needs to work on, particularly with regards to its Skills ecosystem. Only 14% of Skills have user ratings of 4 stars out of 5 or higher, and 35% have just a 1-star rating. Moreover, a study done by voice analytics firm VoiceLabs found that only 3% of new "voice applications" enabled by consumers continue to be used during their second week. Certain "outliers" achieved a retention rate north of 20%.
Working with developers to create more compelling Alexa Skills needs to be an Amazon priority, as does finding ways to get consumers to re-engage with installed Skills and promoting popular ones on Amazon's site and elsewhere. Amazon also needs to put more work into improving Alexa's ability to maintain conversations with users. Google, whose AI investments have done much for the natural language-processing abilities of several of its services, arguably has an edge here.
But considering Amazon's hiring activity and the whirlwind of moves it's making to improve Alexa's usefulness and reach, there's a good chance that many of these issues will be addressed in time. Jeff Bezos' company was far from the first entrant in the voice assistant wars, but it's doing just about everything possible to make up lost ground, and then some.