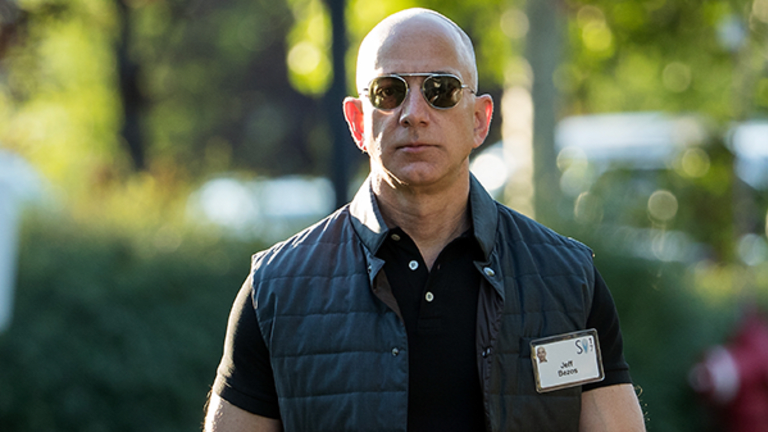 Whole Foods Could Bring a Nasty Surprise to Amazon in 2018
Analysts weigh in on Amazon's shocking second-quarter earnings.
Shares of Amazon.com Inc.  (AMZN) - Get Amazon.com, Inc. Report were trading down 2.6% to $1,018.35 early Friday afternoon, the day after Jeff Bezos' behemoth of a company reported disappointing second quarter results. 
For the past quarter, earnings dropped 77% year-over-year to 40 cents per share, well below expectations for $1.42 cents per share. Revenue increased 25% year-over-year to $37.96 billion, beating expectations for $37.18 billion. Amazon Web Services' revenue climbed a stunning 42% year-over-year to $4.1 billion, which also barely topped expectations for $4.08 billion.
But should you be worried? Jim Cramer has said that Amazon isn't an earnings story, it's one of world domination. 
Analysts asked what happened to earnings during the conference call after the results were released and Amazon said that the drop was due to investing in fulfillment, video content, hardware, Prime services, international expansion and Amazon Web Services (AWS) infrastructure and marketing. The company noted that investors shouldn't expect a change in the near term. Amazon said it could lose up to $400 million in the current quarter. 
Amazon has always focused on long-term cash flow over short-term quarterly profit. "We've been true to that mantra for our entire life as a public company. And this is the way we will approach the investments that we make together in Whole Foods," Amazon's CEO of Worldwide Consumer Jeff Wilke said in June at a town hall meeting. "We will think about the long run. We'll think about customers."
Watch: An Organic Look at Whole Foods' Biggest Moments 
Amazon guided for sales to increase between 20% and 28% year-over-year for the third quarter to $39.25 billion and $41.75 billion. Wall Street was expecting sales of $39.98 billion for the current quarter. 
Here's what Wall Street's saying about Amazon's disappointing earnings. 
James Cakmak, Monness Crespi Hardt (Neutral, $1,046 price target)
"Taking a closer look at the segments, if there were any questions about the demand for Amazon's products and services, they were certainly put to rest as key growth measures accelerated sequentially. Sure, it comes at a cost, but that's not really a surprise when it comes to Amazon."
More of What's Trending on TheStreet:
10 Crazy Fees Airlines Use to Rip You Off Even More

Michael Pachter, Wedbush Securities (Outperform, $1,046 price target)
"Amazon has great potential to deliver substantial earnings growth one day, tempered randomly by spending on new initiatives. The company appears intent upon growing annual profits at some point, but has generated quarterly volatility as the company invests in growth. Eventually, Amazon Web Services ("AWS"), Fulfillment by Amazon ("FBA"), and advertising should drive margin growth, with Prime membership driving overall retail revenue growth. Margin expansion will likely be tempered somewhat by increased spending on video, fulfillment, and international; however, the trajectory is clear and investment strategy purposeful."
Ryan Domyancic, William Blair (Outperform, price target NA)
"We believe the biggest takeaway from Amazon's second-quarter update is that overall investment in the business is accelerating. Second-quarter GAAP operating income was below the midpoint of Amazon's
$425 million to $1.1 billion guidance range; it nearly met or exceeded the high end of its operating income guidance range in the previous 10 quarters. Looking ahead, we expect the more sizable international investment to continue. We also would not be surprised to see North America operating profit growth slow in 2018 as Amazon integrates Whole Foods and, according to media reports, continues to explore various industries beyond traditional consumer e-commerce. Amazon's investments are producing top-line results, however, and we do not anticipate a significant shift in investor sentiment."
Amazon and General Electric Are Friday's Smoking Hot Tickers: AMZN, TSLA, SBUX, GE, AAPL
Edward Yruma, KeyBanc Capital Markets (Sector Weight, $1,046 price target)
"Amazon's +27% North American retail revenue growth points to continued retail share gains, but we think investments and competition will continue to weigh on earnings. It's not often we see this level of growth and EBIT margin deleverage, but we believe Amazon is unlike any other company. We think investments will remain high for the near to medium term and are adjusting our retail estimates accordingly."
Scott Devitt, Stifel (Buy, $1,000 price target) 
"Amazon is spending aggressively on everything under the sun. It may all work but it is clear that investment levels will be heightened in the near term. The most recent investment cycle created a buying opportunity once certain investments received reduced allocations based on limited success, China and mobile phone. We see a lot of positive in this cycle but note two areas that could eventually be viewed as problematic by investors: (1) video, and (2) various new retail initiatives such as grocery."
Daniel Salmon, BMO Capital Markets (Outperform, $1,200 price target)
"Both 2Q reported and 3Q guided OI were below estimates, but we think top-line acceleration (~70bps QoQ excluding 2016's leap year) should keep any small sell-off relatively short in duration."
Jason Helfstein, Oppenheimer (Outperform, $1,135 price target)
"We are increasing our price target to $1,135 from $1,100, following another strong quarter where three of the five segments reported an organic revenue acceleration, and AWS beat the Street, despite increased competition. We still believe Amazon is a "must own" within large-cap given a number of greenfield opportunities, and the leading position in global eCommerce. While mgmt guided 3Q:17 margins down 188bps y/y, investors are likely to continue to give mgmt a "pass" on margin dilution, as top line continues to accelerate."
Aaron Kessler, Raymond James (Market Perform, price target NA)
"We maintain a positive fundamental view on Amazon given continued ecommerce share gains, expectation for meaningful long-term margin expansion, and its leadership position in cloud. That said, we maintain our Market Perform rating as we believe shares are fairly valued at current levels and that Amazon needs to show more meaningful operating leverage for shares to move meaningfully higher from current levels."
Mark Mahaney, RBC Capital Markets (Outperform, $1,100 price target) 
"You're thinking, "Sigh...another AMZN investment cycle." But why sigh? We believe the company's very large TAMs (Retail, Cloud & Advertising), it's well-documented Investment Track Record & its Current Growth Acceleration all justify this level of investment."
More of What's Trending on TheStreet: