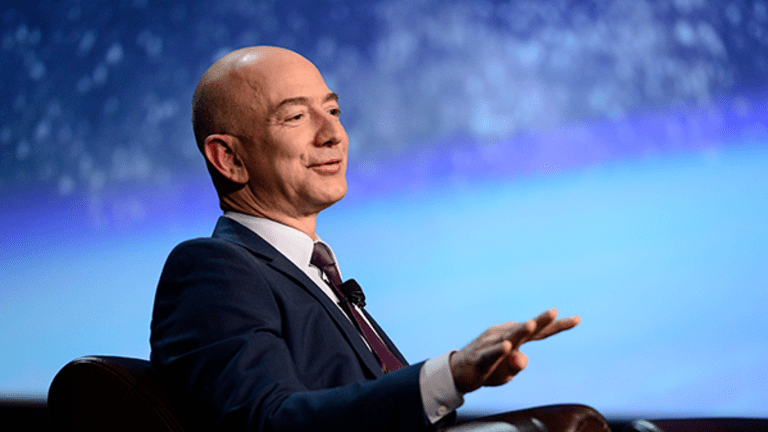 Why Amazon's Reported Smart Glasses Might Be Just a Niche Product -- For Now
Amazon's glasses are reportedly unlikely to feature a display and the company's lack of a popular smartphone OS could be a handicap.
So much of the success achieved by Amazon.com Inc.'s (AMZN) - Get Amazon.com, Inc. Report Alexa voice assistant and Echo speaker line is simply a product of Amazon moving faster and acting more pragmatically than rivals that had launched voice assistants years earlier. Jeff Bezos & Co. recognized the potential of inexpensive, assistant-powered, home speakers long before Alphabet Inc./Google (GOOGL) - Get Alphabet Inc. Class A Report , Apple Inc. (AAPL) - Get Apple Inc. Report  or any other major tech or consumer electronics firm did. And they were much more proactive in creating a large developer and hardware ecosystem for its assistant than Google or Apple were.
As the Financial Times reports that Amazon is working on a pair of Alexa-powered smart glasses, one has to wonder if the e-commerce/cloud infrastructure/digital content/consumer hardware giant will again steal a march on other tech giants by being quicker to unleash the potential of a compelling technology concept. But there are still some unanswered questions about Amazon's plans, and depending on how the market develops, the company's lack of a popular smartphone OS might prove a handicap.
Sources tell the FT that Amazon is developing a pair of glasses that could field Alexa commands, as well as a "home security camera system" that could be controlled and (should a screen be present) monitored via Echo devices. Notably, they add one or both of these devices could launch by year's end, along with "updates to existing Echo devices."
The glasses are said to rely on a bone-conduction system, which transmits audio through a user's bones to his or her inner ear, to deliver Alexa's responses. That prevents Alexa from drowning out external sounds, and also spares bystanders from having to hear the responses. It might also enable support for Bluetooth-based calling and music services, though it's worth keeping in mind that the audio quality provided by the first bone-conduction headsets isn't that great, and that listening to music while fully hearing everything around you is a mixed blessing.
From the looks of things, the glasses don't feature a display that could be used to surface information or show augmented reality content. Though noting the product "could provide a platform" for Amazon to launch an AR headset down the line, the FT says Amazon's glasses "likely" won't feature a camera or screen.
Jim Cramer and the AAP team hold positions in Apple and Alphabet for their Action Alerts PLUS Charitable Trust Portfolio. Want to be alerted before Cramer buys or sells AAPL or GOOGL? Learn more now.
More of What's Trending on TheStreet:
Editors' pick: Originally published Sept. 20.
One has to wonder if a camera will ultimately be included: It's relatively easy to do, and Snap Inc.'s (SNAP) - Get Snap, Inc. Class A Report $130 Spectacles video-recording glasses have escaped the PR issues that marred Google Glass and its built-in camera.
Either way, though, the absence of a display would make Amazon's first-gen glasses much less ambitious than what others have announced or are believed to be prepping. Bloomberg has reported Apple is working on AR glasses that "could connect wirelessly to an iPhone and beam content -- movies, maps and more -- to the wearer," and arrive as soon as 2018. Mark Zuckerberg has said Facebook Inc.'s (FB) - Get Meta Platforms Inc. Class A Report Oculus unit is working on "AR hardware," and a Facebook patent application points to the development of glasses relying on a "waveguide display" to show AR content.
Microsoft Corp.  (MSFT) - Get Microsoft Corporation Report is still working on its HoloLens AR headset, which for now is only available through a $3,000 developer kit. But the fact that HoloLens is bulky and meant for indoor use restricts its addressable market. And though its has had some setbacks, startup Magic Leap, which is prepping an AR headset that promises superb imagery with the help of a "photonic lightfield chip," still bears watching.
A headset packing an assistant but lacking a display is definitely easier to develop and cheaper to sell, and it's likely that Amazon will price aggressively. But the addressable market might not be that large. iPhone and Android users can, of course, access Siri and Google Assistant, respectively, by pulling out their phones and issuing an activation phrase ("Hey Siri" or "Hey/OK Google"). Siri and Google Assistant can also integrate with Bluetooth headsets, with users able to issue commands to a Bluetooth microphone by tapping a button and hearing responses through its speaker(s).
And while neither of these solutions is as convenient and unobtrusive as directly issuing commands to a headset featuring bone-conduction audio tech, one has to wonder how many consumers will buy and put on a pair of glasses just to get that extra convenience along with standard Bluetooth headset features. That's particularly true since many smartphone users seem less comfortable using voice assistants in public settings than private ones.
Adding a camera would grow the addressable market some. But it's worth keeping in mind that Snap's "Other" revenue, which mostly consists of Spectacles sales, totaled just $5.4 million in Q2 and $8.3 million in Q1. For now at least, it seems most consumers are happy to just rely on smartphones that contain increasingly higher-quality rear cameras and provide easy access to social sharing tools for video-recording.
It's certainly possible that Amazon views its first smart glasses as a stepping stone towards launching AR glasses down the line. That would fit with the mindset -- get something out the door quickly, get customer feedback and expand the product line in time -- that has allowed Alexa and the Echo line to achieve as much as they have. And it's worth noting here that Amazon has (per the FT) hired several "researchers, engineers and designers" that previously worked on Google Glass, as well as Glass creator Babak Parviz.
Nonetheless, even if Amazon does eventually launch AR glasses, rival products from Apple and Google (or Google's Android OEM partners) could claim a major competitive edge by providing tight integration with iPhones and Android phones. An Apple headset, for example, could be used to handle calls and view text messages, as well as integrate with built-in iOS apps such as Maps (useful when driving), Photos and Music. And Google, for its part, could provide integration with Android calling/texting features and apps such as Google Maps, Gmail and YouTube.
Moreover, Apple and Google can leverage their giant developer bases to create large ecosystems of apps for AR glasses that pair with existing smartphone apps. These could include smartphone apps based on Apple's new ARKit and Google's ARCore augmented reality platforms. The first apps supporting Apple's ARKit arrived in the App Store on Sept. 19, in tandem with the rollout of iOS 11.
Considering Amazon's track record with the Echo line and much else, including its ability to steadily improve on products over time, the company's reported smart glass plans deserve close watching. But based on what's currently known, Amazon's first effort in this space might be a niche product rather than a smash hit.