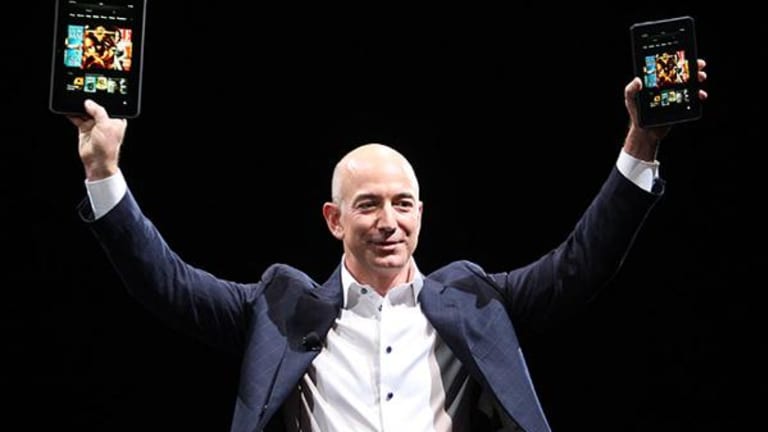 Amazon's 'Record-Setting' Holiday Season: Which Numbers Are Worth Paying Attention To
The e-commerce giant shared some genuinely impressive figures in its annual holiday press release. Others, however, are PR fluff or a rehashing of well-known facts.
Like eggnog, mistletoe and Rudolph, lengthy Amazon (AMZN) - Get Report press releases extolling how popular the e-commerce giant's goods and services were between Thanksgiving and Christmas have become a staple of the holiday season. And in line with the spirit of the season, the announcements mix a fair amount of hype and theatrics with items their intended audience -- Amazon investors, merchants and business partners -- should genuinely be impressed by.
Altogether, Amazon's 2016 holiday press release contains over 100 bullet points sharing "fun facts" about its seasonal performance. Some are clearly fluff meant to inform/remind readers that a particular Amazon service exists, or to drive home the scale of Amazon's operations -- for example, noting that Home Alone and Elf were the holiday movies most frequently requested via the Alexa voice assistant, or that customers "purchased the weight of a grizzly bear in gold."
And others, such as lists of holiday bestsellers for three dozen categories, seem meant to inform merchants about what's in demand and remind everyone about the breadth of Amazon's retail offerings.
But in between all of this, Amazon also includes a number of points highlighting how much Amazon's operations and customer base have grown in recent years. Some of these are more impressive than others.
Here's a run-down of the most noteworthy holiday season sales, subscription and usage figures included in this year's press release, and just how meaningful each datapoint is.
1. "Millions" of Alexa devices were sold.
Ultimately, this isn't very surprising. Amazon discounted its Alexa-powered Echo and Fire TV devices during the holiday season, and research firm CIRP estimated in November Amazon sold 2 million Echo units alone during the first 9 months of 2016. As usual, Amazon declines to provide specific hardware sales data.
2. Echo sales were up over 9x relative to last year's holiday season.
This is more impressive, and shows how the early-2016 launches of the less costly Echo Dot and Tap speakers/voice assistants have expanded the Echo line's addressable market. Amazon's figure is backed up by the fact the iOS Alexa app made it to #4 on the App Store's free download chart on Christmas Day. Once again, though, a precise sales figure would be nice.
3. Over one billion items were shipped worldwide via Prime and Fulfillment by Amazon (FBA).
This is impressive on a standalone basis, and it's worth noting that Amazon didn't provide a similar number in last year's holiday press release. Prime and FBA have both seen tremendous growth over the last few years, and there's a lot of evidence showing both that Prime members spend much more on Amazon than other customers, and that many merchants are adopting FBA to make their goods Prime-eligible. But in the absence of data about the average selling price of Prime/FBA-shipped goods and their share of total Amazon shipments, this stat doesn't tell us much about whether a company expected to do fourth-quarter sales of $44.7 billion will meet its numbers.
4. More people tried Prime this holiday season than in any previous year.
No surprise, given Prime is still clearly seeing robust growth. Citing survey data, Cowen estimated that the number of U.S. Prime subscribers grew by 23% annually in October to 49.5 million; the launch of a monthly payment option in April may have helped. Amazon still isn't providing data on the overall number of Prime subscribers it has, however.
5. More than 72% of Amazon customers shopped using a mobile device.
That's up slightly from the "nearly 70%" of customers who did so last year. As is the case for other e-commerce firms, a subset of Amazon customers still feel more comfortable shopping via PCs.
6. Shopping on the Amazon mobile app rose 56% annually.
Alphabet/Google (GOOGL) - Get Report can't be happy to see this figure, since shoppers going straight to Amazon's app are bypassing Google search (and with it, Google search ads). Customer growth, app download growth, higher spending per customer fueled by Prime and a growing comfort among existing mobile shoppers with ordering via smartphones/tablets likely all contributed to this number.
7. Over 200,000 full-time and seasonal "associates" made Amazon's U.S. holiday shipments possible.
Given that Amazon previously disclosed it had over 306,000 employees globally as of Q3 (up 36% annually) and has a history of aggressively hiring holiday temp workers, this disclosure isn't a big surprise. But it does show the degree to which Amazon has become a retail colossus backed by a massive logistics infrastructure.
Target (TGT) - Get Report, with its giant bricks-and-mortar footprint, has 341,000 global employees. Wal-Mart (WMT) - Get Report still leads the pack with 2.3 million employees, of which 1.5 million are in the U.S.
8. 45,000 robots are deployed in more than 20 Amazon fulfillment centers.
This is up from 30,000 as of Q3 2015, and 15,000 as of the end of 2014. Amazon's $775-million purchase of warehouse robot developer Kiva Systems in 2012 continues to pay big dividends, helping the company move goods around more quickly and efficiently, expand Prime's product selection and increase FBA's appeal.
At the same time, Kiva's robots are still only found in a subset of Amazon's 80-plus global fulfillment centers (The company's press release said they're in use in "more than 20" such centers but did not specify exactly how many). Based on current penetration rates and Amazon's growth, the number of robots in use could surge towards 100,000 in the years to come.
Alphabet is a holding in Jim Cramer'sAction Alerts PLUS Charitable Trust Portfolio. Want to be alerted before Cramer buys or sells GOOGL? Learn more now.
Amid all of these announcements, it's worth remembering what Amazon didn't disclose this time around. Unlike last year, the company declined to provide any sales growth info for Fire tablets, Kindle e-readers or Fire TV devices, in spite of providing broad-based hardware discounts. Nor did it give any new info about Prime Video, which it's been spending heavily on and recently made available in dozens of additional countries, nor usage growth of Prime Music.
By contrast, last holiday season, Amazon claimed total sales of its devices doubled from the previous year, and also stated that Prime Video viewing hours had doubled and Prime Music plays rose more than 350%. 
Regardless, Amazon shares are up 1.5% today, outpacing the Nasdaq's 0.5% gain. Even with all the hype and a handful of notable omissions, the company appears to have shared enough of value to produce a favorable investor response.