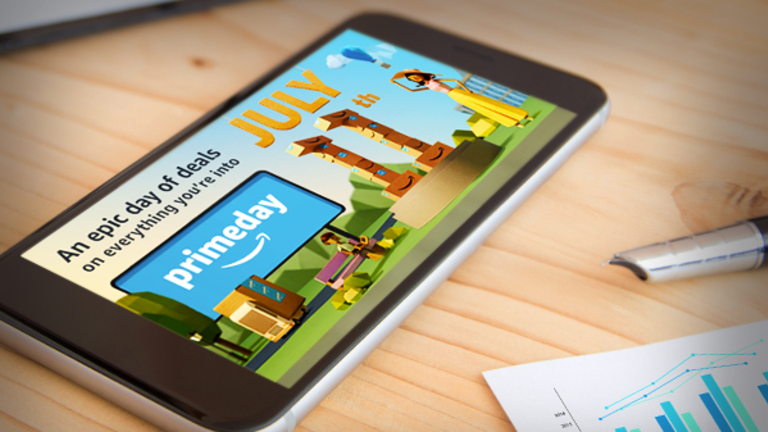 Amazon Had One Hell of a Prime Day That Will Pay Even More Dividends Later This Year
This analyst pulled no punches.
This analyst pulled no punches.
This year's Amazon (AMZN) - Get Report Prime Day ran circles around the records set last year, but the true benefits are likely to be felt further down the line.
The 30-hour blitzkrieg of deals surpassed both Black Friday and Cyber Monday, Amazon said, making it the "biggest day ever" in the company's history. Overall sales were up by more than 60% compared to last year, with a record number of Prime members making purchases across 13 countries.  
Prime Day began at 9 p.m. ET on Monday and wrapped up on Tuesday at 2:59 a.m. ET.  
The tech giant said Prime members' most popular purchase was the Echo Dot. The sheer number of Prime shoppers grew more than 50% compared to last year, Amazon noted. Outside of Amazon-owned devices, the most popular items sold in the U.S. were the Instant Pot pressure cooker and 23andMe DNA tests. Amazon also reported record sales of Fire tablets and Kindle devices. 
Amazon has yet to disclose specific sales figures from Prime Day, but JPMorgan analyst Doug Anmuth estimated that the event could bring in as much as $1 billion in revenue, up 55% year-over-year from last year's estimated sales of $640 million. This year, the company opened up Prime Day to China, India and Mexico, which, coupled with better promotions, likely helped to propel the event to record-setting levels, Anmuth noted. 
"Prime Day has become Black Friday in July," said Matt Linder, associate editor at Internet Retailer.
Most analysts are expecting Prime Day revenue to increase about 20% from last year's numbers, said Jan Kniffen, CEO of retail consultancy firm J. Rogers Kniffen. Amazon typically gives additional data on Prime Day after the release of its quarterly results. But even without hard data on its financial impact, this year's Prime Day proved to beat expectations, Kniffen explained.
July is usually the second-slowest shopping month of the year, but somehow Amazon managed to take a "random day in July" and make it extremely successful, Kniffen noted. It shows that Amazon has tremendous control and brand recognition among consumers, he added. 
"They had one hell of a day," Kniffen said. "It's going to give them a huge share of the retail market for July, at least." 
Prime Day isn't likely to make much of a splash relative to Amazon's overall revenue: The company is expected to generate roughly $166 billion in total revenue this year, dwarfing the $1 billion in Prime Day sales estimated by analysts. But that may not be what matters to Wall Street anyhow, Kniffen said. Amazon and Wall Street are more concerned with increasing the growth and scale of Prime Day. 
The event adds even more subscribers to the Prime ecosystem, which already stands at more than 70 million members, Anmuth said. Prime members spend significantly more on Amazon than non-members. Amazon can double the spending of non-Prime shoppers by getting them to sign up for a Prime membership, which is where it really sees the impact of Prime Day, Linder noted. 
"Prime is a key driver of the Amazon flywheel, with Prime Day an increasingly important Prime subscriber acquisition event," Anmuth wrote in a note to clients. "Many of these new members will convert to paying subs, and Amazon captures them well before the holidays."
That's the true kicker of Prime Day to Amazon, Kniffen said. It gives Amazon a taste of how consumers are feeling about the brand, what they're interested in buying in and what kinds of marketing they respond to most, which helps them when it comes time for the holiday shopping season.
"Amazon knows they've got the attention of the consumer," Kniffen added. 
Shares of Amazon advanced 1.2% to $1,006.51 by Wednesday's close.
Visit here for the latest business headlines.