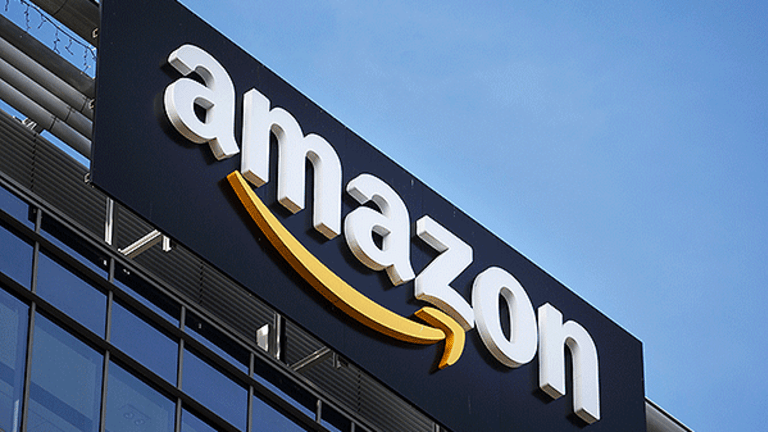 Amazon's Potential Addition of More Bricks-and-Mortar Locations Highlights Its Growing Strength
Analyst Ed Yruma of KeyBanc believes the company could be preparing to open a massive fleet of physical locations.
In December, the New York Post published a sensational cover story that labeled e-commerce juggernaut Amazon (AMZN) as a destroyer of jobs. The company had just outlined its plans for a convenience store that would have no cashiers.
Amazon Go, the in-and-out market concept, would have Prime member shoppers leave the store without so much as standing in a checkout line. Instead, their purchase would automatically bill to their accounts.
The Post ran the headline "The End of Jobs." However, today Amazon has made an announcement that it is in fact creating 100,000 jobs. 
One analyst, Ed Yruma of KeyBanc, believes that the Amazon's Thursday announcement signals that the company has big plans to expand its bricks-and-mortar retail footprint. The ramifications for investors would be huge. If Yruma is correct, the initiative would underscore the company's growing belief in its ability to build massive competitive edges in every, major area of retail. Amazon shares rose nearly 2% in Thursday trading. 
Amazon's report stated that about 18,000 of the jobs will be located in the company's massive warehouse facilities. But that leaves a big gap.
"Based on what we know of the new [warehouse] roadmap and our view on higher automation... we think that it likely does not support more than 50,000-60,000 incremental jobs. We believe that this could be explained by an accelerated rollout of physical stores," Yruma wrote. "In particular, we think that a potential grocery pickup concept looks promising."
Amazon currently employs a workforce of about 180,000. Something big must be on the horizon, and the expansion of Amazon's physical retail empire could account for the increased number of jobs.
Amazon has long been blamed for the death of bricks-and-mortar retail, from its beginnings as an online book warehouse with deals so good it left Barnes & Noble as the last big-box bookstore standing. Since then, the company has expanded its reach to include even clothing, once considered beyond the scope of e-commerce. The company is poised to overtake Macy's as the leading retailer of apparel and accessories.
Therefore, there's irony in the the company opening more bricks-and-mortar stores. Amazon already has stores in California, Washington and Oregon, with a New York City shop due to open in the spring.
Amazon has officially remained largely quiet when it comes to physical stores, although it has denied a rumor that the company plans to open 2,000 physical grocery stores.
We'll wait and see what's really going on behind Jeff Bezos' closed doors. If Yruma is correct, a large chain of physical grocery stores could pit Amazon against the likes of Kroger and specialty chain Whole Foods Market, as well as handing investors an opportunity to profit even more from this company.
Regardless, Amazon is a powerful force that should continue to grow. In fact, its stock could well blast past $1,000 per share in a few weeks if the company announces stellar holiday sales numbers as expected.
Keep an eye on Amazon as this innovative company continues to deal out surprises.
---
Amazon still makes a great play for investors.. But what if I told you I know a way you can see a $67,548 per year - or more - in profitable trades just by following this simple step-by-step process? The trader who is sharing this secret has been right more than 8 out of 10 times, turning $5,000 into more than $5 million for himself. Click here to see how easy it is to follow his lead and collect thousands of dollars in "Free Money" every month.
The author is an independent contributor who at the time of publication owned none of the stocks mentioned.