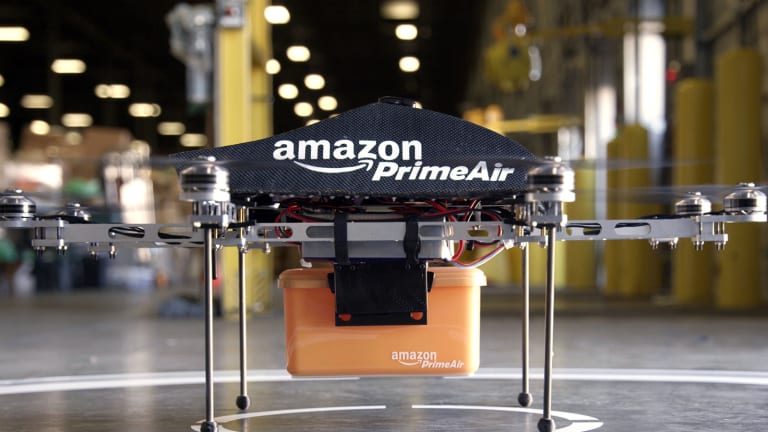 Creepy Amazon Drones Could Be Huge for Shareholders
Drones may equal more profits.
E-commerce superstar Amazon (AMZN) may have captured headlines and attention in December with the announcement that it had filed a patent for a flying warehouse.
That scheme, which would put giant blimps in the sky with merchandise and dispatch a fleet of drones, seems far-fetched. But drone delivery service seems far closer to fruition, and the implications for investors could be huge.
In December, Amazon completed its first successful drone delivery. The shipment took place in Cambridgeshire in the U.K. and involved the delivery of an Amazon Fire tablet and a packet of popcorn. The drone flew two miles to deliver the box of goodies, and from the point at which the customer clicked "Place your order" to the time he received his order took 13 minutes.
Now Amazon has reportedly filed for permission to test experimental, wireless communications technology. This is a clear indicator that the company is poised to expand its drone program.
The tests in question will occur first at Amazon's Seattle headquarters, and then at a customer facility in Kennewick, Wash., according to a Business Insider report. The company reported to the Federal Communications Commission (FCC) that the base stations will transmit for only about five minutes per day.
The primary contact on documents filed with the FCC is listed as Neil Woodard, a retired astronaut who serves as the e-commerce company's senior manager of drone delivery services.
Once the FCC grants permission for this "mystery project," the research should begin in 2018.
To be sure, there's no hurrying Amazon Prime Air, as the company's intended drone delivery service is named. Although Amazon has been able to put delivery drones in the air in the U.K., U.S. rules are stricter and will require paperwork and time.
However, if and when this happens, Amazon will have created a new business model. Drone delivery could potentially save the company a ton of money. No longer would Amazon need to employ a fleet of trucks and other manned delivery vehicles.
In addition, Amazon and rival Walmart have been exploring the use of drone technology in their warehouses.
Amazon has already changed the scope of retail. Once-beloved department stores such as Macy's and Sears have fallen away as two-day or even two-hour delivery make shopping more convenient than ever. The potential for delivery within minutes is huge, even if this doesn't become widespread for years. Still, investors should prepare for high-flying profits when this happens.
Amazon's stock could possibly cross the $1,000-per-share mark this year, perhaps within a few months. The company has been bold and innovative. Investors should grab shares. 
---
Amazon still makes a great long-term play. But what if I told you I know a way you can see a $67,548 per year - or more - in profitable trades just by following this simple step-by-step process? The trader who is sharing this secret has been right more than 8 out of 10 times, turning $5,000 into more than $5 million for himself. Click here to see how easy it is to follow his lead and collect thousands of dollars in "Free Money" every month.
The author is an independent contributor who at the time of publication owned none of the stocks mentioned.