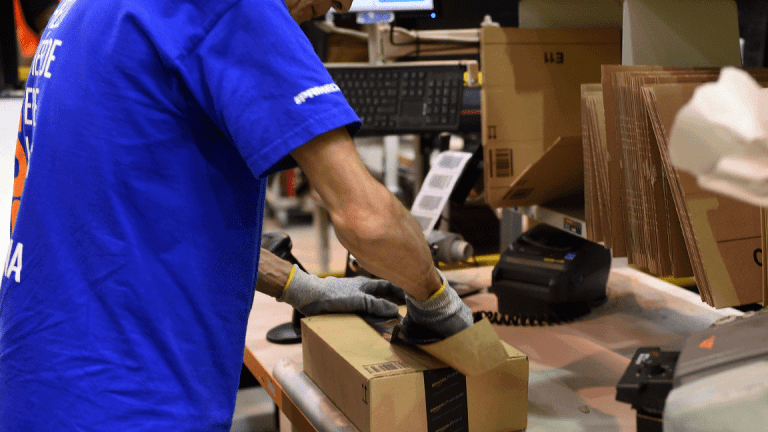 Amazon's New Delivery Service Is Basically Irrelevant to FedEx, UPS
Analysts at Credit Suisse contend the impact on both FedEx and UPS over Amazon's delivery service is 'negligible.'
On Thursday Amazon.com (AMZN) - Get Free Report announced that it was testing its own delivery service, Seller Flex, that would make more items available for free two-day shipping, subsequently sending shares of both FedEx (FDX) - Get Free Report and UPS (UPS) - Get Free Report lower.
The concerns for the delivery companies were that the e-commerce giant would supplant the two in picking up packages from third-party sellers on its platform, exert pressure on delivery rates and take business away.
However, analysts at Credit Suisse on Friday think the move is "more noise" than anything of "substance" as it relates to legitimately threatening the businesses at FedEx and UPS.
"In our view, and the high-level takeaway is that we do not see a material impact to either FDX or UPS," the firm noted, while adding that the two control residential deliveries for only a minute group of Amazon third-party sellers.
The firm found that third-party shipments account for 51% of Amazon's total shipments in the third-quarter, but 55% of those were fulfilled by Amazon itself already and consequently were not negatively impacting UPS or FedEx.
While some risks could stand to impact the remaining 45% of third-party sellers currently not serviced by Amazon, namely as it concerns pricing and delivery rates, the "trade up" in service could exert pressure to an already capital-starved USPS network, sending shipping rates higher nonetheless, Credit Suisse found.
"We believe the overall impact to FDX and UPS is negligible," the firm contended. 
Don't miss these top stories on TheStreet: