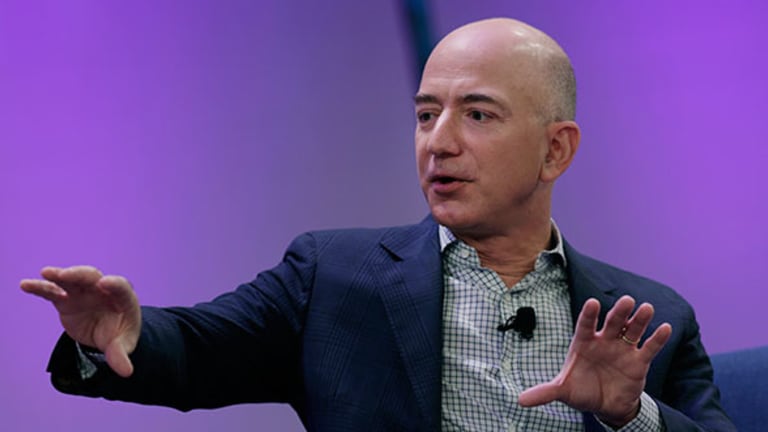 Amazon's New Store Checkout Technology Is a Game-Changer That Only It Could Pull Off
Amazon's self-checkout concept fits well with its rumored plan to open a chain of grocery stores. Will Amazon keep the technology for itself, or license it to other retailers?
This column has been updated to make note of a new Wall Street Journal report about Amazon's grocery store ambitions.
About 20 years ago, Amazon (AMZN) - Get Report led the way in providing consumers the convenience of buying goods without leaving their homes or changing out of their pajamas. It's perhaps fitting, then, that the company might soon lead the way in making traditional retail shopping much more convenient.
And the effort would fit well with what has been reported about Amazon's efforts to add a bricks-and-mortar footprint to its retail empire.
Amazon Go, a store concept that will first be tested at an 1,800-square foot Seattle location, lets shoppers buy items without ever having to stand in a checkout line. A dedicated app is used to gain access to an Amazon Go store, apparently via barcode-scanning. Afterwards, cameras and sensors backed by AI algorithms detect whenever a shopper picks up an item from a shelf, as well as when an item is picked up and then placed back on a shelf.
Upon leaving a store, shoppers are automatically charged for any taken items through their Amazon accounts, with receipts sent to their Amazon Go apps. "No lines. No checkout," proclaims the narrator of an Amazon promo video. That sound you hear is thousands of retail cashiers groaning in unison.
Amazon shares are up 2.6% today. Verifone (PAY) , a major provider of point-of-sale hardware and software to retailers, is up 5.8%. The Nasdaq is up 0.9%.
Go has been in development for four years. But the concept is still in its early stages: For now, the Seattle store will only feature Amazon meal kits and ready-to-eat meals and snacks. An automated Kroger (KR) - Get Report or Whole Foods (WFM) , it's not.
Moreover, to work as seamlessly as it does in Amazon's video, Go will require customers to be comfortable bagging all of their purchased items, ideally via bags they brought with them. If a shopper needs or simply wants assistance with bagging, Go loses some of its convenience.
All the same, Go paves the way for a more hassle-free shopper experience, particularly when a consumer is looking to quickly grab a few items and leave. In October, The Wall Street Journalreported Amazon plans to "build small brick-and-mortar stores that would sell produce, milk, meats and other perishable items."
There was no mention in the report of eliminating checkout lines, but there was a lot of talk about using technology to improve the customer experience. The WSJ talked about shoppers being able to place orders via smartphones and possibly in-store displays, and to pick up ordered items via drive-through lines that would deploy license plate-reading technology to cut wait times.
Today, following Amazon Go's unveiling, the WSJ reports Amazon is exploring at least two grocery store formats besides Go convenience stores: Large multifunction stores supporting curbside pickup, and drive-through venues that don't support in-store shopping. Two prototype drive-through stores are set to open in Seattle in the coming weeks.
Notably, Amazon is said to envision "opening more than 2,000 brick-and-mortar grocery stores under its name," depending on how its various test stores far. Building out that many stores wouldn't come cheap.
Amazon has already dipped its toes into bricks-and-mortar by launching three small physical bookstores; a couple more are on the way. Both the grocery and bookstore efforts seem aimed at providing things that online retail can struggle with.
The weight of many cheap grocery items, along with the need to keep a lot of items refrigerated or frozen, often makes it tough for online shopping to be a cost-effective alternative to traditional grocery stores. And physical bookstores have a communal aspect to them that make them different from most retail stores, and can act as showrooms for Amazon's electronics hardware.
Should Amazon carry out a massive rollout of Go stores, the company might be uniquely positioned to make something like this work. Grocery chains lack the technology chops to create stores with such a high degree of automation, and so, probably, do Wal-Mart (WMT) - Get Reportand Target (TGT) - Get Report.
A company like Alphabet (GOOGL) - Get Report, by contrast, might be able to develop the technology (provided it doesn't run afoul of Amazon's patents), but lacks the logistics infrastructure and retail experience Amazon possesses, not to mention a service like Prime that can be used to pull in tens of millions of shoppers.
One has to wonder if Amazon will eventually try to license Go to other retailers. Some might have qualms about depending on a technology system developed by a rival, but the convenience and labor cost savings it can deliver would likely compel many retailers to take a close look.
Whether Amazon ultimately chooses to license Go or keep the solution for itself, it's hardly an exaggeration to say the technology would be a game-changer for physical retail if deployed on a large scale. And though it could be a while before large-scale deployments are feasible, Amazon's track record at pushing the boundaries of retail technology bodes well for Go's future.