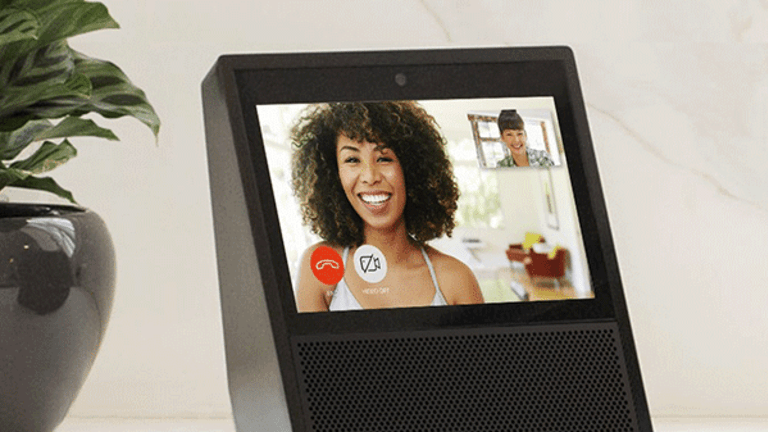 Amazon's New Echo Show Opens Can of Worms
The latest version of the smart speaker features a touchscreen and camera, which allows for videoconferencing but begs privacy concerns.
On Wednesday, Amazon.com Inc. (AMZN) - Get Report will start selling its newest smart speaker, the Echo Show. Unlike past iterations of the Echo, the product features a camera and a touchscreen, although the Show is still a primarily voice-controlled device.
The touchscreen adds a visual component to Alexa's help around the house -- for instance, the Show displays lyrics when a song is playing and writes out shopping and to-do lists dictated by the use. Perhaps most notably, the latest Echo product has a feature that allows family and friends to video chat via another Echo Show or the Alexa app.
Although the video-calling feature will certainly appeal to some Alexa fans, it also opens up a can of worms over privacy issues.
"We have to be protective of our privacy," independent technology analyst Jeff Kagan warned. "We're going to have to protect against A.I. breaches and privacy breaches moving forward with this technology."
Indeed, having a camera controlled by artificial intelligence inside the home will be a turnoff for some potential buyers. Another potentially off-putting feature of the Echo Show is the "drop-in" setting, which allows approved contacts to pop onto your screen whenever they please for a two-way video chat. It's the tech equivalent of a neighbor popping by your house unannounced, but if hackers were to access the camera, it would become a lot less innocuous.
Such hypotheticals may turn off customers who fear invasion of privacy, a demographic that tends to stray older. "It's particularly a headwind if you're over 40," said Gene Munster, tech analyst and co-founder of Loup Ventures. "The younger generation is going to be willing to put up with the risk to reap the benefits."
The younger generation also tends to be thriftier, though, which means that the Echo Show could see slow sales initially. Amazon is selling the product for $230, a price point that is $50 above the original Echo. Although a package deal that offers $100 off if consumers buy two Echo Shows together could drive up business out the gate, it will probably be a while before the product really catches on.
"They're probably about a year away from going mainstream," Munster added. "The touchscreen is going to be a step up in consumers' minds, but the price point needs to lower first."
Indeed, while the Echo is certainly popular, it doesn't have the devoted following of Apple Inc.'s (AAPL) - Get Report products, where consumers line up early to buy the next generation of a device. But Amazon hopes the new product will bump up consumer awareness of the Echo and drive word-of-mouth. A recent survey by RBC Capital Markets found that Echo awareness among Amazon customers increased from 33% to 77% after the October release of the thriftily priced Echo Dot. The Echo Show could push the brand closer to the iPhone level of ubiquity.
As to where the Echo goes from here? If Amazon unveils another smartphone in the near future -- as the company is rumored to -- you can bet that Alexa will play a prominent part in the software.
"I expect to see Amazon launching some kind of wireless initiative again," Kagan said. "Alexa didn't exist when the company launched the [commercially unsuccessful] Fire Phone -- she could be the difference maker."
An Amazon representative was not immediately available for comment.
Amazon shares on Tuesday afternoon were down 1.6% to $977.72.
Apple is a holding in Jim Cramer'sAction Alerts PLUS Charitable Trust Portfolio. Want to be alerted before Cramer and the AAP team buy or sell AAPL? Learn more now.