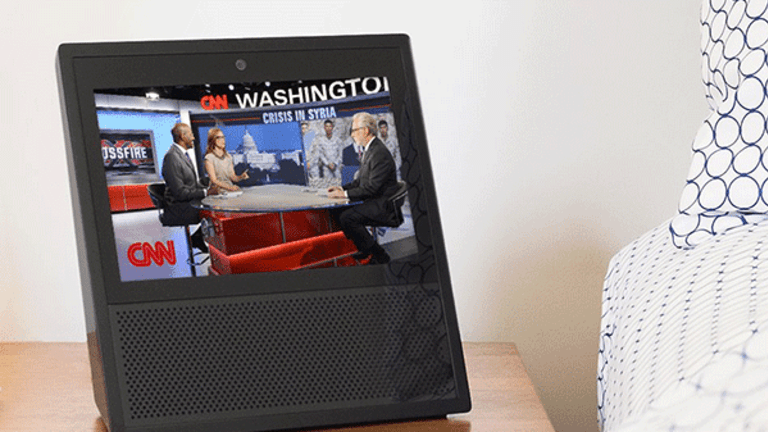 Amazon's New Echo Show Is Impressive, But Don't Count Google Out Yet
Launching a home speaker with a touchscreen gives Amazon a strong end-to-end lineup. But Google's unique strengths still pose a challenge -- if the company can execute better.
If, five years from now, Amazon.com's (AMZN) - Get Amazon.com, Inc. ReportAlexa winds up being the most popular voice assistant platform or even just a strong number-two player, business schools will likely do case studies about how Jeff Bezos & Co. pulled it off. Considering how Amazon only launched its assistant in late 2014, and how -- unlike its three main rivals -- it lacks a widely-adopted computing operating system to bundle its assistant with -- it really has no business being a major player in this field.
Yet thanks to Amazon's aggressiveness and pragmatism, Alexa has become a force to be reckoned with in short order. The company's Tuesday unveiling of a $230 Echo speaker with a 7-inch touchscreen is just the latest in a series of moves in which Amazon has launched something that rivals with more time and larger developer bases probably should have already had.
But the battle is still far from over. Alphabet/Google (GOOGL) - Get Alphabet Inc. Class A Report , in particular, could throw a wrench into Amazon's lofty Alexa ambitions, given its resources and technology strengths. That is, if Google can get its act together.
In line with prior reports, the Echo Show, which doesn't ship until June 28, puts Alexa on a wall-powered device with a large speaker, a touchscreen and a camera. The screen can be used to watch videos, shop on Amazon, see lyrics to songs playing on Amazon Music or monitor home security cameras. Additional features are bound to arrive as developers begin updating their Alexa "skills" to support the touchscreen.
The Show's use of a quad-core Intel (INTC) - Get Intel Corporation ReportAtom x5 CPU should guarantee adequate performance -- Amazon and Intel teamed last year to create a reference platform for Alexa-powered devices -- while its eight microphones are said to let users issue voice commands even when music is playing. In some ways, the product makes good on dot-com bubble-era visions of home "Internet appliances." Better 17 years late than never.
Notably, Amazon has also unveiled Alexa Calling, a service that lets users of Echo devices and the Alexa mobile app conduct free voice calls and send messages to each other. Echo Show users can also place video calls. Amazon, keen to sell consumers on this feature, is providing a $100 discount for the purchase of two Show units.
But while Alexa Calling is getting a lot of attention, it feels like the kind of feature that a minority of users will love, and which everyone else will pay scant attention to. With cumulative Echo sales possibly still below 10 million -- Amazon, true to form, has never given a sales figure -- the number of contacts an Echo owner can place a call to will usually be pretty limited. And in an era when consumers have smartphones with front cameras and loud speakers in their possession at nearly all times, even many of those who could theoretically place Echo calls might not be that keen to do so.
Regardless, the Show looks like a high-quality flagship Echo device, and its screen is bound to be useful not only for video, but for many Alexa interactions that would be far more limited or complicated if done only via voice. Shopping for items sold by Amazon is one clear-cut example. Other possibilities include seeing a menu and entree photos when placing a restaurant order, seeing a radar map when asking about the weather or just getting detailed information about queried topics.
Together with the $50 Echo Dot, the $130 portable Echo Tap and the original Echo -- its price was just cut by $30 to $150 -- the Show gives Amazon a solid end-to-end home speaker lineup, and that's before considering third-party Alexa speakers such as Lenovo's $130 Smart Assistant. There's also Amazon's recently-unveiled Echo Look, which features a camera and promises to give fashion tips. But with no screen and a price that's just $30 below the Show's, chances are that its market will be limited.
The Show's unveiling comes just a day after Samsung's newly-acquired Harman unit gave new details about the Invoke, a home speaker powered by Microsoft's (MSFT) - Get Microsoft Corporation ReportCortana assistant. The device has seven microphones, supports Skype calls and ships this fall. No word on pricing yet.
Apple (AAPL) - Get Apple Inc. Report, meanwhile, is rumored to be prepping a Siri-powered home speaker that could be unveiled at June's WWDC conference, and for which speaker quality will reportedly be a selling point. Remarks from marketing/App Store chief Phil Schiller criticizing the usefulness of voice-only assistants might point to the presence of a touchscreen. It's a safe bet that iPhone/iPad pairing and support for Apple's HomeKit smart home platform -- it doesn't have as large of an ecosystem as Alexa -- will also be part of the package.
Jim Cramer and the AAP team hold positions in Apple and Alphabet for their Action Alerts PLUS Charitable Trust Portfolio. Want to be alerted before Cramer buys or sells AAPL or GOOGL? Learn more now.
But Google, which launched its $130 Home speaker last fall, still looks like Amazon's most formidable long-term rival in this field. The Google Assistant service that powers Home and is also found on Android phones is -- as a recent test involving 5,000 questions showed -- arguably unmatched when it comes to effectively and accurately handling a wide variety of queries. Google's large AI investments in fields such as voice recognition and natural language-processing help, as do its ability to leverage Google Search and its massive Knowledge Graph.
Google Search integration would also be useful on a home speaker's touchscreen, as would Google's ability to integrate YouTube, Gmail, Maps, Google Shopping and other popular services. In addition, Google's devices could work in tandem with Android phones to handle things like calls, queries and text messages; Apple, of course, could do something similar with iPhones.
And like Amazon and Microsoft (and unlike Apple), Google isn't shy about putting its assistant on third-party hardware. In January, Nvidia (NVDA) - Get NVIDIA Corporation Report unveiled a new Shield console that has Google Assistant built in and also supports Spot, a tiny, $50, wall-mounted microphone/speaker for handling Assistant queries. More Assistant-powered home devices are bound to arrive.
As an aside, the launch of Google Assistant devices containing touchscreens would help Google deal with the thorny question of how to monetize voice commands made to home speakers, by showing pages with search and shopping ads in response to relevant queries. A March test in which a voice ad promoting Beauty and the Beast was played to Google Home owners didn't go over well.
But even after accounting for Nvidia's hardware, Alexa has a big edge on Google Assistant for now in terms of product breadth. For now, there's no Assistant-powered home speaker that comes close to the Echo Dot's $50 price -- low enough to be an impulse buy for many -- and there's also no touchscreen device.
Moreover, in spite of Google's giant Android developer base, Alexa's developer ecosystem remains much stronger than Google Assistant's for the time being. Alexa topped 10,000 Skills in February, just five months after hitting 3,000. Google began opening up Assistant to developers in December, but for now, they can only create interactions for Home speakers. Android phone support is promised to arrive later.
Though the home speaker market is still a small fraction of the smartphone market in size, the stakes in this battle are becoming meaningful. Research firm eMarketer just forecast 35.6 million Americans will use a "voice-activated assistant device" this year, up 129% from 2016. The Echo line is predicted to have a 70.6% share, and Google Home a 23.8% share.
And as Alexa adoption grows, Amazon's ability to strike Android phone integration deals for the assistant are bound to grow with it. Deals with Huawei and Lenovo's Motorola Mobility unit were announced earlier this year. Such agreements are a headache for Google, which last year disclosed 20% of queries on its mobile app and on Android devices are done via voice.
Google still maintains some big strategic advantages in its voice assistant battle with Amazon. But for now, Amazon is executing much better. And in a market this young, that counts for a lot.
More top stories right here:
Valeant Shows Signs Its Turnaround Efforts Are Bearing Fruit; Jim Cramer Weighs In
Editors' pick: Originally published May 9.