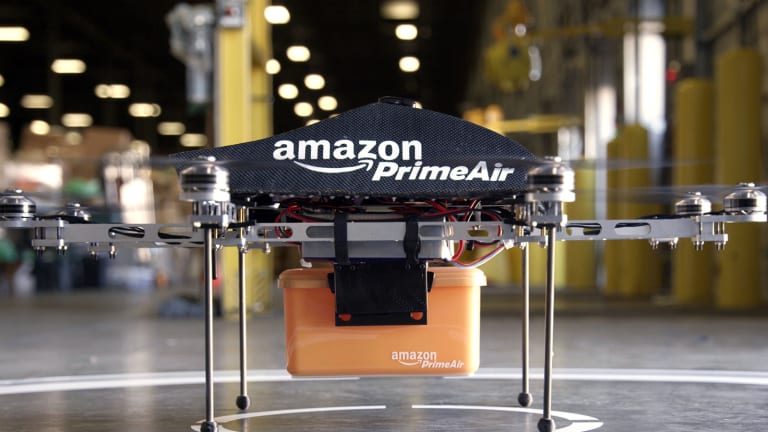 Amazon's Airship Patent Brings Science Fiction Closer to Reality
The e-commerce company has received a patent for new space-age technology that would bring deliveries to customers within minutes, let alone hours.
Just when you thought Amazon's (AMZN) - Get Report two-hour Prime Now delivery was pretty incredible, the e-commerce company has received a patent that will allow it to deliver packages in just minutes.
And the proposed system itself is just as unbelievable as its delivery time promise, because it involves a huge flying warehouse.
Amazon was awarded the patent back in April, but it was only uncovered this week by tech analyst Zoe Leavitt at CB Insight. It's for an "airborne fulfillment center (AFC)."
The AFC would hover in the sky at an altitude of around 45,000 feet, stocked with products. Unmanned drones would fly into it, pick up products and then deliver them quickly to consumers.
The airship would constantly remain in the air, being refueled and restocked by a smaller aircraft that could dock onto the AFC. Amazon used an example of a football game in its filing: The ship could stock up on items such as food and souvenirs which could be delivered to fans in the stands within minutes. The items available for purchase could be displayed on the sides of the AFC.
And the company advises that gliding drones from an airship would be more energy efficient than launching them from earthbound warehouses: "When the UAV (unmanned aerial vehicle) departs the AFC, it may descend from the high altitude of the AFC using little or no power other than to guide the UAV toward its delivery destination and/or to stabilize the UAV as it descends."
This is very much science fiction. And it's also a little scary, to be honest. However, who would have thought that the things we do every day on the internet would have been possible just a few decades ago? And who would have imagined ordering items such as eggs and milk for home delivery from Amazon, which started out as a discount book warehouse?
Amazon is leading the charge when it comes to the push for e-commerce technology. Although its closest competitor, Walmart, is fine-tuning its own delivery options, and even starting to adopt drone technology of its own, the scope of Amazon's vision is what has driven the company ahead... and profits to its shareholders.
Amazon's business has been a game changer for the entire retail industry, for both good and bad. While it has all but sounded the death knell for bricks-and-mortar businesses such as Sears Holdings, the company has pushed other retailers, such as Macy's, into expanding online sales.
E-commerce is clearly the wave of the future. After all, it is far more convenient to have packages delivered within a few hours (or even a day or so) rather than battling your way to, through, and from the shopping mall. It's also easier for shoppers to find better deals and discounts online with just the touch of a button.
Although Amazon's proposed mystical floating warehouse may never become reality -- after all, many patents are issued that don't receive follow-up, and such a creation would face unprecedented regulatory challenges -- it demonstrates how Amazon keeps forging its path into the future. This remains a bold, yet still relatively safe, play on the retail revolution.
---
Amazon still makes a great long-term play. But what if I told you I know a way you can see a $67,548 per year - or more - in profitable trades just by following this simple step-by-step process? The trader who is sharing this secret has been right more than 8 out of 10 times, turning $5,000 into more than $5 million for himself. Click here to see how easy it is to follow his lead and collect thousands of dollars in "Free Money" every month.
This article is commentary by an independent contributor. At the time of publication, the author held no positions in the stocks mentioned.