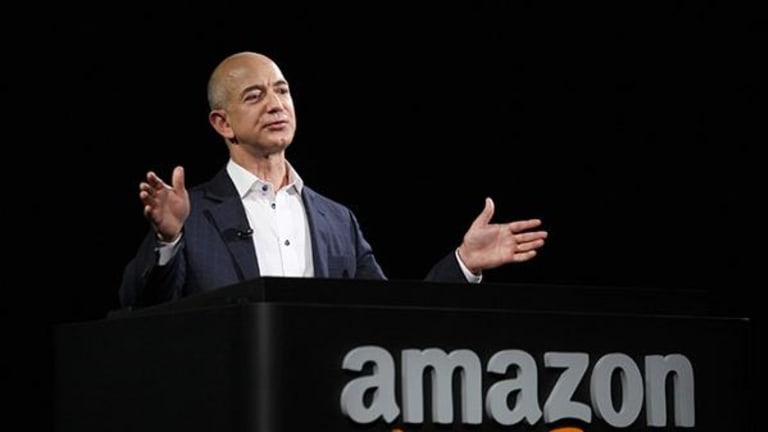 Amazon's Jeff Bezos New Letter to Shareholders Reveals 4 Big Secrets to Being Successful in Business
Rules of wisdom.
With Amazon's (AMZN) stock up a mind-boggling 47 percent over the past year, founder Jeff Bezos has every reason to share some wisdom on how he is making all the magic happen. 
Here are several key business tips Bezos outlined in his latest annual shareholder letter released on Wednesday. Taken together, they offer good insight into how to get ahead in the cutthroat world of business (something in which Amazon's bricks-and-mortar rivals should take to heart). 
True Customer Obsession
Putting your customer first is critical, stresses Bezos. Profits, hopefully, will follow. 
Writes Bezos:
"There are many ways to center a business. You can be competitor focused, you can be product focused, you can be technology focused, you can be business model focused, and there are more. But in my view, obsessive customer focus is by far the most protective of Day 1 vitality.
Why? There are many advantages to a customer-centric approach, but here's the big one: customers are always beautifully, wonderfully dissatisfied, even when they report being happy and business is great. Even when they don't yet know it, customers want something better, and your desire to delight customers will drive you to invent on their behalf. No customer ever asked Amazon to create the Prime membership program, but it sure turns out they wanted it, and I could give you many such examples."
Resist Proxies
Stay curious, suggests Bezos. Don't be lulled into thinking you have figured everything out.
Says Bezos:
"As companies get larger and more complex, there's a tendency to manage to proxies. This comes in many shapes and sizes, and it's dangerous, subtle, and very Day 2.
A common example is process as proxy. Good process serves you so you can serve customers. But if you're not watchful, the process can become the thing. This can happen very easily in large organizations. The process becomes the proxy for the result you want. You stop looking at outcomes and just make sure you're doing the process right. Gulp. It's not that rare to hear a junior leader defend a bad outcome with something like, "Well, we followed the process." A more experienced leader will use it as an opportunity to investigate and improve the process. The process is not the thing. It's always worth asking, do we own the process or does the process own us? In a Day 2 company, you might find it's the second.
Good inventors and designers deeply understand their customer. They spend tremendous energy developing that intuition. They study and understand many anecdotes rather than only the averages you'll find on surveys. They live with the design.
I'm not against beta testing or surveys. But you, the product or service owner, must understand the customer, have a vision, and love the offering. Then, beta testing and research can help you find your blind spots. A remarkable customer experience starts with heart, intuition, curiosity, play, guts, taste. You won't find any of it in a survey."
Embrace External Trends
New trends in your sector are constantly emerging, and Bezos suggests you have to after them full steam. If not, you could be left behind.
Bezos notes:
"The outside world can push you into Day 2 if you won't or can't embrace powerful trends quickly. If you fight them, you're probably fighting the future. Embrace them and you have a tailwind.
These big trends are not that hard to spot (they get talked and written about a lot), but they can be strangely hard for large organizations to embrace. We're in the middle of an obvious one right now: machine learning and artificial intelligence."
High-Velocity Decision Making
Stop being a bumbling big organization Bezos says, and start making high quality decisions faster. Failing to do so could leave hungrier upstarts to take your market share. 
Says Bezos:
"Day 2 companies make high- quality decisions, but they make high-quality decisions slowly . To keep the energy and dynamism of Day 1, you have to somehow make high-quality, high-velocity decisions. Easy for start-ups and very challenging for large organizations. The senior team at Amazon is determined to keep our decision-making velocity high. Speed matters in business - plus a high-velocity decision making environment is more fun too.
First, never use a one-size-fits-all decision-making process. Many decisions are reversible, two-way doors. Those decisions can use a light-weight process. For those, so what if you're wrong? I wrote about this in more detail in last year's letter.
Second, most decisions should probably be made with somewhere around 70% of the information you wish you had. If you wait for 90%, in most cases, you're probably being slow. Plus, either way, you need to be good at quickly recognizing and correcting bad decisions. If you're good at course correcting, being wrong may be less costly than you think, whereas being slow is going to be expensive for sure.
Third, use the phrase "disagree and commit." This phrase will save a lot of time. If you have conviction on a particular direction even though there's no consensus, it's helpful to say, "Look, I know we disagree on this but will you gamble with me on it? Disagree and commit?" By the time you're at this point, no one can know the answer for sure, and you'll probably get a quick yes.
Fourth, recognize true misalignment issues early and escalate them immediately . Sometimes teams have different objectives and fundamentally different views. They are not aligned. No amount of discussion, no number of meetings will resolve that deep misalignment. Without escalation, the default dispute resolution mechanism for this scenario is exhaustion. Whoever has more stamina carries the decision."