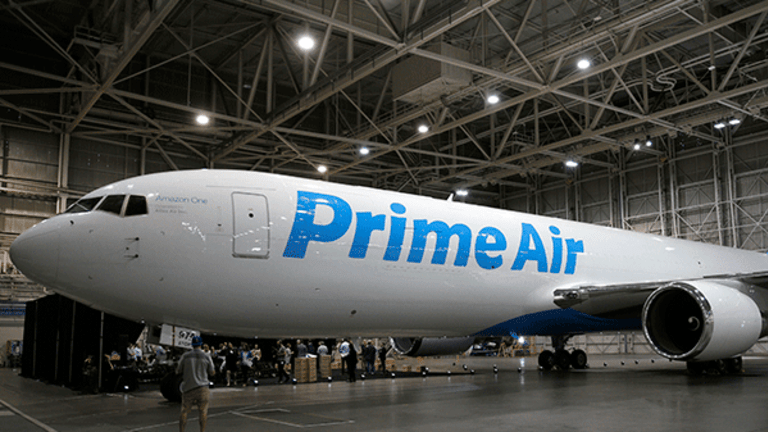 Publish date:
Amazon's Household Goods Unit May Have Been a Casualty of Prime's Success
The company's decision to shutter its Quidsi websites follows years of surging household goods sales on Amazon.com. And Amazon appears ready to make new moves in this space.
The company's decision to shutter its Quidsi websites follows years of surging household goods sales on Amazon.com. And Amazon appears ready to make new moves in this space.
For a company that's become one of the world's top brands and prides itself on offering a one-stop e-commerce shop backed by unique services and a well-oiled infrastructure, it has always been a little odd that Amazon.com (AMZN) - Get Reportmaintains a handful of online retail subsidiaries with their own brands and operations.
The strategy has admittedly paid off at times, as shown by the success of Amazon's Zappos footwear unit, which the company bought for $850 million in 2009. And as Amazon's just-announced deal to buy Middle Eastern online retailer Souq.com shows, the approach can make regional expansion easier.
But in those markets where Amazon has a giant warehouse footprint and its Prime service has gone mainstream, the rationale for running standalone e-commerce units that specialize in certain types of products has gotten weaker. Particularly when those units often sell goods that don't cost much and/or are bought on a recurring basis in conjunction with other items.
And the rationale has perhaps gotten weaker still following a new report about Amazon's attempts to woo major consumer packaged goods brands.
On Wednesday, Amazon announced it's shutting down the websites run by its Quidsi unit, which it bought in 2011 for $545 million. Quidsi runs Diapers.com, Soap.com, and four other sites that specialize in various household goods. Over 260 employees at Quidsi's New Jersey headquarters will be laid off. Quidsi employs 1,100-plus workers overall, and has warehouses in Kansas and Nevada.
Amazon, whose North American e-commerce reporting segment posted a $2.4 billion operating profit last year, attributes its decision to a failure to make Quidsi profitable since its acquisition. It adds that Quidsi's brand experts will continue working to provide selections for Amazon.com, and that its software team will work on the AmazonFresh grocery delivery service.
There has been speculation that Amazon's move amounts to retribution against Quidsi co-founder and current Wal-Mart (WMT) - Get Report e-commerce chief Marc Lore. In 2014, Lore founded yet another Amazon rival in Jet.com, and two years later sold it to Wal-Mart for $3.3 billion. But it's hard to imagine Jeff Bezos making a call like this on account of a personal grudge.
Likewise, the suggestion that Amazon is now less interested in competing in the household goods markets that Quidsi services doesn't hold water. The "Beauty, Health & Food" and "Toys, Kids & Baby" categories on Amazon.com are chock-filled with popular items that are offered by Amazon and third-party sellers, including many eligible for 2-day or same-day shipping via Prime.
Moreover, Amazon has been rapidly expanding its selection of private-label goods available through the company's site and apps. And via its Subscribe & Save program, Amazon has been offering discounts on frequently-purchased household items if customers commit to buying them on a recurring basis.
With Amazon's North American segment having posted nearly $80 billion in U.S. sales last year and Prime estimated to have about 50 million U.S. subscribers, it's quite likely that Amazon.com itself has been taking a large bite out of Quidsi's sales. In the online baby products category, U.S. e-commerce research firm Slice believes Quidsi's share fell to 2% in the first quarter of 2017 from 9% three years earlier.
And just as Quidsi gets axed, Bloomberg reports Amazon has invited execs from General Mills (GIS) - Get Report, Mondelez (MDLZ) - Get Reportand other big consumer packaged goods makers to a three-day event in May during which they'll be pitched on selling their items directly via Amazon.com. Amazon would presumably collect a commission on such sales, and perhaps also provide fulfillment services via its FBA platform, which many sellers have adopted to help make their items Prime-eligible.
Bloomberg notes such direct sales would allow brands to rethink how goods are packaged, focusing less on making items stand out on a Wal-Mart or Kroger (KR) - Get Report aisle and more on creating durable packages that can be easily and cheaply shipped to consumers. Those brands buying into Amazon's pitch would be in good company: Amazon's retail third-party seller services revenue grew 43% last year to $23 billion, and active FBA sellers rose by over 70%.
In time, one could also see Amazon's attempts to both court big consumer brands and expand its private-label lineup aiding its efforts to launch bricks-and-mortar grocery stores. But those efforts are still in their early days.
At the same time, both private-label and direct brand sales are likely to cause friction with third parties that are reselling consumer packaged goods on Amazon's site. Bezos & Co. likely aren't too concerned about this, however. As the Quidsi experience shows, Amazon isn't squeamish about hurting or even decimating an existing revenue stream in the name of growing another for which it sees a greater long-term payoff.