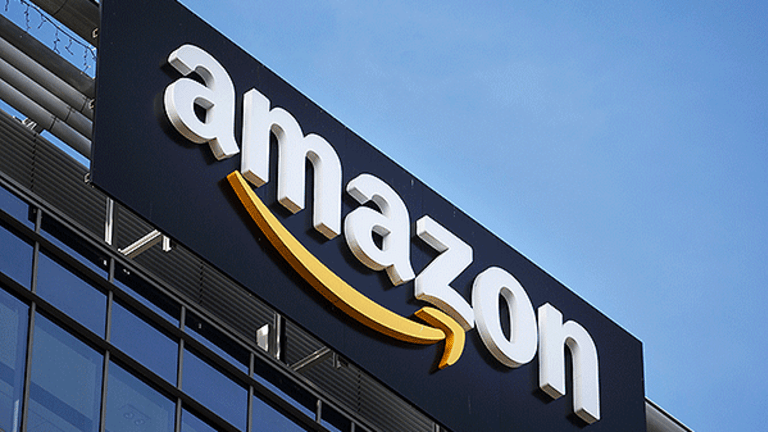 With Amazon Having Soared Since 2015, You Can't Blame Wall Street for Expecting Perfection
The e-commerce and cloud giant's sales and guidance missed estimates. But its long-term growth drivers remain quite strong.
With shares up over 150% since the start of 2015 and the company's e-commerce operations widely expected to post another quarter of big share gains against smaller rivals, there wasn't much margin for error for Amazon  (AMZN) - Get Amazon.com, Inc. Report going into its fourth-quarter earnings report.
And while the company's results and guidance aren't quite as bad as some early headlines make them out to be, they did amount to a disappointment for those expecting perfection.
For the seasonally big December quarter, Amazon reported revenue of $43.7 billion (up 22% annually) and earnings of $1.54 a share. The latter beat a $1.37 a share consensus analyst estimate, but the former fell short of a $44.7 billion consensus. The company also guided for first quarter revenue of $33.25 billion to $35.75 billion (up 19% annually at the midpoint), below a $36 billion consensus. Operating income is expected to be in a range of $250 million to $900 million, down from $1.1 billion a year earlier.
Shares are down 4.3% in early trading Friday to $804.55. They're still up about 7% in 2017, and of course much higher than where they traded a year or two ago.
Worth keeping in mind here: Amazon, unlike many other tech companies, doesn't typically lowball its guidance. That has led it to miss estimates quite a few times over its history, including for the fourth quarter of 2015.
In addition, a strong dollar is clearly weighing on Amazon's results. The company saw a $558 million (2%) adverse sales impact from forex swings last quarter, a reversal from the $52 million favorable impact it saw in the third quarter. A $730 million forex hit is expected in the first quarter. Apple (AAPL) - Get Apple Inc. (AAPL) Report and others have also reported seeing stiff currency pressures.
Still, even after accounting for these factors, some of Amazon's numbers were a little disappointing. Even after adjusting for foreign exchange, revenue growth for Amazon's International e-commerce segment slowed to 23% from the third quarter's 28%. On a reported basis, international revenue was $14 billion, up 18% annually but below a $14.6 billion consensus. Thanks partly to big Indian investments, the segment's operating loss grew to $487 million from $108 million a year ago.
Amazon's quarter was slightly disappointing
North American e-commerce segment revenue of $26.2 billion wasn't as far removed from analyst estimates. But growth did still slow to 22% from the third quarter's 26%. Though Amazon's U.S. warehouse-building binge and same-day delivery expansion continues unabated, the segment's operating profit grew 28% to $816 million.
Getting a lot of attention: Amazon Web Services' revenue totaled $3.5 billion, breaking a string of estimate beats by falling short of a $3.6 billion consensus. Revenue growth was 47%, still impressive for a business of its size but down from 55% in the third quarter. On the bright side, AWS' bottom-line performance remains stellar and continues to make it easier for Amazon to finance big e-commerce investments: Its operating profit rose 60% to $926 million.
AWS' sales growth is well below the 93% growth No. 2 public cloud provider Microsoft (MSFT) - Get Microsoft Corporation (MSFT) Report reported for its Azure cloud platform. And though Google parent Alphabet (GOOGL) - Get Alphabet Inc. Class A Report doesn't break out sales for its Google Cloud Platform (GCP), its growth is believed to be north of 100% as Google fleshes out its cloud infrastructure (IaaS) offerings and steps up its efforts to win big accounts.
Apple and Alphabet are holdings in Jim Cramer's Action Alerts PLUS Charitable Trust Portfolio. Want to be alerted before Cramer buys or sells AAPL or GOOGL? Learn more now.
At the same time, AWS still towers over its largest rivals, with Synergy Research estimating its IaaS share was north of 40% and more than twice that of Microsoft, Google and IBM (IBM) - Get International Business Machines (IBM) Report combined in the third quarter. And Microsoft's Azure revenue may be inflated some by the bundling of Azure "credits" in enterprise software deals that aren't necessarily being used.
Throw in the fact that Azure's revenue growth slowed from the 116% seen in Microsoft's September quarter, and that many smaller cloud players are losing share to the leaders, and it's best not to start raising alarm bells for AWS just yet. While Microsoft and Google's cloud platforms do have unique strengths that can help them land certain types of customers and workloads, AWS' total feature set and software/services ecosystem both remain unmatched. The fourth-quarter growth slowdown likely has more to do with a moderate decline in the IaaS market's growth than competitive headwinds.
Likewise, Amazon's e-commerce growth is still easily better than the roughly 15% growth being seen by the total U.S. e-commerce market. With the company's scale, product selection and shipping-time advantages steadily growing, and with more and more consumers getting hooked on Prime, there isn't any reason to think this will change.
Also, Amazon's gross margin rose to 33.6% last quarter from 31.9% a year earlier. AWS' growth and a mix shift in e-commerce sales towards third-party merchants have been steadily boosting margins, and so has growing uptake for Amazon's fulfillment services (FBA), which many sellers adopt to make their goods Prime-eligible. Amazon reports active sellers using FBA grew by over 70% in 2016, and that FBA units accounted for over 55% of third-party unit sales.
The company is still undoubtedly spending aggressively on its long-term bets, and it's safe to assume this will keep Amazon's earnings well below where they would be if the company was "managed to maximize profits" for the foreseeable future.
Fulfillment spending rose 26% to $5.7 billion, marketing spend rose 43% to $2.5 billion, tech/content spend rose 27% to $4.5 billion and G&A spend (affected by stock compensation expenses) rose 84% to $717 million. Nonetheless, thanks in part to AWS, Amazon's free cash flow minus lease principal payments and assets acquired under leases for the prior 12 months grew by $1.4 billion over the last year to $3.9 billion.
By and large, Amazon's story doesn't look any different now than it did following its third-quarter report. Forex and a slight slowdown in demand growth for the company's core businesses led it to fall a little short of market expectations that are certainly higher than they were in the winter of 2016. But the catalysts for driving strong double-digit sales growth and continued share gains within those businesses remain in place.
This article has been corrected to note Amazon shares are up over 150% since 2015, rather than up over 250%.