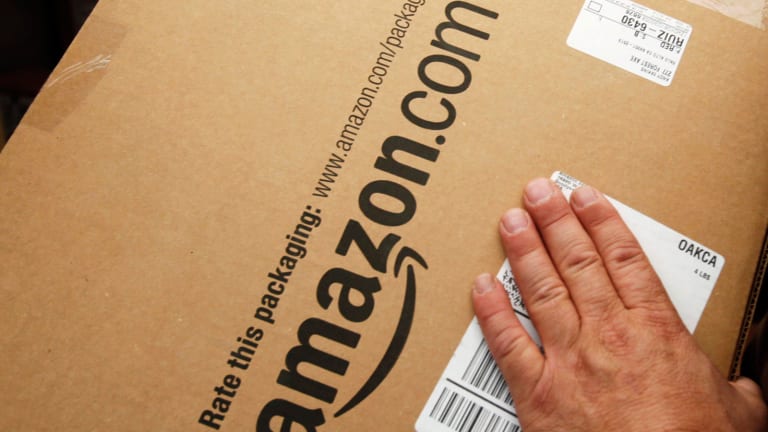 Amazon's Drone Delivery Service, Vaster Streaming Service a Path to More Growth
New announcements from Amazon.com demonstrate its continuing ability to expand and improve its business.
E-commerce dynamo Amazon (AMZN) - Get Report  made headlines on Wednesday with two announcements that demonstrate the broadening of the company's reach, as well as the potential for more profits. The company announced a successful test of its fledgling drone delivery program and a widening of online streaming of content. 
Amazon shares fell slightly in Wednesday trading.
Three years ago, Amazon's CEO, Jeff Bezos, hinted that the company would one day deliver packages by drone aircraft.
The general public ridiculed the notion. It seemed the stuff of science fiction.
Bezos is now fulfilling his promise, however, as Amazon made its first drone delivery this month, providing an Amazon Fire tablet and some popcorn to a customer in Cambridgeshire.
The drone craft covered two miles during its journey from warehouse to doorstop. From the second the customer clicked "Place your order," the fulfillment and delivery process took only 13 minutes.
Amazon operates a drone test facility near the town of Cambridge, and now two more customers will be added as drone delivery guinea pigs. But despite its so-far narrow range, the implementation of Amazon Prime Air seems like a huge leap for the company -- and for e-commerce.
Widespread drone delivery will likely still take years to arrive, and it's certainly liable to regulatory scrutiny in the U.S. But it would revolutionize Amazon's business model, as well as save the company a lot of money. No longer would the company need to employ a fleet of trucks and other manned delivery vehicles. Amazon (as well as rival Wal-Mart) has been exploring the use of warehouse drones to automate the entire fulfillment process.
But that was not the only news from Amazon Wednesday. The company also announced that it is broadening its Prime Video streaming service to reach more than 200 countries and territories worldwide, as it attempts to compete with Netflix head-on. Until now, Prime Video had been available only in the U.S., the U.K., Germany, Austria and Japan. That was a significant shortage when compared to rival Netflix, which is available in 190 countries.
Prime Video will charge the equivalent of $5.99 per month after a cut rate for the first six months. Customers who currently own Prime memberships will be able to stream at no additional rate.
The expansion of the program will likely cost the company as much as $5 billion, according to the London-based research group, Ampere Analysts. But Amazon has been undertaking a big initiative to grow its streaming and entertainment offerings, and it has not come cheap. In the third quarter, Amazon's investments caused the company to record its lowest quarterly profit in a year.
However, these investments will pay off over the long run for Amazon as the company grows its business even more. Amazon's continued focus on its cloud service, AWS, will also help the company grow significantly, despite its already huge size.
Amazon is still a great long-term play for investors looking to make money from e-commerce and technology.
---
Amazon still makes a great long-term play. But what if I told you I know a way you can see a $67,548 per year - or more - in profitable trades just by following this simple step-by-step process? The trader who is sharing this secret has been right more than 8 out of 10 times, turning $5,000 into more than $5 million for himself. Click here to see how easy it is to follow his lead and collect thousands of dollars in "Free Money" every month.
The author is an independent contributor who at the time of publication owned none of the stocks mentioned.