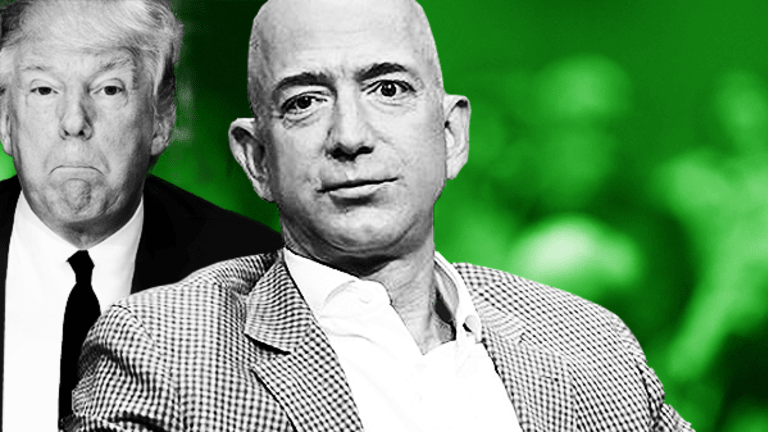 Amazon's 'Deceptive' Pricing Probe Shouldn't Affect Its Whole Foods Deal, but Likely It Will
Uh oh. Will Amazon's mega-deal pass muster?
Legally speaking, the Federal Trade Commission's (FTC) probe into Amazon's (AMZN) - Get Amazon.com, Inc. Report alleged pricing deception should not affect regulators' review of its $13.7 billion proposed acquisition of Whole Foods Market (WFM) , but it still might.
Amazon is likely being investigated for possibly deceiving customers about discounts by the same regulators who are reviewing its Whole Foods deal. Not the best foot to start on, Andrea Agathoklis Murino, partner at Goodwin Procter and co-chair of its Antitrust and Competition Law Practice, told TheStreet in an interview on Monday, July 24.
"In theory, the pricing probe should be completely separate and apart from the deal," Murino said. "But one thing can have an influence on another. It could carry human consequences."
Last week, the FTC began reviewing a complaint brought by advocacy group Consumer Watchdog, which concluded, after studying at least 1,000 products on Amazon's website in June, that the company placed reference prices (competitive pricing) on roughly 46% of those items, out of which more than 61% showed reference prices higher than over the 90 days prior, Reuters reported.
READ MORE: Amazon 'Deceptive' Pricing By the FTC Could Be the Start of a Government Siege
On its website, the FTC warns, in its "Guide Against Deceptive Pricing," against companies claiming "fictitious" discounts, including in regards to former price comparisons, which it says can only be advertised if "the former price is the actual, bona fide price at which the article was offered to the public on a regular basis for a reasonably substantial period of time."
Amazon denied the allegation.
"The study issued by Consumer Watchdog is deeply flawed, based on incomplete data and improper assumptions," Amazon said in a statement emailed to TheStreet. "The conclusions the Consumer Watchdog group reached are flat out wrong. We validate the reference prices provided by manufacturers, vendors and sellers against actual prices recently found across Amazon and other retailers."
According to the Reuters report, which cited unidentified sources close to the investigation, the FTC has not yet launched a "formal probe" into the Consumer Watchdog complaint. It only has made informal inquiries.
Murino said the FTC typically tries first to conduct a preliminary investigation into a complaint, under which it will gather information directly from the involved company. If the company does not comply, it will launch a compulsory process to gain the information under subpoena.
The process of simply collecting all of the necessary information for the probe could take several months, according to Murino.
Murino, not being involved in the probe, said she couldn't estimate what the penalties could be for Amazon, should it be found guilty of deceptive pricing, but said the act could carry "high" fines. At the bare minimum, Amazon will have to "make whole" with all of the customers affected.
On June 16, Amazon announced that it placed a $42-a-share, all-cash bid to buy organic grocer Whole Foods. The deal, which will give the online retailer a significant bricks-and-mortar presence, is valued at $13.7 billion.
The pricing probe places just another thorn in the side of the Amazon-Whole Foods deal, as it has received scrutiny from several groups already, including from a group of 12 Democratic lawmakers who called on the FTC and the U.S. Department of Justice to review the possible harm it may have on lower-income areas.
"I am very curious to see how this plays out," Murino said.
Traditionally, Murino said Amazon and Whole Foods "don't overlap," in that Amazon does not have a large presence in grocery and Whole Foods is not an online, tech company. From a competitive standpoint, she said, the deal should pass.
Still, the merger is unlike any the FTC has dealt with before and Murino said regulators may have to consider if the transaction will lead to rival grocery store closures, particularly in lower-income neighborhoods.
More of What's Trending on TheStreet:
Trump Just Resurrected the Ugly Practice Known as Civil Forfeiture for No Reason
3 Things Tesla Doesn't Want to Admit