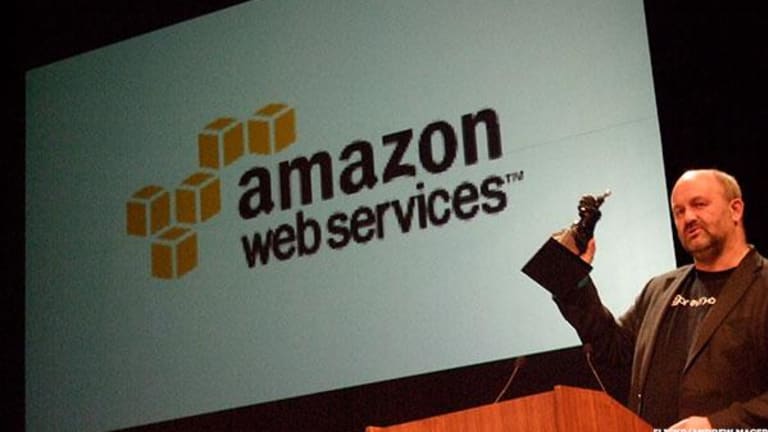 Amazon's Cloud Is Still Dominant, but Microsoft and Google Are Gaining Ground
As its latest earnings show, Amazon's cloud business has huge scale and is still growing rapidly. But Microsoft and Google's appear to be growing faster.
Amazon (AMZN) - Get Amazon.com, Inc. Report, Microsoft (MSFT) - Get Microsoft Corporation Report and Alphabet's (GOOGL) - Get Alphabet Inc. Class A Report third-quarter earnings reports didn't contain any massive surprises regarding the performance of their public cloud services businesses.
But they did provide fresh evidence Microsoft and Google's giant cloud investments are helping them grab share -- if not from Amazon, then from smaller rivals -- and be viewed by enterprises as serious alternatives to the market's 800-pound gorilla.
In its calendar third-quarter report, Microsoft announced its Azure public cloud unit's revenue rose 116% annually, an improvement from the prior quarter's 102%. Alphabet's Google doesn't break out the Google Cloud Platform's (GCP) sales by itself, but did state the business saw "substantial revenue growth" in the third quarter. Google's total non-advertising revenue, which also covers things like Google Play transactions, hardware sales and Google Apps subscriptions, rose 39% to $2.4 billion.
Alphabet is a holding in Jim Cramer's Action Alerts PLUS Charitable Trust Portfolio. Want to be alerted before Cramer buys or sells GOOGL? Learn more now.
Amazon was no slouch last quarter either: Amazon Web Services (AWS) revenue rose 55% to $3.2 billion, and the unit's operating income grew 101% to $861 million. However, growth did slow a bit from the second quarter's 58% and the first quarter's 64%.
Synergy Research still thinks Amazon's share of the giant public cloud infrastructure (IaaS) market is north of 40% and more than twice that of its three biggest rivals -- Microsoft, Google and IBM (IBM) - Get International Business Machines Corporation Report -- and that its share of the cloud app platform (PaaS) market tops 30% and nearly matches that of its top three rivals -- Microsoft, IBM and Salesforce (CRM), which partly relies on Amazon's infrastructure. But the firm also believes GCP's revenue grew by over 150% annually in the third quarter.
There are some caveats regarding Microsoft and Google's performance. Microsoft, like Google, still doesn't provide a specific public cloud sales figure, and the company often bundles Azure subscriptions within broader enterprise licensing agreements that also cover on-premise software. Thus, a chunk of the Azure revenue recorded by Microsoft doesn't yield immediate usage.
And while Google isn't doing anything similar, the company's cloud business might not be that profitable for the time being. The company has been rapidly growing the size of its cloud team under new cloud chief Diane Greene, and has also been spending a lot to grow the business' global data center footprint. Google has also been pricing aggressively.
Still, Microsoft did disclose its clients' Azure computing usage more than doubled annually for yet another quarter, while rattling off the names of marquee customers such as Lowe's, Renault-Nissan, and the U.K. Ministry of Defense. And in spite of Azure's growth, the company posted a 2% sales increase for its on-premise server software business (many peers aren't so lucky).
Google, meanwhile, has landed a number of big clients over the last 12 months. The list includes Spotify, Evernote and reportedly Apple (also an Amazon and Microsoft client). Other Google cloud clients include Snapchat, Sony and "Pokemon Go" developer Niantic, which was originally a Google spinoff.
Microsoft's strong support for hybrid cloud environments that cover both Azure's public cloud and a company's on-premise infrastructure, and tightly integrating Azure with various software products, are helping its cause. Amazon's recent alliance with server virtualization software leader VMware (VMW) - Get VMware, Inc. Class A Reportprovides a big boost to its hybrid cloud efforts, but the company still has some catching up to do. And Google has been selling companies on its high performance, low costs (enabled by the massive infrastructure created to support its core business) and developer-friendly tools.
Both Microsoft and Google also have some unique services to help their platforms stand out. Microsoft, for example, is considered a leader in providing services to manage and analyze data collected from Internet of Things (IoT) devices, and has also launched advanced analytics services such as HDInsight. Google offers unmatched artificial intelligence services, and has won plaudits for its strong support for app containers that can be managed by the thousands and quickly moved from one cloud to another.
Amazon still claims the longest list of cloud services, after factoring both the company's own offerings and those provided by third parties through the AWS Marketplace.
It has also pulled out all the stops to make migrating to AWS as easy for businesses as possible, and has data centers set up in 14 geographic regions. Just as no one proverbially ever got fired for buying IBM, no CIO is likely to lose his or her job for choosing AWS.
But we might now be reaching a point where CIOs are just as unlikely to be questioned for embracing Azure or GCP. And Microsoft and Google can be trusted to spend whatever they need to keep that from changing.
That guarantees the cloud wars will remain very interesting in the years to come.