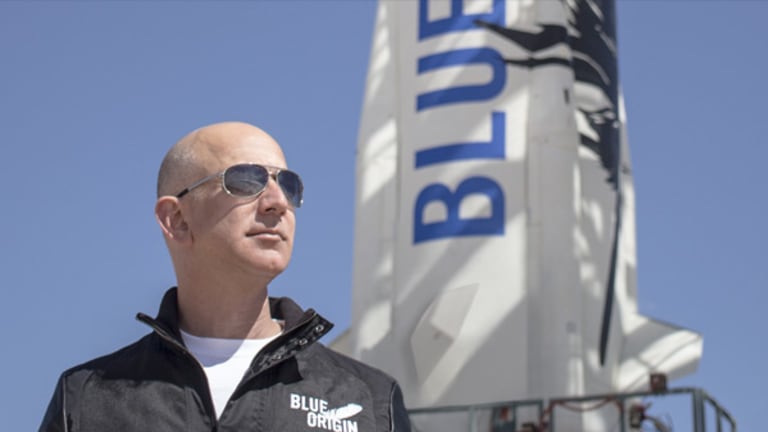 Amazon's Big Deal for Whole Foods Is So Alarming That the Government May Not Let It Happen
Nothing is set in stone.
Wall Street rejoiced at the Friday, June 16, announcement that Amazon.com Inc. (AMZN) - Get Amazon.com, Inc. Report is acquiring Whole Foods Market Inc. (WFM) .
But, some experts and lawmakers are saying, not so fast.
On Friday, Amazon and Whole Foods announced that the e-commerce behemoth would purchase the organic grocer for $42 a share, a deal valued at $13.7 billion. The acquisition gives Amazon a fleet of some 444 stores that sell everything from organic rotisserie chicken to all natural makeup, the ultimate boost to enhance its delivery and grocery services and hinder competitors including Walmart Stores Inc. (WMT) - Get Walmart Inc. Report , Kroger Co. (KR) - Get Kroger Co. (KR) Report and Target Corp. (TGT) - Get Target Corporation Report .
After the deal was announced, U.S. Rep. Ro Khanna (D-Calif.) urged the U.S. Department of Justice to conduct a review on the merger's possible harm to the economy.
"I am concerned about what this deal means for suppliers and neighborhood grocery stores," Khanna said in a statement. "The Justice Department and FTC must undertake a review that considers not just the merger's impact on prices, but also the impact on jobs and wages. We need to reorient antitrust policy to factor in the harm that economic concentration causes for American workers."
As it stands today, there is no legal basis for blocking the Amazon-Whole Foods merger on antitrust grounds, as the U.S. does not consider the possible harm to jobs or wages when considering a deal. The DoJ focuses on consumer prices, something Khanna seems to understand.
Khanna was not available for further comment. Amazon did not respond to a query, while Whole Foods declined to comment for this story.
Family-owned grocer Stew Leonard's, which operates five grocery and wine stores in New York and Connecticut with a sixth opening in August in Long Island, is one of the small businesses Khanna likely wants to protect.
Company CEO Stew Leonard, Jr., 62, told TheStreet that his business was first started in 1969 and up until now, it has been sustainable because of the theatrical element it brings to customers, with costumed characters walking around the stores, and the fresh, homemade food it offers. But, with the greater shift to online, and with e-commerce only making up 5% of his total business, Leonard said the Amazon-Whole Foods merger is concerning.
"Amazon is great at online and they're really great at delivery," Leonard said. "I think the food industry is trying to adapt to that, but [this deal] is like throwing a can of gasoline into a fire."
Leonard said his grocery store chain generates about $500 million a year and while "we haven't seen [sales] declines, we haven't seen the growth we used to see."
Even U.S. President Donald Trump told Fox News last year that Amazon CEO Jeff Bezos has a "huge antitrust problem because he's controlling so much."
Moody's Investors Service Inc. analyst Charlie O'Shea said that the transaction is "transformative...not just for food retail but for retail in general."
"Implications ripple far beyond the food segment," O'Shea said, warning Whole Foods rivals such as Walmart and Kroger to "look over their shoulders at the Amazon train coming down the tracks."
Stacy Mitchell, co-director of the Institute for Local Self-Reliance and co-author of "Amazon's Stranglehold," said the Amazon-Whole Foods merger "raises significant anti-competitive issues that should be deeply concerning to federal antitrust regulators," as it gives Amazon not only the edge on tech with its unmatched cloud services and clothing, books, toys and electronics retail but grocery now, too.
Over the next five years, one-fifth of the $3.6 trillion retail market in the U.S. is set to shift online, and Amazon is already on track to capture two-thirds of that share, according to Mitchell's research. She said she is unsure how much more Amazon will capture if this deal is passed.
Mitchell criticized regulators for taking too much of a "lax view on concentration," which she said hurts job creation and innovation. She referenced Thursday's announced approval of the Dow Chemical Co.-DuPont Co. (DOW) - Get Dow, Inc. Report merger, which was delayed on antitrust issues since it was first entered into in December 2015, as an example.
"While I think there is a lot here that is alarming, I'm hopeful that regulators will use this opportunity to rethink how they have been approaching antitrust," Mitchell said in an interview with TheStreet. "Regulators should block this deal."
Visit here for the latest business headlines.
Read TheStreet's full coverage of Amazon's purchase of Whole Foods: