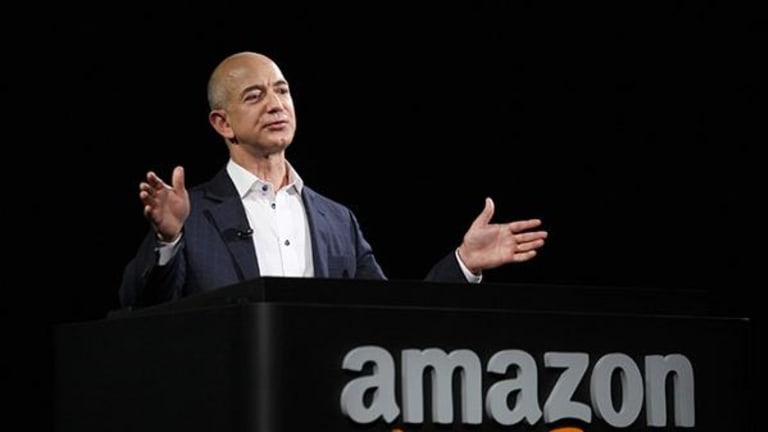 8 Key Takeaways from Amazon's Latest Annual Report
Tons of useful nuggets inside of Amazon's latest annual report.
For a company whose last earnings report contained over 2,700 words (not counting the financial tables), Amazon.com (AMZN) - Get Amazon.com, Inc. Reportcan be pretty tight-lipped about what it's willing to share with investors at the end of each quarter. And in some ways, the company has gotten even more secretive, doing away with regular disclosures on active customer accounts and the proportion of paid unit sales that come from third parties.
But Amazon tends to share a little more via its annual reports, and its 2016 report, released less than a week ago, is especially useful for uncovering valuable facts about how the e-commerce/logistics/digital media/cloud infrastructure giant is performing. Here are some of the most noteworthy ones:
1. Amazon Prime might have over 60 million subscribers, and is still seeing strong growth.
Perhaps the most-discussed disclosure in the report: Amazon broke out its "retail subscription services" revenue, which is dominated by Prime but also includes things like standalone video, music and e-book service subscriptions, for the first time. It grew by 43% in 2016 to $6.39 billion, after having grown 62% in 2015.
Given Amazon provides Prime discounts to students and others, and that the service costs much less than the $99 per year charged in the U.S. in some big foreign markets, this disclosure led Morgan Stanley to estimate Amazon has 65 million Prime subs globally, via $5.75 billion in revenue. Cowen estimated in December that Prime had about 50 million U.S. subs.
Prime subscriptions now appear to account for over 4% of Amazon's revenue. And that's before one factors the benefit Amazon derives from all the extra spending Prime members do relative to other Amazon customers, and the fulfillment revenue provided by merchants who use Amazon's fulfillment services to make their goods Prime-eligible.
2. Amazon's direct e-commerce sales are seeing solid, but not eye-popping, growth.
Amazon's retail products revenue, which covers both goods and non-subscription digital media sales, rose 19% in 2016 to $91.4 billion, after having grown 12% the prior year (forex pressures weighed). 19% growth is only moderately better than the 15% growth comScore has estimated for the U.S. e-commerce market, or the 16% U.K. growth estimated by research firm Capgemini. But that's less of a concern when one accounts for the next disclosure.
3. Sales from third-party merchants are soaring, and Amazon is monetizing them better than ever.
Amazon's retail third-party seller services revenue, which covers commissions, fulfillment/shipping fees and other payments made by third-party sellers, jumped 43%, to $23 billion. That's even better than 2015's 38% growth.
In addition to higher seller volumes, the massive growth of Amazon's fulfillment business (FBA) is clearly a factor here. Amazon previously disclosed FBA units made up over 55% of seller units in Q4, up from nearly 50% a year earlier. Active FBA sellers grew by over 70% in 2016, with over 2 billion units delivered on their behalf.
While seller services revenue is still much smaller than retail products revenue, it's worth keeping in mind the former's margins are much higher. Together with AWS growth, seller services growth was a key reason Amazon's gross margin rose to 33.6% in Q4 from 31.9% a year earlier.
4. Amazon's ad sales appear to be soaring.
The company's "Other" revenue, said to include ad services and revenue from co-branded credit cards (they now give 5% back on Amazon purchases, for those interested), surged 73%, to $2.95 billion, easily outpacing 2015's 29% growth.
The card business likely helped, but the larger factor seems to be the payoff Amazon is getting for the investments made in its e-commerce ad business. "Sponsored" listings are now hard to miss on search and product pages on Amazon's site and apps, and the company has also gotten good at using the mountains of customer shopping data it has to show targeted ads on other sites.
It's also possible that Amazon's budding payments business for third-party sites/apps helped out a little. But Amazon doesn't explicitly state whether this business is part of the "Other" reporting segment.
5. International sales still depend heavily on three big markets.
Of the $45.2 billion in revenue Amazon obtained last year from non-U.S. markets--the lion's share of which is e-commerce related--$14.1 billion came from Germany, $10.8 billion came from Japan and $9.5 billion came from the U.K. All other markets (France, Italy, India, China, Canada, etc.) collectively produced just $11.1 billion in sales, but that figure is up 52% from 2015.
When looking at Amazon's quarterly "International" revenue disclosure, it's worth keeping in mind the segment's sales still skew a lot toward three developed nations seeing limited GDP growth, of which two (the U.K. and Germany) have seen growth pressured by forex headwinds.
6. Capital spending soared last year.
After dropping by $300 million in 2015, Amazon's cash capital expenditures grew by $2.1 billion in 2016 to $6.7 billion (close to 5% of revenue). The company's warehouse-building binge, giant investments in AWS data centers and attempts to create a logistics infrastructure featuring things like air cargo hubs servicing fleets of leased Boeing 767s all contributed.
The higher depreciation expenses bound to stem from all this spending will pressure Amazon's bottom line in the coming quarters. But the rapid growth of the highly profitable AWS (2016 op. income of $3.1 billion on revenue of $12.2 billion) makes it much easier to digest.
7. Amazon gift cards are quite popular.
It looks as if many people unsure about what present to buy a friend or family member settle for buying a gift card for a store that sells practically everything. At the end of 2016, Amazon's liability for unredeemed gift cards stood at $2.4 billion, up from $2 billion a year earlier. That makes for a lot of stocking stuffers.
8. Amazon's video content obligations appear to be growing significantly.
This is a little hard to tease out, since (unlike Netflix) Amazon doesn't share a single content obligation number. But between them, a couple of financial figures provide evidence its content spending is seeing big growth.
Amazon's "accrued expenses and other" balance sheet line, which covers acquired digital content, current debt, leases, asset retirement obligations and gift card liabilities, grew by $3.3 billion in 2016. And between them, gift card and current debt growth only accounted for about $1.2 billion of the increase.
Separately, Amazon's "other commitments," which include certain estimated lease-related payments along with "liabilities associated with long-term digital media content assets with initial terms greater than one year," jumped to $6.4 billion from $2.6 billion a year ago. "Unconditional purchase obligations," which include "long-term agreements to acquire and license digital media content" that aren't reflected on the balance sheet, fell by less than $100 million to $1.7 billion.
It's pretty likely that Prime Video had something to do with the huge increases in the first two items. Particularly given the streaming service launched in dozens of international markets in December, and that Amazon previously guided for its video spend to nearly double annually in the second half of 2016.