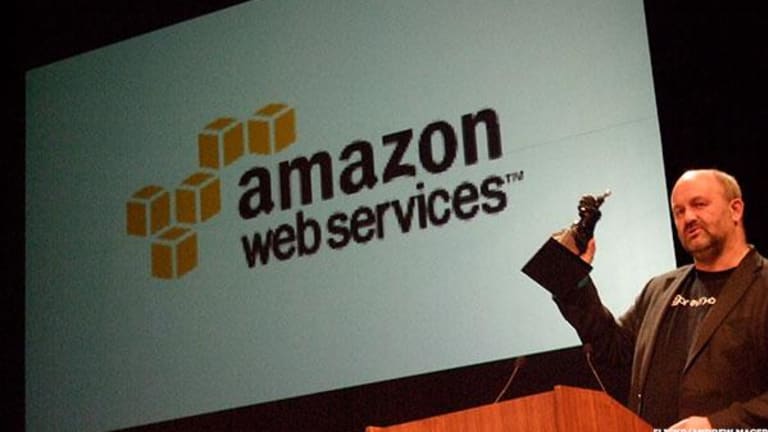 Amazon's Alliance With VMware Is a Win-Win, Spells Tougher Competition for Microsoft
With VMware's help, Amazon will now have a stronger sales pitch for businesses that want to jointly manage their cloud workloads with their local infrastructure.
Amazon (AMZN) - Get Reportis dominant in the public cloud infrastructure (IaaS) market, but its relatively limited support for "hybrid" cloud environments that pair public cloud services with a company's on-premise hardware and software has been seen as a weakness relative to #2 public cloud player Microsoft (MSFT) - Get Report and others. Meanwhile, VMware's (VMW) - Get Reportvirtualization software powers a large percentage of on-premise server workloads, but has a limited public cloud presence.
It's easy to see how the companies' new alliance makes for a very good fit, and could make things a little harder for various rivals.
A week after Fortune first reported that Amazon Web Services (AWS) and VMware would announce a partnership, the deal has been confirmed and its details spelled out. The heart of the agreement: VMware will sell a subscription-based service, known as VMware Cloud on AWS, that lets businesses run AWS server workloads on top of VMware's software, while jointly managing these workloads and the VMware-powered ones found on their own infrastructure.
The service will leverage VMware's vMotion technology to easily move workloads to and from AWS and a company's own data centers. And in addition to supporting VMware's mainstay vSphere server virtualization software, it will support the company's VSAN storage virtualization platform and its NSX networking virtualization and security platform. Both VSAN and NSX have been seeing strong growth.
Importantly, the service will support AWS's unmatched array of public cloud offerings, provided both via Amazon itself and -- through the AWS Marketplace -- numerous third-party software and services providers. While VMware's vCloud Air platform has been offering hybrid cloud services that have much in common with what's delivered by VMware Cloud on AWS, vCloud Air's feature set pales relative to AWS's, and its geographic footprint is also smaller.
VMware plans to make the service, which could appeal to companies that have made big investments in on-premise vSphere deployments, broadly available in mid-2017. It might help offset the sales declines vSphere has been witnessing, as workloads keep moving to cloud infrastructures -- both Amazon's and others -- relying on third-party virtualization software such as Microsoft's Hyper-V and the open-source Xen and KVM platforms.
For Amazon, the deal could do much to strengthen its sales pitch to businesses that -- due to some mixture of cost, performance, security and compliance concerns -- want to deploy hybrid clouds rather than fully rely on public clouds.
The company has already been stepping up its efforts to woo enterprises. Among other things, it has formed alliances with major IT services providers such as Accenture, created a service for migrating corporate databases AWS and built Snowball, an appliance that lets companies transfer and ship large amounts of data to an AWS data center.
But Microsoft, aided by the fact that it has several on-premise software offerings that are well-used by enterprises, has held an edge on Amazon when it comes to hybrid cloud support. And this year, the company strengthened its hybrid cloud position by unveiling Azure Stack, a hardware solution to be offered by Microsoft partners that lets companies locally run cloud services that can be moved to and from Microsoft's Azure public cloud infrastructure.
In addition, many other prominent enterprise tech names, such as (IBM) - Get Report, HP Enterprise (HPE) - Get Report, Dell and Red Hat (RHT) - Get Report, have thrown their weight behind the OpenStack IaaS software platform, which supports hybrid clouds. And IBM's SoftLayer cloud unit already has a hybrid cloud partnership with VMware.
Now Amazon, with the help of VMware's large salesforce and channel partner base, can tell Global 2000-type companies it can also deliver a quality hybrid cloud solution for customers that need it, one that's backed by AWS' enormous feature set and works well with software that many of these companies have widely deployed.
Thus, while it's possible Amazon's tie-up with VMware will take time to become a major revenue generator, the deal quickly does a lot to protect Amazon's flank as Microsoft continues doing whatever it can to gain ground.