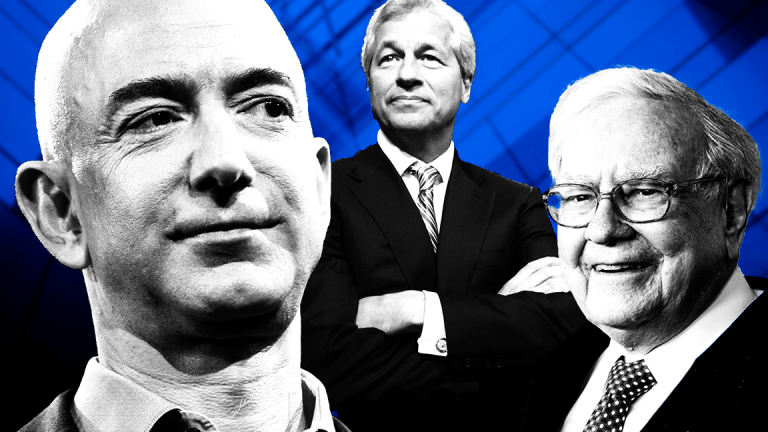 CVS Tumbles on Amazon News but Analysts Say It Could Be a Positive
Amazon's alliance with JPMorgan and Berkshire will disrupt the healthcare ecosystem, experts say, but American consumers won't see personal changes any time soon.
The combined forces of Amazon.com Inc. (AMZN) - Get Report , JPMorgan Chase & Co. (JPM) - Get Report and Berkshire Hathaway Inc. (BRK.A) - Get Report to form a technology-driven healthcare solution were enough to make waves on the stock market Tuesday, Jan. 30. But Wall Street may be overreacting, sources told TheStreet following the news, as CVS Health Corp. (CVS) - Get Report shares have dropped as much as 6%.
If anything, insurance companies and pharmacy benefit management (PBM) organizations like Humana Inc. (HUM) - Get Report , Express Scripts Holding Co. (ESRX) and Cigna Corp.  (CI) - Get Report have more to worry about, according to Oppenheimer analyst Mohan Naidu, because of the proposed partnership's not-for-profit model.
"They have nothing at this point, no health plan or network of providers," Naidu said. "But they are disrupting the ecosystem of healthcare by saying that the new entity won't be focused on profit, which will disrupt margins for the middlemen."
Industry experts also observe that it's not the first time major employers came together with the goal of negotiating healthcare costs. In 2016, 20 big players, including American Express Company (AMX) - Get Report , Macy's Inc. (M) - Get Report and the Coca-Cola Company (COKE) - Get Report formed the Health Transformation Alliance aimed at driving down the price of healthcare for their employees. Since then, another 18 companies have joined the alliance, including Walgreens Boots Alliance Inc. (WBA) - Get Report . "The effects of the organization have yet to be seen," said David Larsen, an analyst at Leerink Partners.
While the consortium between Amazon, JPMorgan and Berkshire may be similar to the Health Transformation Alliance, in which employers use collective bargaining power, the announcement Tuesday falls short of unveiling a product.
"Are they going to form an insurance company? Are they going to apply technology in other ways? We have no idea," said Tom Charland, the founder and CEO of Merchant Medicine, a firm that tracks retail health clinics. "Clearly, they're not going to tell their employees to stop using their primary physicians. They're probably not going to build hospitals. They don't have doctors or facilities, both of which CVS has." 
CVS made knockout news of its own last year, when it bought insurance company Aetna Inc. (AET) for about $69 billion. Pending regulatory approval, CVS will have, by the end of 2018, its own PBM business, almost 10,000 retail pharmacies, over 1,000 walk-in clinics and millions of potential customers that hold Aetna plans. 
The Amazon announcement Tuesday, Naidu said, should come as positive news for CVS, considering its own merger. The alliance, in fact, will likely catalyze a series of deals in the healthcare space, he explained. "Now, the question being begged is, are there more vertical integration opportunities in healthcare now that there's a new entity to disrupt it?"
For the employees of the three giant companies, benefits from the proposed consortium likely won't be available until 2020. For U.S. consumers at large, the timeline is even hazier.
No one can deny, nonetheless, that more changes are afoot in the healthcare industry, whether it's Walgreens initiating another merger or Express Scripts joining forces with an insurance company.
"The political focus by both parties has been entirely on the ideological issues of replacing or repairing Obamacare, which is of little consequence for the American consumer," said John Sculley, former CEO of Apple Inc. (AAPL) - Get Report who now serves as the chief marketing officer of RxAdvance, a cloud-based health care management platform. "What makes the announcement today so successful is that you now have three of the most powerful corporations in America shifting the focus to find real answers as how how we can build a sustainable, cost-effective healthcare system."
JPMorgan and Apple are holdings in Jim Cramer's Action Alerts PLUS Charitable Trust Portfolio. Want to be alerted before Cramer buys or sells JPM and AAPL? Learn more now.
More of What's Trending on TheStreet: