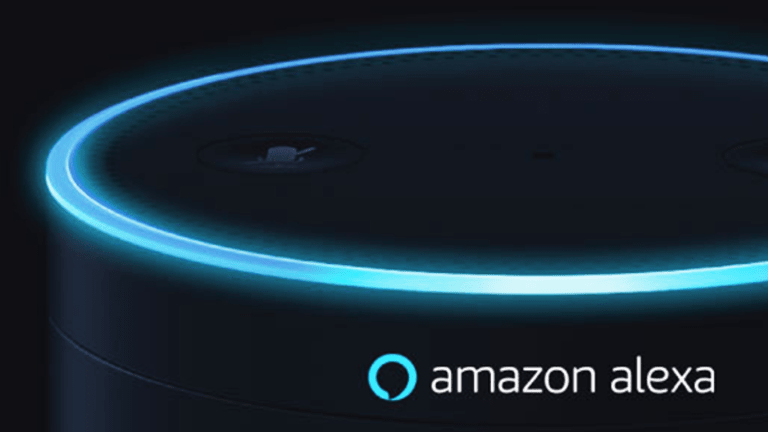 Amazon's New Echos Don't Address Alexa's Most Glaring Weakness
Alexa can only get so far without Amazon having a stronger position in smartphones.
19th-century baseball player Willie Keeler famously quipped that his strategy in the batter's box was to "hit 'em where they ain't." It feels like Amazon.com Inc. (AMZN) - Get Amazon.com, Inc. Report is embarking on a similar strategy for its Alexa voice assistant, aggressively trying to grow Alexa's footprint wherever Apple Inc.'s (AAPL) - Get Apple Inc. Report Siri or Alphabet Inc.'s (GOOGL) - Get Alphabet Inc. Class A Report Google Assistant have a limited or non-existent presence.
That strategy was on full display at Amazon's surprise Sept. 27 hardware reveal, as Jeff Bezos' company unveiled several new home products and one major automotive alliance. But as Google -- and to a lesser degree Apple -- encroach on the areas where Amazon is trying to create strongholds, Amazon needs to come up with better ways to hit its top voice assistant rivals where they loom large.
Jim Cramer and the AAP team hold positions in Apple and Alphabet for their Action Alerts PLUS Charitable Trust Portfolio. Want to be alerted before Cramer buys or sells AAPL or GOOGL? Learn more now.
Amazon's hardware event featured the unveiling of:
An overdue refresh of the original Echo, which launched in November 2014. The new Echo is smaller, draped in cloth, contains better speakers and can stream audio to multiple Echo devices. It costs $100 -- $80 less than the original Echo -- and a 3-pack goes for $250.
The Echo Plus, a taller $150 sibling that looks more like the original Echo. It contains a built-in smart home hub that lets the product control smart home devices from dozens of partners out of the box.
The Echo Spot, a $130 speaker/alarm clock with a 2.5-inch touchscreen. Like the Echo Show, which was unveiled in May (it has a 7-inch touchscreen, and costs $230), the Spot features a camera that can be used for videoconferencing. Those trying the device out generally liked it, though the camera stoked some privacy fears.
Echo Buttons, hockey puck-shaped devices that can be used with Echo speakers to play games. With a 2-pack costing $20, this looks like a niche product.
The Echo Connect, a $35 box that plugs into landline phone jacks and (should one still have a landline) lets Echo speakers place regular phone calls.
Amazon also announced a tie-up with BMW through which Alexa will begin to be integrated with BMW and Mini-branded cars starting in mid-2018. Microphones built into the cars will field Alexa voice commands, and infotainment systems will show visual content related to Alexa's responses. The deal follows one eight months ago with Ford that featured integration with Ford's Sync infotainment platform, and also let Alexa users start or lock/unlock their cars from inside their homes.
Last but not least, Amazon launched a $70 Fire TV device -- an oversized square dongle -- that supports 4K and HDR video, as well as Dolby Atmos audio, and comes with an Alexa voice remote. It replaces a $90 set-top that lacked HDR and Atmos support, and complements Amazon's $40, non-4K, Fire TV stick. A recent report indicated that Amazon is also working on a cube-shaped Fire TV set-top that doubles as an Echo speaker, but this hasn't been announced yet.
Roku, which priced its IPO on Wednesday, the same evening, can't be thrilled with the timing of the Fire TV reveal. Though the $70 Roku Premiere set-top is 4K-capable, one has to pay another $20 get an HDR set-top (the Premiere+). Roku's top-of-the-line set-top, the $100 Ultra, adds perks such as a remote-finder, a voice search remote and optical audio output, but lacks Atmos support.
Looking at the full breadth of Amazon's announcements, it feels like Amazon is bent on growing Alexa's consumer mindshare by flooding the market with products that cater to every possible use case. There are now seven different Echo speakers available, including three with cameras, as well as several accessories and two Fire TV devices that come with Alexa remotes. And Amazon, of course, is quite happy to promote these products on its site and apps.
And on the ecosystem front, Amazon is eager to work with any consumer electronics OEM or automaker looking to provide a device that can either run Alexa or be controlled by it, and -- in contrast to Apple, which has taken a more guarded approach to opening up Siri and its HomeKit home automation platform -- has tried to make it as easy as possible for developers and smart home hardware makers to create Alexa "Skills." Amazon has also teamed with Microsoft Corp. (MSFT) - Get Microsoft Corporation Report to make Alexa available via Microsoft Cortana assistant (built into Windows 10), and vice versa.
But in many ways, the numbers are still in Siri and Google Assistant's favor. Apple claimed to support over 1 billion active devices as of early 2016, and a big portion of them are doubtlessly iPhones and iPads. And with the caveat that a portion of these devices are in China, where Google's services are blocked, Google claims over 2 billion Android active devices.
Amazon, by contrast, was reported in June to have upped its 2017 Echo device orders to over 10 million. While that's said to represent more than a 200% increase from 2016 levels, it's still not in the same ballpark as iOS and Android device sales.
Moreover, while one can argue that Amazon's assistant platform is dominant in the home and Apple/Google's elsewhere, it's not that simple in reality, given how much smartphone usage happens at home. Quite often, consumers at home can summon Siri or Google Assistant almost as easily as Echo users can summon Alexa.
And Apple and Google are each looking to encroach on the Echo line's turf -- Apple via its $349 HomePod speaker, and Google via both its $130 Google Home speaker and Google Assistant-capable speakers from OEMs such as Sony and JBL. Google is also reportedly prepping a $50 speaker called the Google Home Mini, and a more powerful device called (you guessed it) the Google Home Max.
Both Apple and Google can sell consumers on accessing a common set of voice assistant services across both home speakers and mobile devices, with the assistant aware of what was shared via one device when it's accessed on another. And this spring, Assistant was fully opened up to developers via the Actions on Google platform.
Amazon's natural countermove is to grow Alexa's mobile footprint, but that's easier said than done. The company has struck deals to bake Alexa into certain Huawei and Motorola Mobility phones, but they account for just a small portion of global Android volumes. It has also made Alexa accessible via the Amazon shopping app, but that's not as convenient as waking a phone by saying "Hey Siri" or "OK, Google." And the Alexa-capable smart glasses the company is reportedly working on, while intriguing in some respects, look like a niche product for now, given their reported lack of a display.
What Amazon does very much have going for it is its aggressiveness, something reflected in both how many Echo devices have launched and how much Alexa's ecosystem has swelled in less than three years' time. In the short-term, a lot of consumers -- Amazon Prime subs especially -- are still more likely to associate smart speakers with the Echo line first and foremost.
But the landscape is certainly starting to look more competitive. And Amazon's latest Echo and Alexa-related announcements, for all their good points, only serve to strengthen existing competitive advantages rather than shore up a key competitive weakness.
Watch: After Buying Whole Foods, Here Are Two Other Big Brands Amazon Could Buy Next
More of What's Trending on TheStreet:
Editors' pick: Originally published Sept. 29.