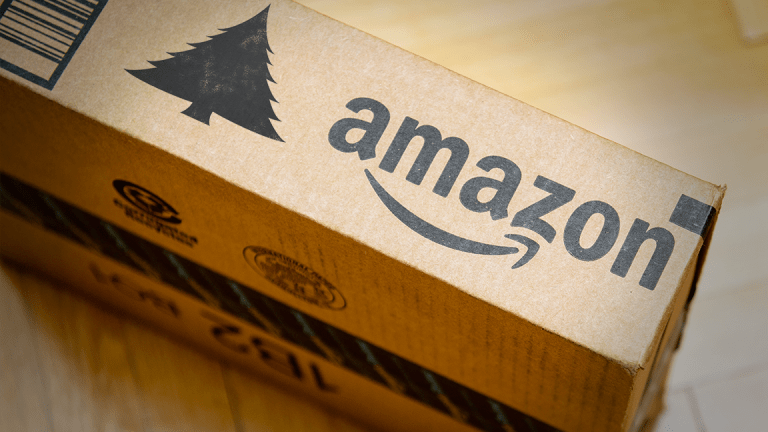 Amazon Continues to Rule Holiday Shopping Season -- and Make Rivals Miserable
The internet giant is likely to capture about half of the more than $100 billion in online sales expected to occur from November through December, and has been key in ratcheting up consumer's shopping expectations.
It's never been a better time to be a consumer, and for that, shoppers can thank Amazon.com Inc. (AMZN) - Get Amazon.com, Inc. Report . Its competitors are not likely to be as appreciative, however. 
"Retailers are doing virtually anything to win every dollar for every customer," said Ken Cassar, principal analyst and vice president at Slice Intelligence. "A lot of that is enabled, if not mandated, by Amazon's continued growth and success." 
Industry watchers expect another blowout holiday shopping season this year, with much of the annual growth occurring in e-commerce. Online sales are expected to rise 13.8% year-over-year to $107 billion during this year's holiday shopping season, which lasts from November through December, according to data from Adobe Systems Inc. (ADBE) - Get Adobe Inc. Report . 
Amazon is expected to capture about half of that total, according to a report from consultancy firm Bain & Co. That's owed, in part, to its aggressive pricing and shipping promotions, as well as incentives for its vast Prime subscriber network. The company is also putting its $13.7 billion acquisition of Whole Foods Market, which closed in August, to work by offering all kinds of holiday-related promotions at select locations of the upscale grocer.
Amazon has been key to consumers expecting more and more from retailers, in terms of flexible options, low prices and aggressive deals offered over a longer period of time than just Black Friday.
"In a lot of ways, Amazon is setting the bar in terms of e-commerce expectations," said Kantar Retail analyst Robin Sherk. "Prime shoppers in particular, want same-day or two-hour delivery."
Using a wide array of incentives, Amazon tries to give consumers little reason to consider shopping anywhere else, the best example being the Amazon Prime subscription network, the $99-a-year service that offers unlimited, free two-day shipping on many items, among other benefits. Other offerings such as Prime Now, an Amazon Prime member exclusive that enables two-hour delivery for many items, have tested rival retailers' logistical limits.
Amazon's Prime member network continues to swell bigger and bigger each year. The company doesn't disclose Prime member numbers, but a recent survey from market research firm Consumer Intelligence Partners estimated that Amazon Prime had 90 million U.S. members in the third quarter of 2017. Sherk projects that about 40% of U.S. households will be Prime members by the end of 2017, up from 33% of households as of last December.
Prime members are just one example of Amazon's larger "three pillars of growth" -- convenience, broad product selection and low prices -- that have fueled its success during the holiday shopping season, said Cassar, the Slice Intelligence analyst. 
Those three areas are particularly important as more and more companies jump into the fray of online holiday promotions -- an arena in which free shipping represents mere table stakes. While consumers have come to expect things like low prices, now they often prioritize convenience when deciding where to make a purchase, Cassar explained.
"Convenience is a really important part of the equation. Getting it quickly and, sometimes, today," Cassar explained. "So Amazon and Walmart (WMT) - Get Walmart Inc. Report in particular have been aggressively competing to deliver a more convenient experience to consumers."
Walmart has tried to make sure that Amazon isn't the only destination for free, two-day shipping. In January, the retail giant began offering two-day shipping on orders of $35 or more for more than two million items. Walmart is also taking advantage of its almost 4,700 stores in the U.S. to offer same-day, in-store pickup for items ordered online. What's more, some items are eligible for discounts if they're bought online and shipped to a Walmart store, rather than to your house.
"We've seen retailers step up their emphasis on 'buy online, pick-up in store,'" Sherk explained. "Walmart, Kohl's and others have been trying to step up service there by letting people pick things up on their own terms."
Convenience also requires retailers to have a well-developed mobile presence, which is another area where Amazon excels.
"We don't track app downloads, but if we did, you'd see Amazon has mobile user penetration," Cassar said. "Amazon app usage is dramatically higher than any other retailer. Folks like Target (TGT) - Get Target Corporation Report would be happy to have a quarter of Amazon's users."
Amazon Shopping is currently the top app in the U.S. on the App Store, according to app analytics firm App Annie. Target is ranked fourth, followed by Walmart in fifth place and eBay (EBAY) - Get eBay Inc. Report  in tenth.
In general, consumers are spending more and more time using shopping apps. Time spent in the U.S. on the top five digital-first shopping apps (the top two being the since-retired Amazon app and the newer Amazon Shopping app) increased 44% year-over-year in the first half of 2017, App Annie noted. Time spent on shopping apps from traditional brick-and-mortar retailers grew at a slower pace than for digital retailers, increasing 29% annually in the first half of 2017. During that time, Walmart's was the most-used app from a brick-and-mortar retailer, followed by Target's savings app, Cartwheel.
Amazon Prime Day, the self-created holiday on which it offers discounts on hundreds of thousands of items, is meant to attract more Prime members. But Black Friday, Cyber Monday and the end-of-year holiday shopping season are more aimed at converting shoppers from further across the Amazon ecosystem.
For example, Amazon has tried to encourage consumers to place orders through their voice-controlled Echo devices by offering exclusive holiday discounts to voice shoppers. This year, Amazon is also offering a $10-off coupon for Prime members who use its Amazon Restaurants food delivery service for the first time.
In addition, the company is hoping to use its blockbuster Whole Foods acquisition this year to its advantage. Leading up to Thanksgiving, Amazon began lowering prices on Whole Foods items for Prime members, including on regular and organic whole turkeys, while selling Echo and Kindle devices at a discount at Whole Foods' physical stores.
Amazon also plans to bring Amazon Lockers, its self-service package delivery service, to Whole Foods locations. This could be valuable during the holiday season, while also encouraging impulse purchases at Whole Foods stores, said CB Insights senior intelligence analyst Zoe Leavitt.
"Amazon uses holidays to encourage Prime sign-ups and now that it owns Whole Foods, Amazon has one more lever with which to do so," Leavitt said.
TheStreet's "Black Friday and Holiday Shopping Survival Guide" series aims to help you, the consumer and the investor, navigate the holiday season, Black Friday, Cyber Monday and everything in between. Through a number of stories, videos, graphics and other multimedia elements, TheStreet takes a look at the biggest challenges of the season, the winners and losers from the shifting retail environment and much more. Read More about navigating the holiday season.
More of What's Trending on TheStreet: