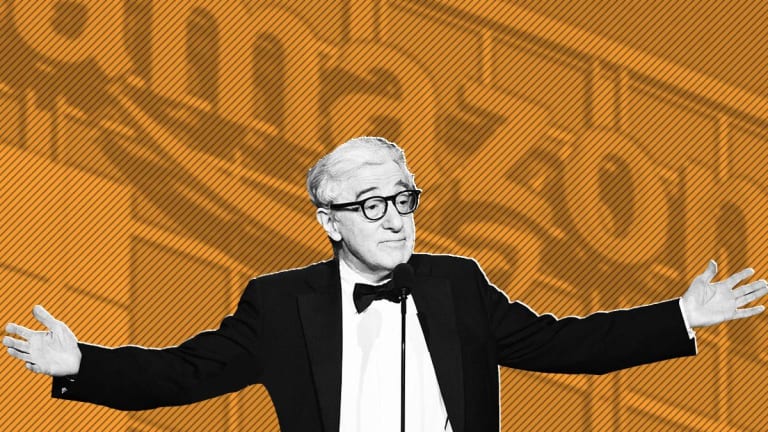 Amazon Returns 'Rainy Day in New York' Rights to Woody Allen: Report
Move raises doubts whether film will be released in U.S.
Amazon.com (AMZN) has returned all distribution rights for Woody Allen's latest film, "A Rainy Day in New York," to the film maker, according to a published report Monday.
The move follows heightened public awareness of sexual harassment and misconduct in Hollywood as a result of the #MeToo movement, Variety reported, citing unnamed sources. 
Allen has faced persistent claims of sexual abuse by his adoptive daughter Dylan Farrow. He has called the claims "baseless."
The #MeToo movement gained momentum after Allen's son Ronnan Farrow wrote a series of articles in the New Yorker detailing multiple charges of sexual misconduct against film producer Harvey Weinstein.
Several stars of "Rainy Day" have repudiated their work with Allen since the film was completed and donated their salaries to the Time's Up legal defense fund, which provides legal assistance to women who have suffered sexual assaults, harassment or other misconduct in the workplace, Variety reported.
Allen and Amazon have been locked in a legal dispute over his $80 million deal with the online giant since the #MeToo movement began gaining traction.
"Rainy Day" already has distribution deals in several European countries, according to the report. It is unlikely to win release in the U.S., however, as only small distributors would be likely to even consider working with Allen, according to the report.
Allen has written and directed dozens of movies in a more than 50-year career, including Oscar winners "Annie Hall,' and "Manhattan," which chronicles the story of a middle-aged comedy writer dating a 17-year-old girl.
Amazon.com Inc. is a component of the Action Alerts Plus portfolio. To find out more about how you can profit from Jim Cramer and the AAP team's investing ideas, please click here now.