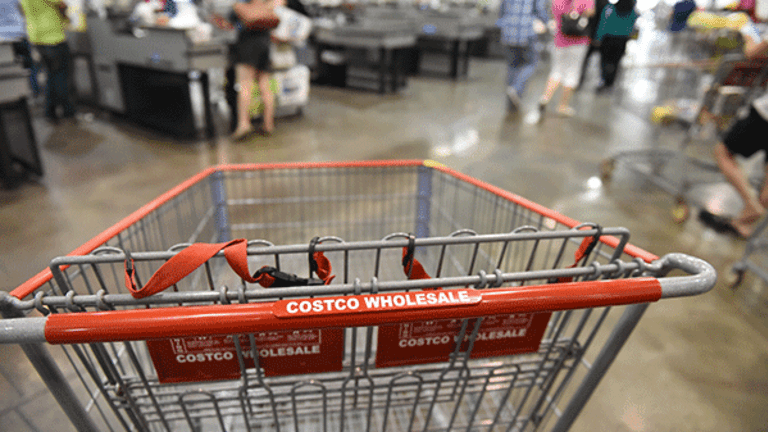 Amazon Probably Can't Destroy Costco Because of One Incredibly Simple Advantage
Here's why Costco has an advantage.
People love shopping for bulk food at Costco's (COST) giant warehouses, something they can't do at no-store having Amazon (AMZN) .
And that's great news for Costco as it tries to defend its turf vs. a disruptive digital foe, according to a new survey from Barclays. "The survey indicated more than 80% of customers go to Costco specifically for food -- this tells us analytically (as opposed to intuitively) that Costco is very protected from Amazon," wrote Barclays analyst Karen Short. 
Barclays commissioned Research Now, an online market research company, to conduct a survey of Costco shoppers. The survey was conducted from April 13 through April 18. A total of 600 qualified responses were recorded that represent a broad sample across age cohorts, income demographics, and geographies. 
The survey unearthed that 81% of respondents visit Costco for groceries. Results were consistent for both millennials and baby boomers. Meanwhile, gas - another defensive product-category - was the main reason for visiting Costco for 10% of respondents, with the food court and other at 9% combined.
"Given Costco's high quality merchandise in food, low prices, and the frequency of purchase for these items, we believe that the company's customers will remain loyal and believe Costco's price positioning and quality in food insulates it from Amazon," Short says.
The analyst upgraded her rating on Costco shares to overweight from equal-weight, and now sees fair value at $185 a share.
Editor's Pick: Originally published April 21.
Here's more retail news from TheStreet:
25 Ridiculously Weird Items Sold Through Amazon
20 Large Retailers Besides J.C. Penney Are Closing Waves of Stores
Bebe Is Closing All Its Stores, Just Like These Other 4 Big Retailers Did This Year