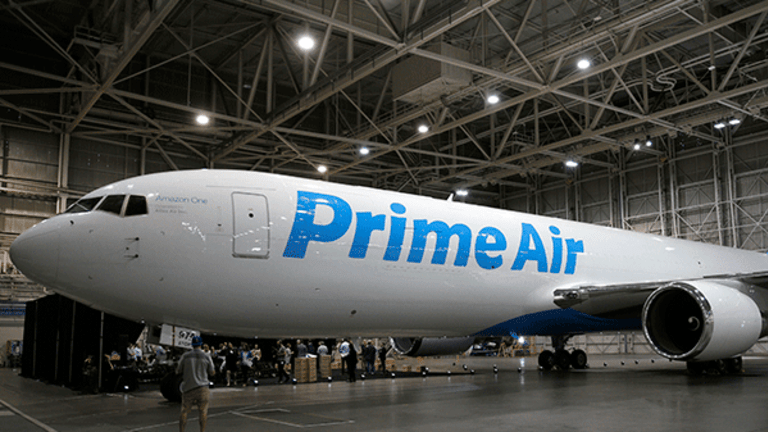 Amazon Prime's Rapid Growth Is Getting to Be a Real Problem for Google
More or more consumers are going straight to Amazon's site and apps to shop. That's a major threat to Google's e-commerce ad sales, even if they're faring well for now.
More or more consumers are going straight to Amazon's site and apps to shop. That's a major threat to Google's e-commerce ad sales, even if they're faring well for now.
Alphabet (GOOGL) - Get Report chairman Eric Schmidt once claimed Amazon (AMZN) - Get Report, rather than Microsoft (MSFT) - Get Report, Yahoo! (YHOO) or anyone else, was Google's biggest search rival. His reasoning: Amazon shoppers often bypass Google search in favor of going directly to Amazon's site and apps, and thus never see Google's e-commerce listings or (importantly) ads.
A pair of recent articles show how the threat posed by Amazon to Google has continued to intensify. And while Google certainly can't be accused of standing idly, the strong momentum behind Amazon Prime and Amazon's broader e-commerce operations puts the search giant in a tough spot.
Last week, Bloomberg reported a Labor Day weekend poll of 2,000 U.S. online shoppers conducted by e-commerce marketing firm BloomReach found a whopping 55% "go to Amazon first when searching for products," up from 44% a year earlier. The percentage going to search engines first fell to 28% from 34%, while 16% initially went to "specific retailers," down from 21%.
And on Thursday, The Wall Street Journaltook a look at the growth of Amazon's e-commerce ad business, which (though having existed for several years) has been flying under the radar. The business consists of both sponsored listings on Amazon product search and listing pages, and (through the Amazon Advertising Platform) targeted ads on other sites that rely on the mountains of shopping data Amazon possesses.
The WSJ notes research firm eMarketer estimates Amazon's U.S. ad sales will grow 9.4% next year to $1 billion. That growth forecast might be conservative; Amazon's North American division sales were up 28% in the second quarter, and sponsored listings have been growing in prominence on Amazon's site and apps.
Alphabet is a holding in Jim Cramer'sAction Alerts PLUS Charitable Trust Portfolio.Want to be alerted before Cramer buys or sells GOOGL? Learn more now.
When looking at the growth of either Amazon's e-commerce search share or its ad business, it's hard to overlook the impact Amazon Prime's runaway success has had. By providing free two-day or same-day shipping on millions of items, Prime has transformed Amazon from a retailer to a lifestyle for many subscribers.
When looking to buy a needed item, millions of Prime subscribers now just head to Amazon without giving a moment's thought to first checking out Google, eBay or a rival retailer's site. And along the way, they might click on an ad or two for an Amazon listing that supports Prime delivery. Research firm CIRP estimates Amazon's U.S. Prime subs rose to 63 million in June from 44 million a year earlier, and that the average U.S. Prime sub spent $1,200 on Amazon in 2015.
There's also a virtuous cycle at work here: The more Prime-related sales and subscription fees grow, the more funds Amazon has to invest in new warehouses and value-added services that increase Prime's value proposition to both existing members and those who haven't signed up. And the more sales and browsing activity Amazon records, the more data it has against which to run targeted ads.
Google, clearly not oblivious to Amazon's growth, is betting its Google Shopping platform, which shows product ads with images attached within Google search results and on a standalone Google Shopping site, will keep its e-commerce ad sales humming. The ads are used by eBay (EBAY) - Get Report, Wal-Mart (WMT) - Get Report, Target (TGT) - Get Report and many other big online sellers not named Amazon.
With the help of Google's efforts to prominently display the ads within PC and mobile search results, as well as to roll them out to third-party search partners, Google Shopping has seen strong growth over the last two years. Last month, Online ad firm Merkle reported Google Shopping ad impressions were up 275% annually on phones as of July, and that PC and tablet impressions were up around 50%.
And on Friday, e-commerce services firm ChannelAdvisor reported that its clients' Google Shopping same-store sales rose 51.7% annually in September, after seeing 43.1% in growth in August. On the other hand, same-store sales driven by other search ads, on Google or elsewhere, rose just 0.1%.
But one can't ignore the fact Google Shopping ad buyers have been collectively losing share to Amazon. And unless one counts the Google Express delivery service -- it costs $95 per year and provides free same-day delivery for qualifying orders with retail partners, but doesn't come with any online media services and appears to have seen limited sign-ups to date -- Google doesn't have anything that can match up to Amazon Prime.
At some point, Google Shopping's growth will likely slow to resemble the online sales growth of the retailers relying on it. Unless those retailers find a way to halt their share losses to an increasingly omnipresent Amazon, Google's e-commerce ad sales are bound to come under pressure along the way.