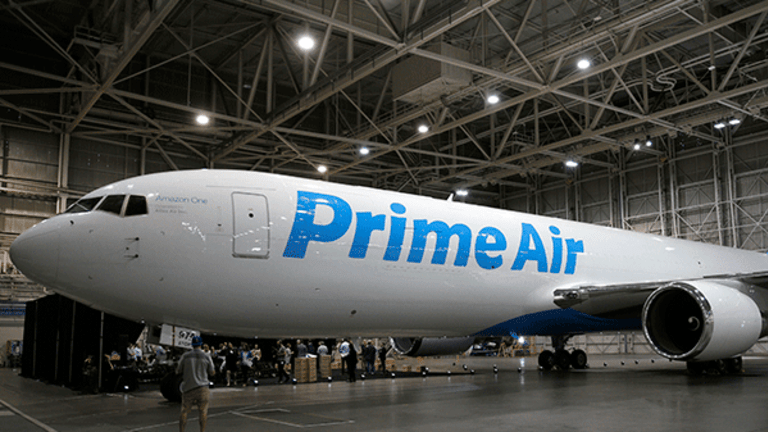 Amazon Prime Air Pilots Picket for Higher Wages
The pilots employed by Amazon's air cargo providers say their pay is significantly below industry standards.
Amazon (AMZN) - Get Amazon.com Inc. Report  has faced criticism before for worker conditions and pay, and the latest comes from the pilots that are in charge of flying its cargo planes under its Prime Air delivery program.
At the e-commerce giant's annual shareholder meeting in Seattle on Tuesday, 65 pilots picketed outside to try to get Amazon to pressure its air cargo partners into increasing the pilots' benefits and pay, which their union says remains 50% to 60% below the industry standard. Amazon Prime Air currently has contracts with three air cargo providers: Air Transport International (ATI) and ABX Air, both owned by Air Transport Services Group (ATSG) - Get Air Transport Services Group Inc Report , as well as Atlas Air Worldwide Holdings (AAWW) - Get Atlas Air Worldwide Holdings Report .
The pilots are warning Amazon that cargo pilots are leaving these companies at an alarming rate because they can do the same work at a different company like FedEx (FDX) - Get FedEx Corporation Report , Delta (DAL) - Get Delta Air Lines Inc. Report or UPS (UPS) - Get United Parcel Service Inc. Report for more money, said Mike Griffith, an Atlas Air captain and communications chair for the Teamsters union representing the pilots. In the first five months of 2017 alone, 100 pilots have left Atlas Air. In April alone, Atlas hired 30 pilots, but lost 23 pilots.  
This is relevant to Amazon, even to CEO Jeff Bezos himself, because the current growth targets that he has set for Prime Air aren't realistic if it doesn't have the experts needed to fly its planes, Griffith said. The best pilots are leaving the companies that operate Prime Air because they can find better paying positions. "Prime Air will suffer without the infrastructure it needs to manage the program," Griffith explained. "The growth targets that Bezos has to be as big or bigger than UPS can't be met with the way these companies are being run." 
However, Wedbush Securities managing director Michael Pachter said he doesn't see the protest as a big deal considering it's a small number of employees that aren't directly employed by Amazon. "If their claims are in fact true (that they can make a lot more money elsewhere), they are all free to change jobs," he wrote in an email. "If Amazon can't make its inventory balance, they will pay more for personnel to make sure that things flow properly."
Jim Billimoria, an Amazon spokesman, said in an email: "Questions about the working environment of our partners is best addressed by them. All of our delivery providers must abide by our Supplier Code of Conduct and we take seriously any allegation that a delivery provider is not meeting those requirements and expectations. That said, we are pleased with our partners' performance and their continued ability to scale for our customers."
Last year, Bezos spoke about Prime Air at a conference and said that his aim was to complement USPS and UPS, according to Bloomberg. "We will take all the capacity that the U.S. Postal Service can give us and that UPS can give us and we still need to supplement it," he said. "We're growing our business with UPS. We're growing our business with the U.S. Postal Service."
The union is adamant that it wants to help Amazon achieve its Prime Air goals, but that those targets cannot be met unless benefits and pay are improved in order to retain talent at these companies. "If changes aren't made, Prime Air will take off but it won't climb and its growth will be stunted," Griffith said.
Other companies are also facing pilot shortages. Delta gave its pilots a 30% raise that will kick in by 2019, while American Airlines (AAL) - Get American Airlines Group Inc. Report said earlier this year that it will offer a mid-contract 8% raise to its pilots. But that may not be enough to counteract the Teamsters' estimate that 35% of U.S. pilots will retire in the next decade. 
If the companies don't heed this warning, then Amazon's customer service may get another black spot on its customer service record due to unhappy pilots. Last December, pilots for ABX Air walked off the job during the stressful holiday season because they said they were being forced to work on days they were previously told they would have off. This same situation could come up again this year if nothing changes for the pilots, Griffith said. Nearly 100% of the pilots polled at ABX and Atlas Air last year said they were prepared to go on strike at any moment.