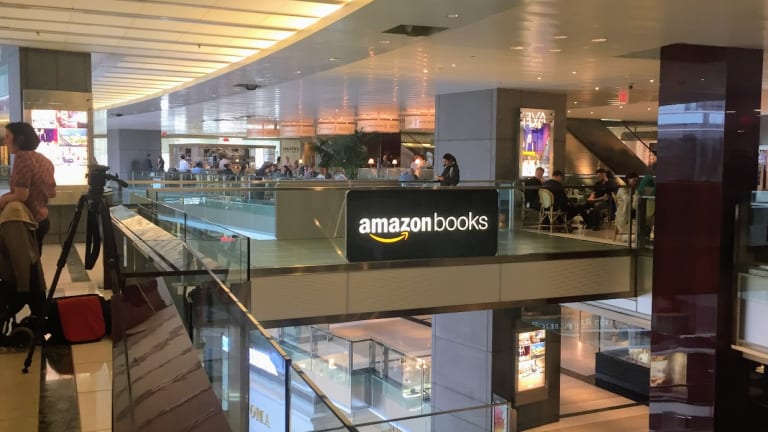 Amazon's New Bookstore in New York City Is More of a Showpiece Than Anything Else
The store looked like an updated, high-tech version of the former Borders bookstores.
The irony of Amazon (AMZN) - Get Amazon.com Inc. Report making a push into the brick-and-mortar space with its newest bookstore opening in New York on Thursday is strong considering its convenient online bookstore is a large reason why Borders shuttered its doors in 2011.
The newest addition to Amazon Books opened at Columbus Circle on the edge of Central Park and is the company's seventh bookstore. Existing Amazon Books locations include Chicago; Dedham, Mass.; Lynnfield, Mass.; Portland, Ore.; San Diego; and Seattle. In addition, Amazon already has six more locations planned for 2017: on 34th St. in New York; Bellevue, Wash.; Los Angeles; Paramus, N.J.; San Jose, Calif.; and Walnut Creek, Calif.
The store is about 4,000 square feet and is unique mainly because it's an updated, high-tech version of a bookstore. All of the books in the store are turned face-out so it's easy for customers to look at the covers. More importantly, each book title has a card under it that shows the book's rating on Amazon.com and features a written review from a customer that the store pulls from Amazon.com. But these cards are almost superfluous considering Amazon Books only sells books that are Amazon.com bestsellers or that are rated 4 stars and above on its website.
Technology plays a bigger role in the store than in your average corner bookstore. Customers can open their Amazon app in the store, click on the camera icon, take a picture of any book in the store, and the app will bring up that book's page on Amazon's online store. If a customer doesn't have the app, he or she can use one of the store's scanning stations, which give the chance to read more reviews and get more information on the book. If a customer decides to purchase the book, he or she can scan a QR Code through the Amazon app at the register to pay for it.
While a psychical bookstore for the online giant makes more sense when you consider that it started out as a bookstore run out of a garage, it makes even more sense when you consider the opportunity Amazon has to display other products in the store. Each location is filled with a variety of knickknack products that are also highly rated on Amazon.com, such as thank you cards, water bottles, backpacks and candles. In addition, it can display its line of hardware products from the Amazon Fire TV to the Amazon Echo, as well as the whole Kindle line. 
"It's more of a showcase than anything else," Wedbush Securities managing director Michael Pachter said. The strategy behind Amazon Books is similar to what's behind the Nintendo (NTDOY) - Get Nintendo Co. Ltd ADR Report store and NBA store, he said. Amazon needs a place where it can show off its newest consumer electronics for people to hold, test and, hopefully, purchase.
Amazon also can use its store to push its main agenda: getting more people to sign up for Amazon Prime memberships. That's because Prime members can buy products in the store for the same cost listed on the website, while nonmembers have to pay the list price for all items except Amazon devices, which are available for the same price as on the website.
It's a well known fact that Amazon Prime members spend more money than non-Prime members on the company's site. According to ITG analyst Steve Weinstein, non-Prime members spent less than $1,000 in 2015, while Prime members who became subscribers in January 2014 spent an average of $2,147 and subscribers who joined in January 2012 spent an average of $3,091.
The new store is located at 10 Columbus Cir. on the third floor and is open 10 a.m. to 10 p.m. Monday through Saturday and 10 a.m. to 8 p.m. on Sunday. For an inside look at the bookstore, click through the following images TheStreet took at the grand opening on Thursday morning.
Jim Cramer and the Action Alerts PLUS team have some thoughts about Facebook and other holdings of their investment club. To find out what they are telling their members, get a free trial subscription to Action Alerts PLUS.
Editor's pick: This article was originally published at 3:11 pm ET on May 25