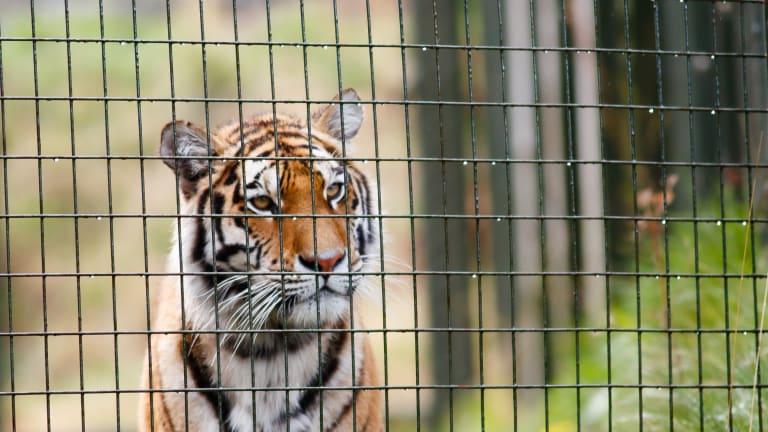 Amazon Is a Digital Beast That Must Be Contained in a Government Cage
Amazon may be nearing a monopoly, suggests well-known activist investor Nelson Peltz. Rising bond yields could pound the stock market.
Wow: Super abbreviated "Morning Jolt" as I am in full prep mode for an interview Wednesday with a key Federal Reserve official pegged to some new research. If you are invested in banks (you should be as Jim Cramer's Action Alerts Plus investor club has seen huge gains with positions Citigroup (C) - Get Report , JPMorgan & Chase (JPM) - Get Report and Keycorp (KEY) - Get Report ), I suggest you return to our website for breaking news at 9 a.m. ET. Despite being in prep mode, I can't help but to give activist investor Nelson Peltz some props for slaying Amazon at a conference Tuesday evening. "Until there is a real competitor to Amazon I am concerned and I think that at one point in time the government will step in and do something about it. I am concerned that they control prices," Peltz said in a wide-ranging conversation at an event in New York reported TheStreet's Ron Orol. "Amazon does disturb me, until there is a real competitor I am concerned." Peltz is dead-on here, especially in light of Amazon entering our brainwaves by expanding the reach of Alexa (key takeaway of Amazon's time at CES this week). Anecdotally, I always got the sense Amazon is petrified of being considered a potential antitrust case waiting to happen like Microsoft (MSFT) - Get Report . One Amazon flak has darn near rung my phone off the hook anytime I hint the internet beast is responsible for mass store closures. His calls are bizarre, and so are his emails that contain "research" showing Amazon isn't really hurting bricks-and-mortar retailers. I hear ya, bro.
The infrastructure is being laid: Although Tesla (TSLA) - Get Report investors obviously want Elon Musk to move quicker and more efficiently, it must be encouraging to see a pickup in the pace of supercharger installations. With more installations comes more confidence among consumers that they can ditch gas and hop into a $100,000 Tesla ... without getting stuck on the side of the road. Nowhere is this rollout more prevalent than in China, which isn't known for having the cleanest air. Tesla blog Teslarati reported Tesla had 1,021 operational superchargers at the end of 2017. It's largest supercharger stations recently opened in Beijing and Shanghai. Overall, China has more than 190,000 charging stations installed compared to 16,000 or so in the U.S. China has a medium-term goal of having 800,000 charging stations in service. 
Be worried: During this latest leg higher in the stock market, investors have completely ignored rising bond yields. They may want to begin paying attention given the sharp drop in stock futures Wednesday with yields touching 10-year highs. Sparking this latest move is a report that China is considering slowing or halting its purchases of U.S. Treasuries. This has long been rumored, especially as the Trump administration has hurled strong language at China over its trade practices. Couple this report with the expectations of rising inflation, and a more active Federal Reserve in 2018 as a result, and suddenly the market may have its first real test in some time. Sell those housing stocks ... 
What's Hot
Sears Is Dying
The market is sending Sears (SHLD) shares slightly higher off a release today that it has raised a little bit more money. You are nuts if you buy this rally. Sears also reported a TERRIBLE holiday season -- same-store sales at both Sears and Kmart down nearly 17%. All signs point to the company not making it to holiday 2018.
More of What's Trending on TheStreet: