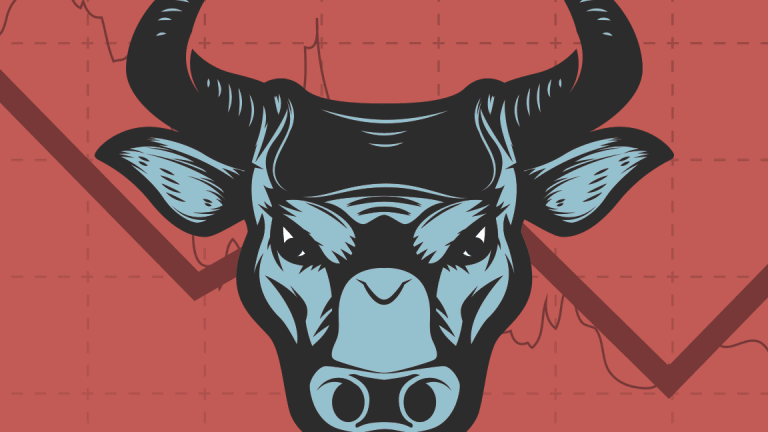 July has historically been the best month of the year for stocks, with the S&P 500 undefined and its predecessors gaining 1.5% on average since 1928. But chances are that the "Ugly Stick" could be stalking Wall Streetthis July. So, here's a look at how I'm playing things.
First, remember that markets are staring at potentially growth-strangling news on international trade, uneven Organization of Petroleum Exporting Countries signals on oil production and a yield curve that seems just a little bit flatter every time we look.
Watch more on the yield curve below. 
The news on trade keeps on getting dicier and dicier -- a significant threat to both continued U.S. and global economic growth scenarios. But unlike most of the pundits that I see on TV, I don't blame President Trump.
The playing field has obviously become badly slanted against U.S. exporters over several decades, and if we're going to tackle this long-term problem, the only time to try would be in an expanding U.S. economy. In addition, threats only work if those you're negotiating with believe you might actually carry them out.
However, we also face inconsistent messages from OPEC on oil output. And don't forget that a flatter yield curve must absorb $40 billion a month of Treasury bonds beginning in July thanks to an increase in the Federal Reserve's quantitative tightening.
In theory, that could push rates in the right direction for the banks - but we don't know how much the bond market will play along. After all, it's the market that ultimately has veto power over almost all other performance.
Stocks are going to have rely on good earnings to work around all of these roadblocks. Fortunately, second-quarter earnings estimates have actually been firming up as we approach earnings season's launch in mid-July.
For now, analysts expect all 11 of the S&P 500's sectors to report year-over-year growth for both earnings and revenue. Market watchers once again expect top sectors for gains to include energy, materials and tech space. Unfortunately, materials and tech are two areas that would be heavily impacted any international-trade disputes.
How to Tackle This Environment
Strict discipline is the key to survival in this situation.
It's important to:
Understand. You must understand that all victories and defeats are temporary. That's actually tough for many people to do.
Identify. Always identify targets of opportunity and potential threats.
Adapt. Be ready to adapt to all environments. Never beat yourself.
Overcome. Have no fear -- ever. Focus only on cold preparation.
Maintain. Stick with methods that favor EQ over IQ.
Never Fall in Love. Don't love a stock, as it will never love you back. If you can't remove emotion from your decision-making on when to buy or sell, then you can't run your own money.
Take Baby Steps. You must initiate even well-thought-out positions with care. Entries are best made in small steps. I like to exit a stock that way, too.
Have a Road Map. Have a target sale price and a stop-loss panic point for any stock you buy. Know where you want to go and where you don't.
Stay Focused. Limit the number of active positions that you have. Write a mission statement for your investing endeavors and place it where you can see it.
Here's how I'm playing things in different sectors as July begins:
Energy
I'm still long here. I like core oil-services companies like Schlumberger (SLB) - Get Schlumberger NV Report and Halliburton (HAL) - Get Halliburton Company (HAL) Report . I also have stakes in oil exploration through Exxon Mobil (XOM) - Get Exxon Mobil Corporation Report and Royal Dutch Shell (RDS.A) .
Technology
I've lightened up on tech a great deal, largely by selling some of my semiconductor positions. I'm much lighter on my former faves Nvidia (NVDA) - Get NVIDIA Corporation Report , Intel (INTC) - Get Intel Corporation (INTC) Report and Lam Research (LRCX) - Get Lam Research Corporation (LRCX) Report and have exited Applied Materials (AMAT) - Get Applied Materials, Inc. Report completely.
However, I'm still long in full on Micron (MU) - Get Micron Technology, Inc. (MU) Report and KLA-Tencor (KLAC) - Get KLA Corporation (KLAC) Report . I'm also still a strong believer in cloud computing, so I'm long Adobe (ADBE) - Get Adobe Inc. Report , Amazon (AMZN) - Get Amazon.com, Inc. Report , Microsoft (MSFT) - Get Microsoft Corporation (MSFT) Report , Salesforce (CRM) - Get salesforce.com, inc. Report and Splunk (SPLK) - Get Splunk Inc. Report . That said, I'm kind of stuck in the middle on all of these -- too far above basis to add on weakness. So, that leaves me playing in and out of options in this space.
Elsewhere
I haven't sold any of my favorite defense-contractor stocks such as Boeing (BA) - Get Boeing Company Report , and I've actually dug in some on them. I still believe in my thesis of an ever-riskier world, although it appears to have stopped working for my defense stocks for now.
Meanwhile, I've added back on to my retailer stocks now that they've sold off. Please recall that I let some air out of the tires near the highs on these names.
Lastly, I'm still long on some banks, although I don't love this space. In fact, I'm much more active in options related to banks than I am in bank stocks themselves.
Schlumberger, Nvidia, Amazon, Microsoft and Salesforce are holdings in Jim Cramer's Action Alerts PLUS member club. Want to be alerted before Jim Cramer buys or sells these stocks? Learn more now.