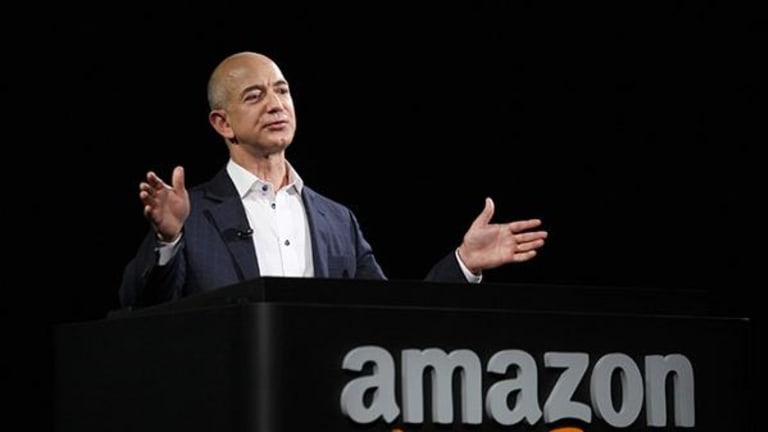 Amazon Makes History With First 'Best Picture' Oscar Nomination
The e-commerce giant scored six nominations overall for its highly-praised 'Manchester by the Sea.'
Updated from 12:44 p.m. with additional information.
Amazon.com (AMZN) - Get Free Report made history on Tuesday as the first internet company to snag an Oscar nod for Best Picture with its critically-acclaimed film Manchester by the Sea.
The film earned a total of six nominations for the story that follows an uncle who cares for his father-less nephew. Amazon Studios, which launched in 2010, paid $10 million for the film that was co-released by independent company Roadside Attractions.
Amazon's push into original movies and TV shows has been driven by CEO Jeff Bezos and his belief that content is the next "big leg" in its overall story, former Piper Jaffray senior tech analyst and Loup Ventures founder Gene Munster told TheStreet. "Amazon.com is the new bully on the block," he said.
Munster expects rival Netflix (NFLX) - Get Free Report to spend about $7 billion on content in 2017 and for Amazon to follow closely behind at about $6 billion. "It's surprising how quickly Amazon is coming up to speed," he noted.
The six nominations Amazon received this morning should help Amazon Studios build credibility and presence, comScore senior media analyst Paul Dergarabedian told TheStreet. "Oscar prestige is one of the quickest routes to legitimacy for any relatively new player in the theatrical movie space," he claimed. Manchester by the Sea also won Amazon its first Golden Globe in a movie category for Casey Affleck's lead male performance.
The company's decision to both back the film and give it a big screen exclusive release was a "savvy one and validates them as a major player," he added. The movie theater experience remains an important component to help the seven-year-old Amazon Studio's "position as a movie making force to be reckoned with now and going forward," Dergarabedian said. Netflix, by contrast, has chosen not to give the films it backs exclusive theatrical releases, opting to debut them online and in theaters simultaneously.
Producing Oscar-worthy content should also help Amazon in its ultimate goal of attracting more Amazon Prime subscribers, who pay $99 per year or $9.99 a month for numerous benefits, including access to thousands of movies and TV shows. Amazon Prime subscribers spend far more money with Amazon than do regular customers, and the program has become a big growth driver for the company's e-commerce business.
"This is how you generate more subscribers, you make your distribution channel a 'must have' and people will be knocking down your door to sign up," Dergarabedian said.
Netflix earned three nominations this year in the documentary categories, and has previously had several documentaries nominated.
Apple (AAPL) - Get Free Report will be another company to watch in the original content narrative, as it's trying to boost Apple Music subscribers by giving them original content. Loup Ventures sees Apple spending just around $500 million in its first year in the business, Munster noted. "The plot will thicken with Apple on the scene," he said.