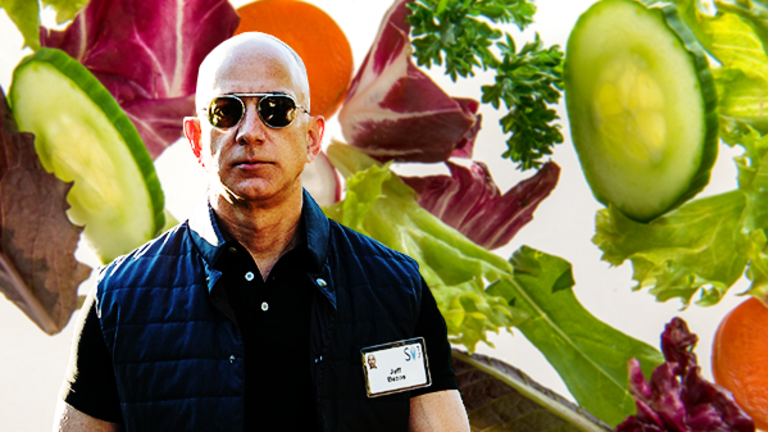 Amazon Just Revealed How It's Planning to Destroy All Grocery Stores
Sorry, everyone else.
Thanks to Amazon.com Inc. (AMZN) - Get Amazon.com, Inc. Report , grocery stocks are plummeting.
On Thursday, Aug. 24, Amazon announced that it will begin slashing prices on "a selection of best-selling grocery staples" at recently-acquired upscale grocer Whole Foods Market Inc. (WFM) . On Monday, customers will see lower prices on items including organic bananas, "responsibly-farmed" salmon and organic large brown eggs.
The move is a clear play at taking down grocery store rivals such as Walmart Stores Inc. (WMT) - Get Walmart Inc. Report , Kroger Co. (KR) - Get Kroger Co. (KR) Report , Costco Wholesale Corp. (COST) - Get Costco Wholesale Corporation Report and Target Corp. (TGT) - Get Target Corporation Report , all of which saw their stocks plummet after the announcement dropped.
Midday on Thursday, shares of Walmart fell 1.86%; Kroger, 7.32%; Sprouts Farmers Market Inc. (SFM) - Get Sprouts Farmers Markets, Inc. Report , 6.86%; Costco, 4.69%, and Target, 3.85%. Amazon shares fell slightly, by about 0.5%, to $953.19 a share.
TheStreet recently compared the cost of eight everyday food items at Whole Foods, Kroger and Walmart and found that Amazon will have to dramatically slash prices at its upscale grocer to compete effectively in the discount space. Whole Foods' basket cost $38.29; Walmart's, $19.86; and Kroger's, $16.58.
"We've been offering everyday low prices [for] more than 50 years and have worked over the past two years to offer our customers even greater savings by making a multi-million dollar investment to lower prices even more [accessible] across our 4,600 stores. We feel great about our position with our network of stores around the country and fast growing e-commerce and online grocery businesses," Walmart, in response to Amazon's announcement, told TheStreet in an email on Thursday.
Speaking at the Oppenheimer Consumer Conference in June, Kroger CFO Michael Schlotman predicted this day would come.
"I'm guessing [Amazon] didn't buy Whole Foods to be a natural organic grocer," Schlotman said, alluding to the rumors that were circulating then about Amazon planning job cuts and price reductions at Whole Foods.
Amazon also announced that all of Whole Foods' private labels, such as 365 Everyday Value and Whole Paws, will now be available through Amazon.com, AmazonFresh, Prime Pantry and Prime Now.
The e-commerce behemoth said, as it integrates Whole Foods into its business, its Prime members will automatically be enrolled in a Whole Foods' customer rewards program, under which they will receive certain undisclosed benefits.
And yes, as suspected, Amazon said it will use Whole Foods' roughly 470 stores as distribution points. Customers can opt to have their online orders shipped to a local Whole Foods location and return items to Amazon through the grocery stores.
On Thursday, Amazon got the green light from the Federal Trade Commission (FTC) to pursue its $13.7 billion acquisition of Whole Foods, after the grocer's shareholders approved the deal on Wednesday.
Don't miss these top stories on TheStreet:
Hurricane Harvey Could Send Oil Prices to $50 but Don't Hold Your Breath
Apple's Newest Products That Will Pummel Your Wallet Are About to Be Revealed
Hurricane Harvey Isn't the Bruising Storm That Wall Street Hates: Market Recon