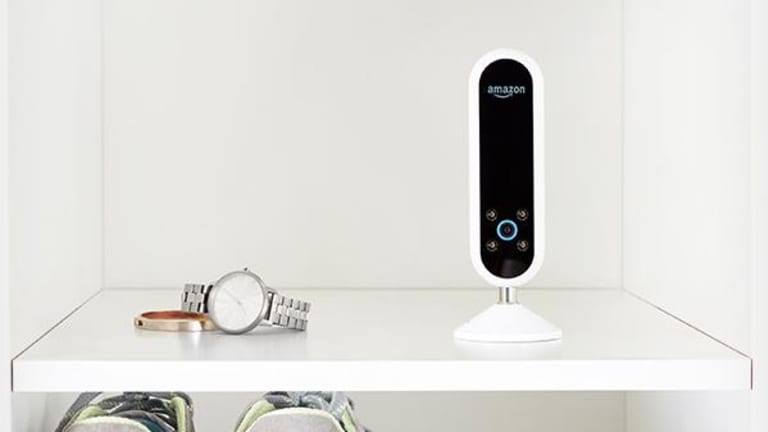 Publish date:
Amazon Just Found a Surprising Way to Get Into Your Closet
Amazon's new 'style assistant,' the Echo Look, potentially opens up whole new markets for the e-commerce giant.
Amazon's new 'style assistant,' the Echo Look, potentially opens up whole new markets for the e-commerce giant.
Amazon (AMZN) - Get Amazon.com, Inc. Report is doubling down on its efforts to disrupt the clothing industry, and it's using its popular Echo digital assistant to help lead the charge.
The e-commerce giant on Wednesday unveiled the Echo Look, a hands-free camera and style assistant that looks vaguely similar to a selfie stick and allows users to easily take and share photos of their outfits, as well as get recommendations for what to wear. The Echo Look is enabled with Amazon's Alexa digital assistant technology and responds to commands such as 'Alexa, take a picture' and 'Alexa, take a video.'
But it can also complete standard voice assistant tasks such as providing weather updates, controlling smart home devices and playing music. The Look has a depth-sensing camera that blurs a photo's background, making pictures appear more professional. 
Up until now, Amazon's forays into voice-enabled devices -- the Echo, Echo Dot and Tap -- were centered around the living room and kitchen (and soon, perhaps, the car), but the Look is uniquely targeted for use in the bedroom or the closet. As a result, The Look is unlikely to match the more than 8 million users who already own Echo devices, but it could prove to be yet another catalyst in connecting Amazon more deeply with consumers. 
Amazon said the device will cost $199.99 and is available by invitation only for now. By comparison, the standard Amazon Echo costs $179.99, the portable Amazon Tap is $129.99 and the smaller Echo Dot costs $49.99. 
Shares of Amazon were slightly higher by 0.5% to $911.84 on Wednesday afternoon and are upabout 22% so far this year.
"I thought the Amazon Echo itself was somewhat of a trojan horse into the household refrigerator and pantry," RBC Capital Markets analyst Mark Mahaney told TheStreet. "This could be the trojan horse into the closet."
Mahaney added that the Look could increase Amazon's wallet or purse share with consumers, especially in the apparel market, which he noted is "one of the fastest-growing" categories on Amazon. 
Over the past few years, the Seattle-based company has increasingly moved to enter the apparel and fashion industries, beginning by offering high-end brands such as Calvin Klein. In January, Amazon started selling private label brands such as "Buttoned Down," a line of men's dress shirts, as well as producing a daily show about fashion. Amazon has more than 1,800 products from its private brands listed on its site -- an effort that KeyBanc analyst Edward Yruma estimates could contribute at least 25 cents per share to its earnings by this year, according to Business Insider. 
Amazon is expected to surpass Macy's (M) - Get Macy's Inc Report as America's largest seller of apparel sometime in the near future.
Press release photo of the new device and app from Amazon
IHS Markit analyst Lee Ratliff said he was taken by surprise when Amazon released the Look on Wednesday, noting that although some photos had leaked of the device, he wasn't expecting it to deal purely with fashion. The Look may not be a "killer app," he said, but it could serve as a way for Amazon to further kick start its fashion initiatives. 
The Look has a Style Check feature that allows users to submit two looks, and using machine learning technologies, returns a judgment of which one looks best. Ratliff pointed out that Amazon could use this feature to promote their fashion brands. 
But Amazon is likely to use the Look as more than just a vehicle for promoting its fashion brands. The Look will also be another avenue for Amazon to collect consumer data, primarily in relation to shopping habits, items they like and dislike and other pieces of information.
"I'm sure Amazon has very good reasons very, very good reasons for launching this type of product," Ratliff explained. "I'm sure the data they have points to this type of product as enabling a critical area for them." 
The Look may also be a way for Amazon to test consumers' response to having a Echo device outfitted with a camera, an addition that's been rumored to be included in the next generation Echo Dot. 
"I expect this device to be multi-use but in the end it is designed for Amazon to know more about what you wear, makeup that is used and potentially to even create a suggestion engine to sell you goods," said Patrick Moorhead, president of Moor Insights & Strategy. 
Shortly after Amazon announced the Look, some consumers took to Twitter to express their concerns about having a camera-enabled device in their bedrooms. This issue could prove to be an obstacle for Amazon in the long term, Moorhead noted. 
"It's one of the more invasive products Amazon has ever brought to market, and it will be interesting to see how consumers respond," Moorhead said. 
Ratliff pointed to the fact that many consumers have a strong relationship with Amazon, which could prevent the concerns from growing. And younger consumers used to sharing data about themselves may be more willing to bring the device into their bedrooms. Wall Street will likely have some questions about the device when Amazon reports fiscal first-quarter results after Thursday's closing bell.
"I'm sure Amazon has nothing nefarious in mind," Ratliff said. "But I'm sure the privacy and security concerns will be at the top of everyone's minds."