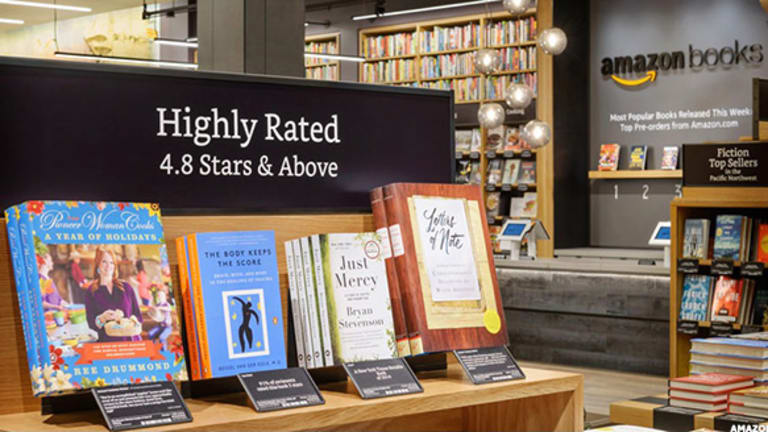 Amazon Just Revealed Its Strategy for Building Out Its Physical Stores
CFO Brian Oslavsky said the tech giant is 'experimenting with a number of different formats.'
Of all of Amazon's new ventures, perhaps the most surprising has been the e-commerce giant's push into brick-and-mortar stores, an effort that Amazon just underscored with its plans to acquire Whole Foods Market (WFM) for $13.7 billion. 
On its second-quarter earnings call on Thursday, investors tried to pick the company's brain about what it's planning to do with its physical stores. Amazon, as usual, was relatively tight-lipped when it came to any major updates, but CFO Brian Oslavsky did give a brief glimpse into how consumers are feeling about its four bookstores. 
When asked why physical stores make sense for Amazon to pursue, Oslavsky said the locations give Amazon's consumers an opportunity to try before they buy. As with most Amazon ventures, it's still figuring out what works best.
Amazon's Shocking Profit Miss Shows That It's Cashing In on Wall Street's Infatuation
Amazon Hints How You Will Be Able to Get $500 Worth of Whole Foods Groceries Delivered
"We are experimenting with a number of formats," Amazon's financial chief told investors. "I would say the benefit there is again, we have a curated selection of titles and it's also a great opportunity for people to touch and feel our devices and see them, especially the new Echo devices." 
Amazon added the touchscreen Echo Show and the Echo Look, a hands-free selfie camera, to its lineup of Echo devices during the second quarter. The company's four bookstores feature tables where consumers can play with the Echo devices, in addition to other gadgets like the Kindle devices. Oslavsky said shoppers have been enjoying these stations so far. 
"I went into the store in Seattle last week and I saw about a third of the people were standing around the device table learning how they work, how they interact with devices," he added. "I saw firsthand the customer experience, I think, that's what we're seeing as a benefit to the physical stores right now." 
Looking ahead, Oslavsky noted that Amazon is experimenting with different store sizes and formats, perhaps varying based on the region, such as suburban locations vs. city locations. 
Indeed, Amazon has found opportunity in physical stores at a time when the broader brick-and-mortar sector remains gloomy. But the Silicon Valley juggernaut also has some futuristic store plans up its sleeve, such as the cashier-less Amazon Go, which Oslavsky said is still in beta, but will expand more in the future. 
Shares of Amazon were slumping 2.9% to $1,015.63 on Friday morning on the big quarterly earnings miss, but are still up more than 35% year to date.
More of What's Trending on TheStreet: