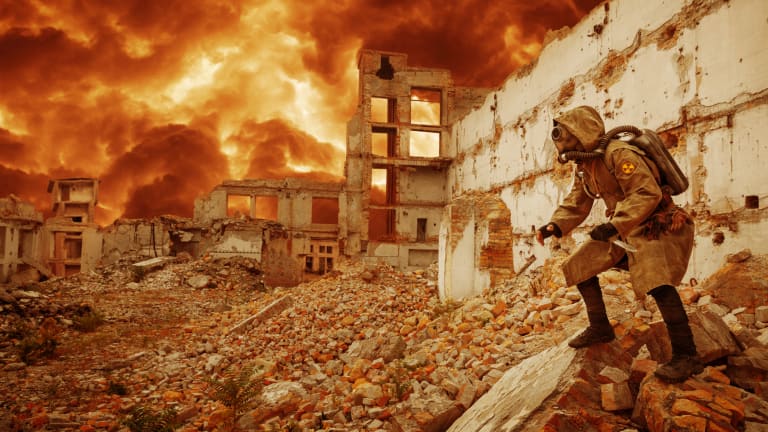 Amazon Is So Strong It's Likely to Decimate Loads of Major Sectors
Amazon is writing business class history as we speak. The company's first-quarter earnings signal that it's on a path to destroy many more failing companies. Also, Tesla sees more negative headlines.
Amazon is charting a path of destruction.
Out of all the things you can lock in on from Amazon's (AMZN) - Get Amazon.com Inc. Report blowout first quarter, it was a single financial line that jumped off the page: The fact that  worldwide revenue growth has accelerated for the past six quarters. For those non-CFA types, that simply means Amazon's total business around the globe is getting stronger, believe it or not. Indeed that's remarkable against the backdrop of Walmart (WMT) - Get Walmart Inc. Report driving a good bit of retail innovation, Microsoft (MSFT) - Get Microsoft Corporation Report crushing it in the cloud (its first quarter was no slouch) and Netflix (NFLX) - Get Netflix Inc. Report gaining new subscribers at impressive clips.
The fact is Amazon continues to exert insane amounts of pressure on the weak (J.C. Penney (JCP) - Get J. C. Penney Company, Inc. Report , Sears (SHLD) ) while also unearthing new ways to win business despite formidable rivals. The pressure is likely to decimate the mall by this time in 2023. It's nuts. Also nuts is how CEO Jeff Bezos could turn on the profit spigot at the drop of the dime, this time around probably doing so to shove it in Donald Trump's face.
All in all, Amazon is going to blow past Apple (AAPL) - Get Apple Inc. Report to reach a $1 trillion valuation first because it's finding more ways to earn highly profitable amounts of money. Let Apple sell its iPhones, Amazon would rather hook people into paying to have packages delivered to their cars. The market is favoring the latter model, at least for now. Amazon, Microsoft and Apple are holdings in Jim Cramer's Action Alerts PLUS.
Your Daily Dose of Tesla
Some of the intense folk (and that's putting it lightly) on TheStreet's YouTube page have probably been wondering why I have been absent this week from hammering money-losing Tesla (TSLA) - Get Tesla Inc. Report . There are many reasons, with one being this isn't a damn Tesla blog. And two, promoting CEO Elon Musk's brand is not something high on my daily priority list. I think he is badly in need of leadership training and his car company deserves a professional CEO. Nevertheless, Tesla took two more knocks to its business overnight. First, the National Council for Occupational Safety and Health has placed Tesla (and Amazon) on a "Dirty Dozen" list of the most dangerous places to work in the U.S. because of factory conditions. The council noted a high rate of reported injuries, unnecessary risks and an unwillingness to address workers' concerns. Ouch (pun intended). Meanwhile, a Tesla Model X slammed into a Florida gym. No injuries were reported; the driver allegedly said the car accelerated out of the blue. Watch the video below. Bring on those Tesla earnings next week. 
What Execs Are Telling Us
Thursday brought a host of interviews for TheStreet that may (hopefully) spark interest during your weekend planning. UPS (UPS) - Get United Parcel Service Inc. Report Chief Financial Officer told us the shipping giant will unveil a transformation plan in coming months. Instinct tells me this could be a cost-cutting plan designed to help the company's under-performing stock. Dunkin' Donuts (DNKN) - Get Dunkin' Brands Group, Inc. Report CEO shot back at noted short-seller Jim Chanos, who disclosed a year-long short position in the restaurant chain on Thursday. Chanos' response to me via email: "Wow, a promotional CEO and his execs don't agree with a short-seller....? Imagine that." Yep. Hopped on the phone with Hasbro's (HAS) - Get Hasbro Inc. Report CEO for a piece to hit over the weekend. Came away thinking retailers are preparing for a rather upbeat holiday season. The impact of Toys 'R' Us' liquidation will likely weigh on Hasbro in the second quarter, then taper off in the back half of the year.