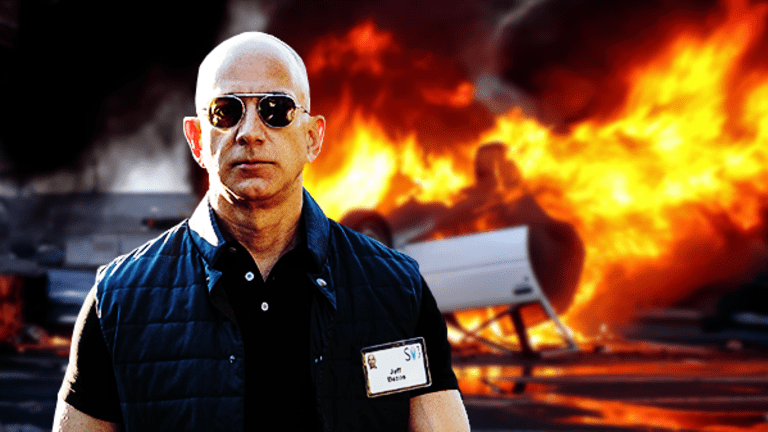 Amazon Is Quickly Torching the One Thing We All Hated About Whole Foods
Surprise, surprise.
Well, Whole Foods Market Inc. (WFM) is finally giving customers what they always wanted - lower prices.
Whole Foods and Amazon.com Inc. (AMZN) - Get Amazon.com, Inc. Report , now moving ahead with their $13.7 billion merger, announced on Thursday, Aug, 24 that the companies will work to reduce the prices on "a selection of best-selling grocery staples" at the upscale grocer.
"We're determined to make healthy and organic food affordable for everyone. Everybody should be able to eat Whole Foods Market quality - we will lower prices without compromising Whole Foods Market's long-held commitment to the highest standards," Jeff Wilke, CEO of Amazon Worldwide Consumer, said in a statement.
And, it appears, Whole Foods founder and CEO John Mackey is completely on board with the plan.
"It's been our mission for 39 years at Whole Foods Market to bring the highest quality food to our customers," Mackey said in a statement. "By working together with Amazon and integrating in several key areas, we can lower prices and double down on that mission and reach more people."
On Monday, Aug. 28, consumers will start seeing lower prices on items including organic bananas, "responsibly-farmed" salmon and organic large brown eggs. Plus, the companies' tech teams are beginning to integrate Amazon Prime into the Whole Foods' point-of-sale system. This means Prime members will be automatically enrolled in a Whole Foods' customer rewards program, under which they will receive certain undisclosed benefits.
The e-commerce behemoth also said that Whole Foods' private labels, including 365 Everyday Value and Whole Paws, will now be available through Amazon.com, AmazonFresh, Prime Pantry and Prime Now.
And yes, Amazon will use Whole Foods' some 470 locations as distribution points, as was widely suspected.
"Amazon lockers will be available in select Whole Foods Market stores," the company wrote. "Customers can have products shipped from Amazon.com to their local Whole Foods Market store for pick up or send returns back to Amazon during a trip to the store."
Discount grocery rivals such as Walmart Stores Inc. (WMT) - Get Walmart Inc. Report and Kroger Co. (KR) - Get Kroger Co. (KR) Report should watch out as it's clear Amazon is determined to lower prices to boost competition with them. In June, Kroger CFO Michael Schlotman, speaking at the Oppenheimer Consumer Conference, predicted this day would come.
"I'm guessing [Amazon] didn't buy Whole Foods to be a natural organic grocer," Schlotman said, alluding to the rumors that were circulating then about Amazon planning job cuts and price reductions at Whole Foods.
On Thursday, Amazon got the green light from the Federal Trade Commission (FTC) to pursue its $13.7 billion acquisition of Whole Foods, after the grocer's shareholders approved the deal on Wednesday.
Take an organic look at Whole Food's biggest moments. 
Here's What's Trending on TheStreet:
These 10 Tips Will Help You Avoid a Vicious Attack While on Labor Day Vacation
Markets Can't Make Up Their Minds Ahead of Yellen Speech in Jackson Hole
You'll Regret Dumping HP After Earnings, Jim Cramer Warns