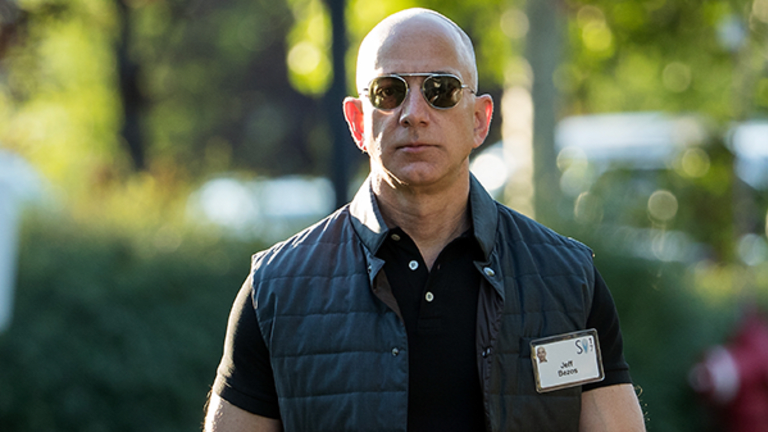 Amazon Is Absolutely 'Doing Great Damage.' Duh, Mr. President, That's Business
Tell us something we don't know.
Don't worry, Amazon.com Inc. (AMZN) - Get Free Report , President Donald J. Trump is full of empty, baseless threats. Shocking.
While it should come as no surprise that Trump—perhaps too bitter about his own business failings to acknowledge success—is hammering away at Amazon, his reasoning has some holes in it.
That Amazon—the poster child of retail disruption—is, in fact, disrupting retail, is not news. Plus, Trump's insinuation, made via a tweet on Wednesday, Aug. 16, that the e-commerce conglomerate does not collect sales taxes in every state that requires it to is, to use his own words, "fake news."
This Is Why Investors Must Now Fear President Trump: Market Recon
"If you look at earnings this season, you'll see that Amazon is absolutely hurting retailers," said Michael Pachter, managing director of the Los Angeles-based financial firm Wedbush Securities in an interview with TheStreet, Wednesday. But Trump, he told TheStreet, is a "master of misdirection." 
The denunciation, in which the president claimed the e-commerce behemoth is responsible for job loss across America, was followed by a slight dip in Amazon's shares: nearly 1% initially, closing down 0.5% on Wednesday. By Friday morning, Amazon shares traded flat around $960.60.
"While this is not his first tweet about Amazon and taxes (and of course, the Washington Post), we do find it interesting that he is now linking Amazon and job losses in traditional retail," KeyBanc Capital Markets analysts said in a research note Wednesday in response to Trump's tweet.
This narrative, the KeyBanc analysts said, has gained traction in the press recently as Amazon continues to see a rise in its share price. The blame could lead to "greater regulatory scrutiny" in the future-or at the very least, "more unfavorable headlines."
Still, Trump "seems generally confused" about Amazon's sales tax policy, said Pachter, a self-proclaimed recovering tax lawyer. Amazon started collecting sales tax voluntarily in 2011, he noted.
In April, Amazon began collecting sales taxes in the last four states that require companies to but where it previously had not, which is in Hawaii, Idaho, Maine and New Mexico.
Amazon did not immediately respond to a request for comment. But it's not the first time Trump called out the e-retailer for evading taxes. In July, he called it a "no-tax monopoly."
Amazon takes advantage of certain tax loopholes (S&P Global Market Intelligence found that 13% of Amazon's profits went to federal, state, local and foreign taxes between 2007 and 2015, according to a New York Times op-ed from Oct. 18 of last year).
And earlier this summer, the state of South Carolina filed suit against the company for failing to collect $12.5 million in taxes from third-party sellers between January and March of 2016.
The pending South Carolina issue sparks a larger discussion on whether e-commerce businesses are responsible for collecting sales taxes from third-party sales not fulfilled by the platform itself, according to Richard Litwin, an Atlanta-based tax lawyer.
"As far as I know, Amazon isn't doing anything wrong," Litwin said. "The real question is, can states require websites like Amazon to collect taxes on behalf of other sellers?"
And as for the dip in shares, it's dirt off billionaire Amazon CEO Jeff Bezos' shoulders.
"Half a percent?" Pachter said. "Facebook Inc. (FB) - Get Free Report is down more than that today."
Facebook is a holding in Jim Cramer'sAction Alerts PLUS Charitable Trust Portfolio. Want to be alerted before Cramer buys or sells FB? Learn more now.
Amazon bought Whole Foods for $16 Billion. That could've bought a lot of brick-and-mortar.
Don't miss these top stories on TheStreet:
Apple Should Be Terrified By How Much Samsung Is Spending on Its Future
Editors' pick: Originally published Aug. 17.