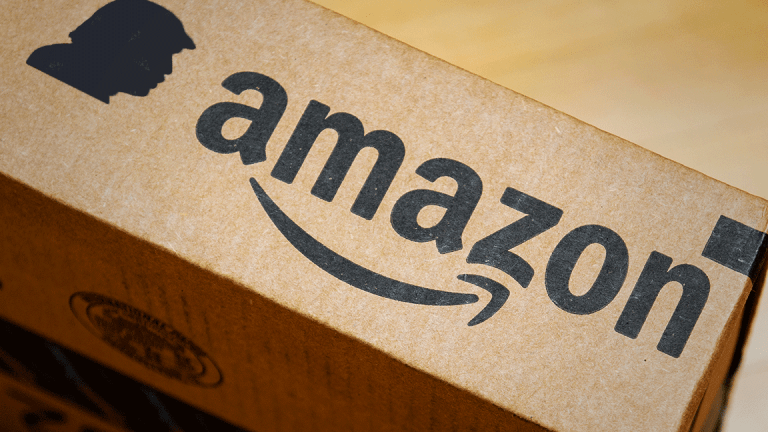 Why Amazon Investors Shouldn't Worry Too Much About Trump's Tweets
Amazon is arguably getting favorable pricing from the USPS. But just how favorable is up for debate.
Is Amazon.com (AMZN) - Get Free Report  really getting below-market pricing from the U.S. Postal Service?
Perhaps -- but the cost to the USPS doesn't appear to be as high as President Trump and some media reports have suggested. And in the event that the postal agency does demand better terms, Amazon has some ways to offset the hit.
Over the past week, President Trump once again accused Amazon of getting favorable treatment from the USPS that leads to billions of dollars in losses for the postal agency. In a pair of March 31 tweets, Trump wrote that a New York Times report stated the USPS will "lose $1.50 on average for each package it delivers for Amazon," and that "Amazon's shipping costs would rise by $2.6 billion" if the agency raised its parcel rates.
The tweets follow an Axios report stating Trump is "obsessed with Amazon" and has "wondered aloud if there may be any way to go after Amazon with antitrust or competition law." Trump-related worries appear to have added to the losses Amazon has seen during a broad-based tech selloff. Its shares are now down 16% from an early-March peak of $1,617; they're still up 53% over the last 12 months, however.
Jim Cramer and the AAP team hold a position in Amazon for their Action Alerts PLUS Charitable Trust Portfolio. Want to be alerted before Cramer buys or sells AMZN? Learn more now.
To clarify, the NYT report cited by Trump didn't directly claim the USPS isn't getting its fair share from Amazon, but rather mentioned an April 2017 Citigroup report which argued the USPS is assigning too small a share of its operational fixed costs to "competitive products" such as parcel delivery relative to "market-dominant products" such as first-class mail.
Under a 2006 law, the USPS assigns "competitive products" just a 5.5% share of its fixed costs, even though parcel delivery now accounts for over 20% of its revenue. Citi notes that in 2015, UPS  (UPS) - Get Free Report argued that these products should be assigned a 24.6% share of fixed costs (it later argued 29%). The firm estimated that if the USPS were to do this, it would raise its average price charged per parcel by $1.46 in fiscal 2017 (ended in September) to $4.97. Due to higher volumes, the needed price hike would drop to $1.41 in fiscal 2018 and $1.36 in fiscal 2019.
Using some back-of-the-envelope math, Citi estimated such a move could increase Amazon's U.S. shipping costs by $2.6 billion due to both higher USPS prices and the price hikes UPS and FedEx  (FDX) - Get Free Report would carry out in response. This estimate would have been a little higher still if Citi hadn't underestimated how much Amazon would spend globally on shipping in 2017 ($19.7 billion versus a reported $21.7 billion).
Any big increase in shipping costs would dent Amazon's gross margin (GM), which has been steadily expanding thanks to a revenue mix shift towards higher-margin offerings such as third-party seller services, ads, subscriptions and AWS services. GM rose to 37.1% last year from a 2016 level of 35.1%, and is forecast on average by analysts to rise to 38.2% this year.
But while Citi makes a decent case that the USPS is charging a little less than it should for parcel delivery, it's hardly clear that the price hike needs to be anywhere near $1.50 per package. For beginners, UPS is hardly an impartial observer when it comes to commenting on the USPS's cost structure. Though "competitive products" should quite likely account for more than 5.5% of the agency's fixed costs, an appropriate figure might still be below 20%, given that parcels (though representing a large percentage of mail weight and volume size) account for a relatively small percentage of mail units to be sorted and handled.
In addition, thanks in part to parcel delivery growth, the USPS performed better in fiscal 2017 than Citi thought it would. Whereas Citi estimated the USPS would see its shortfall rise to $8.3 billion in fiscal 2017, the company's reported net loss fell to $2.7 billion from a prior-year level of $5.6 billion. A $2.2 billion drop in the agency's workers' compensation liability helped, but so did an 11.4% increase in package shipment volume, which helped offset large volume declines elsewhere.
Even if Citi's shortfall estimate had been accurate, and even if one accepts the USPS cost estimate, Citi notes (in a section of its report titled "Why This Impact Is Overstated") that the effect of a parcel price hike on Amazon's shipping expenses would likely be less than $2.6 billion. Among its reasons: The USPS has other options to eliminate its shortfall, such as postage price hikes and legislative relief from funding obligations; any parcel price hikes would likely take years to be fully implemented; and much of Amazon's business with UPS and FedEx involves air freight services that might not see price hikes in response to USPS ground rate increases.
Moreover, as Citi points out, giant warehouse and logistics infrastructure gives Amazon both options for keeping its shipping costs down in the event a delivery partner hikes prices, and also bargaining power with these partners. And needless to say, the company's massive and ever-growing shipping volumes give it a lot of negotiating leverage -- especially with a partner seeing declining volumes elsewhere.
Looking further down the line, Amazon's non-stop warehouse-building spree is bound to continue lowering its per-unit shipping costs by reducing the average distance a package needs to travel. And so will its big internal logistics investments, which have included building a network of sorting centers, buying thousands of truck trailers and leasing a fleet of Boeing 767 jets to move goods between warehouses. The company's purchases of property and equipment, much of which is related to retail infrastructure investments, rose 53% last year to $12 billion.
And though it's still early days, one also can't overlook Amazon's budding efforts to handle a portion of its last-mile delivery needs on its own. The company has been rapidly growing the footprint for its Prime Now 2-hour delivery services, which rely on contract workers hired by Amazon, and is also reportedly set to launch a service for businesses (called Shipping with Amazon) through which it will handle package pickup and delivery in certain cities.
For all these reasons, investors shouldn't panic over Trump's USPS-related attacks on Amazon. If and when they arrive, it's hardly a given that any USPS price hikes will take a massive toll on Amazon's bottom line.