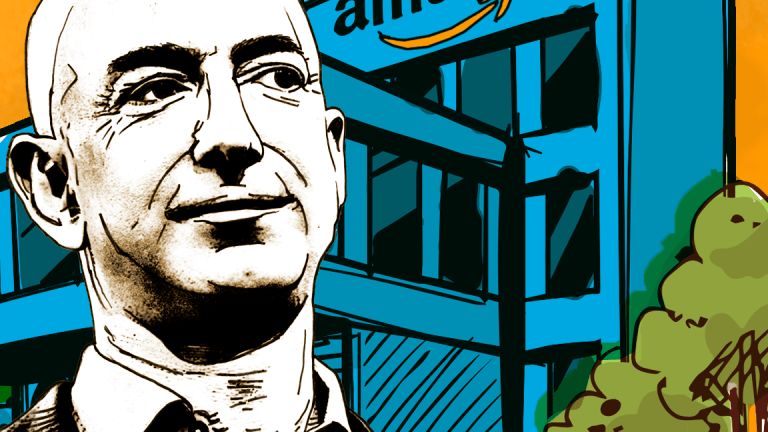 Why Amazon Is Revving Up Its Investments in Electric and Self-Driving Cars
Amazon's investments in the auto business could lay the groundwork for a leaner, more cost-effective commerce division and offer other benefits as well.
Amazon (AMZN) is on a bit of an investment streak, and recently, it's been focused on transportation.
Amazon's investments in private tech firms in general have ticked up in recent quarters, and in February, that included leading a $700 million round in Rivian, a maker of electric trucks. Around the same time, it also made a significant investment in Aurora, an autonomous car startup led by former top engineers who specialized in self-driving technology at Uber, Alphabet and Tesla (TSLA) .
The interest in the auto industry runs all the way to the top: CEO Jeff Bezos told employees at a recent all-hands meeting: "It's going to be something very interesting to watch and participate in, and I'm very excited about that whole industry," specifically citing electric vehicles, connected cars and "Uber-ization," CNBC reported.
So what's behind all the excitement in the auto business, a sandbox that several other tech giants -- Alphabet (GOOGL) , Uber (UBER) , Apple (AAPL) -- also play in, in one form or another? 
It's been evident for some time that Amazon is angling for more control over the transportation and logistics side of its business. In its most recent 10-K filing, for example, it listed "companies that provide fulfillment and logistics services" among its competitors. And it's been pumping resources into logistics initiatives, such as by opening an Amazon Air Hub in Kentucky, building out its trans-Pacific shipping capabilities and expanding its home delivery business.
On a February call with analysts, Amazon CFO Brian Olsavsky said that handling more transportation on its own is more cost-effective than outsourcing: "What we like about our ability to participate in transportation is that a lot of times we can do it at the same costs or better, and we like the cost profile of it," he said.
Amazon also plans to offer free one-day shipping for Prime members later this year -- a heavy lift that will require Amazon to use "all of the available levers we have," Olsavsky said in late April. That means activating more of Amazon's own logistics and transportation capabilities, he said, as well as engaging third-party partners.
By investing in autonomous and electric vehicles, Amazon may be laying the groundwork for greater efficiencies in its growing logistics footprint, said Loup Ventures' Gene Munster.
"Electric Vehicles take less energy to operate -- and they cost more up front -- but there are longer-term benefits to electric fleets," he said, describing Amazon's investment in Rivian as a form of "outsourced R&D."
Amazon's strategy of investing in, or even acquiring, newer technologies that could benefit its core commerce business down the road is likely to continue. Online retail accounted for around 57% of Amazon's overall sales last quarter, but margins in that segment are far slimmer than other profit-generating areas such as AWS and, increasingly, advertising.
"It's a pretty smart move for Amazon because they can get the benefits of these very efficient R&D teams," Munster said of Amazon's growing investments in private companies. "[Amazon] could grab the technology, or if the investments end up being a stand-alone business, they benefit from the value that's created. So it's a win-win for Amazon," Munster added. 
Amazon, Apple and Alphabet are holdings in Jim Cramer's Action Alerts PLUS member clubWant to be alerted before Jim Cramer buys or sells these stocks? Learn more now.