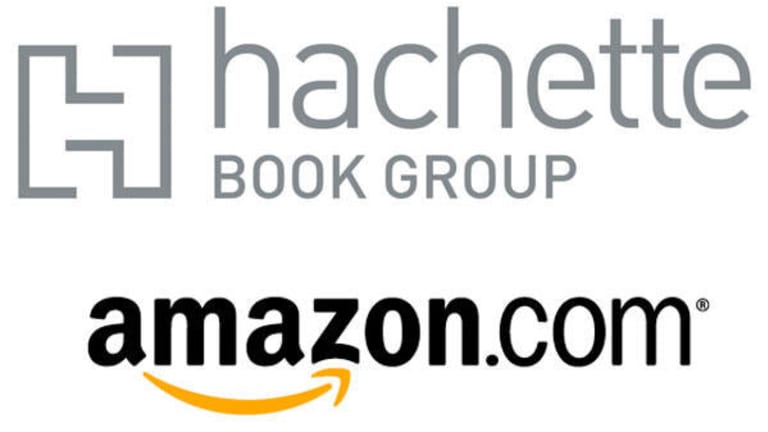 Amazon Inks E-Book Deal With Book Publisher Hachette, Ending Standoff
Amazon has a new deal with book publisher Hachette, ending a months-long standoff that resulted in sharply decreased book sales for the publisher.
NEW YORK (TheStreet) -- Amazon (AMZN) - Get Amazon.com, Inc. Report has signed a new deal with book publisher Hachette, ending a months-long standoff that resulted in sharply decreased sales for the publisher and a public relations mess for the world's largest bookseller. 
The new deal, which reportedly takes effect in early 2015, will leave control of e-book prices with New York-based Hachette with incentives to keep prices low -- a compromise on the greatest point of contention between the publisher and Seattle-based Amazon. 
"Hachette will have responsibility for setting consumer prices of its e-books, and will also benefit from better terms when it delivers lower prices for readers," the companies said in a joint statement. Amazon declined to comment further. Hachette has not yet responded to request for comment.
Amazon and Hachette have been battling since the spring over the price of e-books, and the share of revenue that each company would collect when books are sold. Since then, sales of Hachette titles on Amazon by authors like James Patterson, David Baldacci and Malcolm Gladwell have fallen precipitously due to punitive measures Amazon took to try to force Hachette into a deal. The bookseller did little discounting on Hachette titles, made many unavailable to customers, and, most importantly, didn't take pre-orders for upcoming releases. 
The conflict made news in the publishing world and beyond as Amazon controls nearly half of all book sales in the U.S.
The publishing industry worried that Amazon would use its power as the world's go-to bookseller to force Hachette and others into contract terms that would make their businesses unsustainable. As Hachette sales suffered, major authors led by Stephen King and Scott Turow, many of whom were not associated with the publisher, joined the fight against Amazon, characterizing it as a monopoly that had to be stopped. The news media piled on, publishing severalarticlesdemonizing Amazon and its CEO Jeff Bezos for every one that defended him and his company's practices in the book publishing industry. There is little evidence to suggest that the public relations fallout had material negative repercussions for Amazon. 
The Hachette deal follows Amazon's new agreement with publisher Simon & Schuster. Both are among the five largest publishers in the world, all of which are signing new contracts with Amazon following an antitrust case won by the booksellers in which they were found to have colluded with Apple to set the price of e-books. Apple and the publishers were ordered into new e-book sales agreements and had to pay fines.
Jeremy Greenfield is contributors editor at The Street.
Twitter: @jdgreenfield