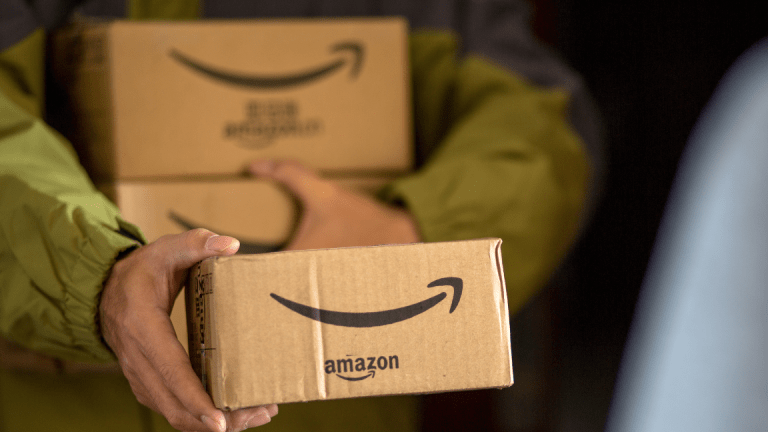 Amazon's Next Mind-Blowing Achievement: $2 Trillion Stock Market Valuation
Amazon drops the mic after reporting blowout second-quarter earnings. One AI executive offers some advice to Elon Musk. The fast-food breakfast wars continue.
Amazon (AMZN) - Get Amazon.com Inc. Report  reminded everyone what a real FANG stock is all about. Sorry Facebook (FB) - Get Meta Platforms Inc. Report stock pumpers.
The e-commerce retailer and cloud services provider smashed Wall Street profit forecasts for the second quarter, posting $5.07 a share vs. estimates for $2.48. Amazon hit all the key notes for the bulls who have sent shares up 50% year to date, and will take it up to a record on Friday. What Amazon said on its earnings call should have everyone imagining what Amazon's business will look like at a $2 trillion valuation.
The first $1 trillion that is now coming into play was effectively created 10 years ago. Amazon is relentlessly adding features to its web services business, positioning it as the de-facto leader of the future of the cloud. The high margin advertising business is surging around the world -- it remains in its early stages. Alexa and Echo smart home devices are fundamentally altering how humans consume information -- no doubt each device will play key roles in furthering knowledge sharing in the years ahead. All in all, this is one crazy company that is increasingly dominating in ways Wall Street still probably doesn't understand.
Just wait until Amazon buys Dropbox (DBX) - Get Dropbox Inc Report , Spotify (SPOT) - Get Spotify Technology S.A. Report , and that game-changing healthcare company valued at $5 billion.   
Thanks for Nothing
Let's see if former Starbucks (SBUX) - Get Starbucks Corporation Report  CEO Howard Schultz could resist the urge to hop on TV or call into a radio show to talk up the company after a brutal fiscal third quarter.
Investors looking for a bottom in the stock may want to think long and hard before pulling the trigger.
First of all, commentary from CEO Kevin Johnson and outgoing CFO Scott Maw on the earnings release was bizarre. It's completely detached from the poor quality numbers Starbucks just reported and the realities that lay ahead. For Starbucks to bottom, management needs to humble up and truly hit the reset button in its commentary and guidance. Starbucks is now slow-growth McDonald's (MCD) - Get McDonald's Corporation Report , not high-growth Amazon.
But aside from those things, the raw numbers for Starbucks suggest lackluster forward guidance the next time the company reports. Quick stats from the quarter: (1) Fiscal-year earnings guidance tapered to $2.40 a share to $2.42 a share. Previously, Starbucks was at $2.39 a share to $2.43 a share. (2) Operating profit margins down sharply in key segments Americas and China/Asia Pacific; (3) Third fiscal quarter global same-store sales increased 1%, slowing from a 2% growth in the second quarter; (4) Fourth fiscal same-store sales seen at the low end of long-term guidance for growth of 3% to 5%. BTW, execs said on the earnings call frap sales continue to be weak. Time to unveil a sugar-free line. 
Around TheStreet
Earnings season = big name interviews on TheStreet.
New Dunkin' Brands (DNKN) - Get Dunkin' Brands Group, Inc. Report CEO David Hoffmann told me he is holding the line on prices despite inflation around hourly wages and food. The move may help Dunkin' fend off McDonald's, which is fresh off a round of menu price increases. It was interesting to hear McDonald's CEO Steve Easterbrook strike a more cautious tone around breakfast on its earnings call, acknowledging that it will remain competitive on prices and not lead on prices. Hoffmann said that he is about to drill down into the Baskin Robbins business, which has been a mixed bag for several years as people navigate to other desserts (yogurt, acai bowls, etc.). He hinted an openness to expand the brand beyond ice cream.
Sign me up for a low sugar acai bowl from Baskin. On traffic (under pressure), Hoffmann conceded it's a "fight" out there to win customers.
Meanwhile, sign me up for a cheap taco at midnight from Chipotle (CMG) - Get Chipotle Mexican Grill Inc. Report . New Chipotle (CMG) - Get Chipotle Mexican Grill Inc. Report CEO Brian Niccol is wasting no time bringing a taste of former employer Taco Bell to a better burrito giant in turnaround mode. Niccol told me Chipotle will soon begin piloting a "late-night" menu, serving up $2 tacos and a drink after 8 p.m. For years, Yum! Brands (YUM) - Get Yum! Brands Inc. Report owned Taco Bell has dominated the late-night fast-food industry with sharply priced deals targeted to [tipsy] party-goers on their way home. "The combination of continuing to make sure the menu is relevant, there is digital relevance and making sure we are giving guests a great experience that is the formula for how you build back transactions," Niccol said.
As for Zia Chishti, who founded Invisalign, he is focused on getting his new AI firm Afiniti to public markets. "We are contemplating listing on the public markets in fairly short order, the company has reached that scale and profitability," Chishti told me. Chishti said the business has "nine digit" revenue and is EBITDA (earnings before interest, taxes depreciation and amortization) profitable. Last money raise values the business around $1.6 billion. He has some choice words for Tesla's (TSLA) - Get Tesla Inc. Report Elon Musk, too.
TheStreet's tech columnist @EricJhonsa talked at length with AMD (AMD) - Get Advanced Micro Devices Inc. Report CEO Lisa Su about the chipmaker's plans for the year. After a hot quarter for AMD, this is a must read.