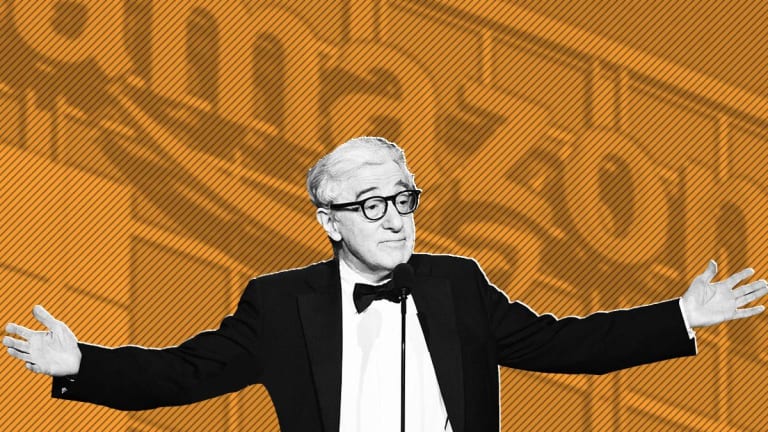 Amazon Gets Boost in Woody Allen's Contract Lawsuit Against Studio Arm
Allen is suing Amazon for $68 million for terminating his film-production contract.
A federal district court judge narrowed the scope of filmmaker Woody Allen's $68 million lawsuit against Amazon Studios (AMZN) .
The Seattle company is fighting the lawsuit, which claims Allen's four-picture contract with the studio was unjustly terminated.
U.S. District Court Judge Denise Cote in New York said Allen's complaint "fails to allege an actionable breach of the [multipicture acquisition agreement].
"The MAA provides certain benefits to Amazon, such as an exclusive 'first look' at Allen's subsequent literary and visual materials and the right to publicize the parties' agreements, but the plaintiffs do not allege that they suffered damages from the termination of these provisions."
Allen will have to argue that he was financially impaired by the cancellation of the individual films in the four-film deal, the judge's ruling said.
Amazon has refused to release the director's film "A Rainy Day in New York." The lawsuit alleges that Amazon executives told Allen's representatives in December 2017 that the company would face public-relations repercussions from working with him amid the #MeToo movement. 
According to Allen, the plan from the meeting was to wait until 2019 to release the film, but in June 2018 the company sent a notice terminating the four-picture "first look" deal with Allen, media reports say. 
Allen's daughter, Dylan Farrow, has alleged that the director of "Midnight in Paris" sexually abused her when she was a child. Allen denies the charge. 
Amazon shares are down 0.6% to $1,887.87.
Amazon is a key holding in Jim Cramer's Action Alerts PLUS charitable trust.
Save 76% with our Summer Break Sale. Subscribe to our premium site Real Money and become a smarter investor! Click here today to sign up!