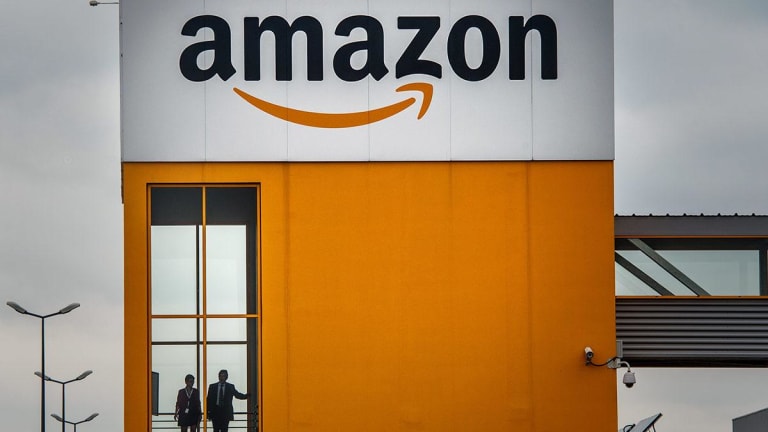 Amazon Has a Fulfillment Cost Issue It Needs to Resolve
Amazon's cost for its fulfillment empire, including its network of warehouses and retail outlets, is growing faster than sales. How will it make that pay off?
After 24 years in business, Amazon (AMZN) is an amazing growth story for a mature company, with sales up 31% to $232.9 billion in 2018, defying the "law of large numbers." 
The only growth more awesome than that is the company's cost to fulfill sales, which rose by 35% last year, to $34 billion, and which rose to a larger overall proportion of the company's operating expenses, equivalent to 14.6% of total sales, up from 14.2% in 2017, according to the company's 10-K filing.
In fact, the gap in growth between sales and fulfillment is likely to widen in coming years, which may mean Amazon either finds a way to generate much more sales from that fulfillment empire, or it finds a way to streamline the empire, perhaps by at some point divesting the actual physical assets in favor of an asset-lite model whereby its Amazon Web Services acts as a facilitator of the logistics of moving goods.
Fulfillment includes the numerous Amazon warehouses around the world, and its increasing network of physical stores, as well as Amazon's cost to process transactions. It's both an asset in Amazon's ability to get goods to customers as soon as the same day, and it's also a business Amazon sells to vendors who want the company to handle their own warehousing and shipping needs, branded "Fulfillment by Amazon," or FBA.
It's the backbone, in other words, of how Amazon makes the movement of physical goods different from how it's ever been in retail. 
Last year was one that Brian T. Olsavsky, the company's chief financial officer, in January described as "banking" the investments of prior years, meaning less investment and more profit from previous spending. The company's fulfillment cost growth, while high, was down from the 43% by which it rose in 2017, while its square footage leased for fulfillment centers grew by only 15%, versus growth of more than 30% in 2017 and 2016. 
"So in a lot of ways, 2018 was about banking the efficiencies of investments in people, warehouses, infrastructure that we had put in place in 2016 and '17," said Olsavsky on the company's Q4 earnings call.
But this year looks to be another period of rapid investment, according to Olsavsky, who said that while "we certainly do take costs seriously," nevertheless, "I would expect these investments to increase relative to 2018."
The average estimate, per FactSet, of Amazon's sales growth this year is 18%, a big drop from last year's 31%. But Canaccord Genuity analyst Michael Graham estimates Amazon's fulfillment spending may rise by 23%. 
Graham writes in a note following earnings that the step-up in expense is "structural," as "Amazon-fulfilled demand" is "growing much faster than the company average." 
That trend is reinforced by a story out last Thursday by Bloomberg stating that Amazon has "abruptly stopped buying from many of its wholesalers," citing remarks of retail industry observers. The move, Bloomberg writes, is designed to reduce Amazon's own cost to fulfill its first-party retail sales, and instead turn the wholesalers into customers for FBA.
There are lots of other ways Amazon can stuff product into those fulfillment centers. The Wall Street Journal reported last week that, not surprisingly, Amazon is going deeper into retail with plans to open "dozens" of grocery stores in "several major cities," citing unnamed sources. The company is also considering buying regional grocery store chains. All that, of course, provides more product to move through warehouses.
In fact, the Journal later reported that retail landlords increasingly love Amazon because of its relative creditworthiness and its astute merchandising ability, backed by the company's "trove of consumer data." The Journal noted that Amazon now occupies space in failed malls and has converted them into fulfillment centers. 
It's possible to imagine Amazon taking over the role of storefront manager for a vast number of goods, to the extent the retail marketplace will sustain the brand. For example, Tesla's (TSLA) CEO, Elon Musk, recently said the company will close most of its physical stores around the world and use online for most of its sales. A marquee brand like Tesla could be a great anchor tenant for future Amazon retail operations, in which the company recoups lease costs by charging Tesla to showroom its vehicles.
Or it's possible Amazon could go in the opposite direction. Right now, one of the biggest drivers of Amazon's cash spending is its acquisition of property as capital leasing, and most of that of late has been to fuel Amazon Web Services. With AWS being Amazon's giant profit center -- 60% of total company profit last quarter -- it's conceivable at some point Amazon could divest itself of retail assets and simply use AWS as the facilitator of logistics to move goods from third parties to showrooms and other locations.
If some day Amazon is little more than the giant artificial intelligence brain of retail, in the form of AWS, investors can look forward to some very nice swelling of overall profit margin. 
Amazon is a holding in Jim Cramer'sAction Alerts PLUS Charitable Trust Portfolio. Want to be alerted before Cramer buys or sells AMZN? Learn more now.
A Special Invitation:Do you want to learn more about planning for and living retirement from the nation's top experts, including Ed Slott and Robert Powell, the editor of TheStreet's Retirement Daily? Want to learn how to create tax-efficient income in retirement and how to manage and mitigate all the risks you'll face in retirement? Then sign up to attend TheStreet's Retirement Strategies Symposium on April 6 in New York City. For a limited time, you can attend this extraordinary symposium for $149 - a cost savings of $50 off the general admission price of $199.
You can see the full day's agenda, learn about the guest speakers and sign up HERE for this special event.
Tiernan Ray neither owns nor trades shares of any companies mentioned in this article.