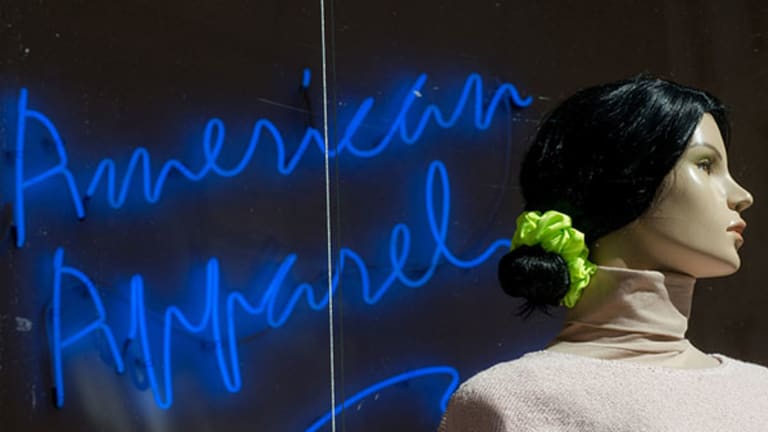 The estate of bankrupt American Apparel is allegedly drawing some attention from top retailers including Amazon.com (AMZN) - Get Amazon.com, Inc. Report and Forever 21.
E-commerce giant Amazon, teen apparel store chain operator Forever 21, apparel maker Next Level Apparel and Aeropostale and Juicy Couture brand operator Authentic Brands are considering bidding on American Apparel, Reuters reported. The companies did not respond to a request for comment.
Attorneys Max Schlan and Cathy Hershcopf of Cooley LLP, who represent the official committee of unsecured creditors, declined to comment.
Debtor counsel also did not return multiple requests for comment.
Several other attorneys involved in the case said they have been kept in the dark, as well.
"I've been trying to get info on potential buyers myself," Attorney Daniel B. Besikof of Loeb & Loeb said in response to an inquiry. Besikof represents one of American Apparel's landlords in the case.
If Amazon, Forever 21, Next Level Apparel and Authentic Brands do enter the bidding on Los Angeles-based American Apparel, they will have to beat out stalking-horse Gildan Activewear's (GIL) - Get Gildan Activewear Inc. Report $66 million lead offer.
Gildan is only vying to purchase American Apparel's intellectual property and some of its distribution centers.
There is a Friday, Jan. 6, deadline to submit bids. After that all offers will be made public. A Jan. 9 auction and Jan. 12 sale hearing is set before Judge Brendan Linehan Shannon of the U.S. Bankruptcy Court for the U.S. District of Delaware in Wilmington.
Meanwhile, American Apparel resolved its issues with the litigation trustee from its initial insolvency proceeding who requested on Dec. 8 to have the debtor's Chapter 11 case thrown out. The trustee claimed that the debtor did not pay the $2.5 million cash distribution set aside for unsecured creditors under its first reorganization plan, confirmed on Jan. 25 of last year. The creditors held more than $105 million in claims.
American Apparel agreed on Wednesday, Jan. 4, to set aside a $2.5 million cash fund from the proceeds of the sale of its intellectual property for the purpose of satisfying the unsecured creditors' claims, court papers said.
If the debtor had not reached a settlement with its former litigation trustee, it would be due in court to consider the dismissal of its case on the same day it is set to go to auction.
American Apparel employs 4,700 employees at 107 stores in the U.S., although the company will shutter nine of those stores ahead of its auction.
The company petitioned for bankruptcy relief on Nov. 14, after emerging from its first Chapter 11 case on Feb. 5. American Apparel blamed its distressed finances on liquidity challenges amid slipping sales - issues facing many retailers these days including Sears (SHLD) which was given a "significant default risk" within the next 12 to 24 months from Fitch Ratings. Moody's says Sears will need to raise $1.5 billion to survive next year.
(Amazon.com is held in the Growth Seeker portfolio. See all of the holdings with a free trial.)